Life
Get flash to fully experience Pearltrees
Photo Credit: BigStockPhoto.com It's been three years since we shared our original list of some of the best quotes of all time, and we felt it was a good time for an update. We've added another 25 quotes for you. But these aren't just any quotes.
~ Give people more than they expect and do it cheerfully ~ ~ Memorize your favorite poem ~ ~ Don't believe all you hear, spend all you have or sleep all you want ~ ~ When you say, "I love you", mean it ~ ~ When you say, "I'm sorry", look the person in the eye ~
I've been striving to simplify my life for many years now, and have recently (through my writing) been advising others how to do the same. In the process, I've learned that making little changes in our attitudes, habits, and environment can have a big impact. So today, I thought I'd compile a list of 100 ways to simplify your life – from the practical to the philosophical, and everything in between. Of course, not every item on the list will work for every person reading it.
1.) "I am worthy." Worthy of love.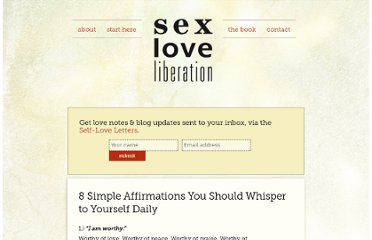 post written by: Marc Email When you stop chasing the wrong things you give the right things a chance to catch you.
post written by: Marc Email Asking the right questions is the answer… It's not the answers you get from others that will help you, but the questions you ask of yourself. Here are 40 thought-provoking questions to help you refresh and refocus your thinking: Please share your thoughts with us in the comments section below.