Daily Reading
Karmarama Stories
Property Blog Posts | Independent Blogs
Pictures Trending on Web, Funny and Interesting Picture Galleries
TROLLing Zone
Central Perk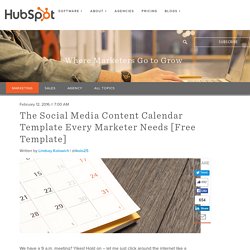 The Social Media Publishing Schedule Every Marketer Needs [Template]
We have a 9 a.m. meeting? Hold on, let me just click around the internet like a maniac trying to find something for the morning tweet. Who schedules 9 a.m. meetings, anyway? I digress. The point of that little scenario is that things come up . We have meetings.
Siobhan O'Flynn's 1001 Tales
Transmedia Camp 101
PR Daily News: Public Relations news and marketing in the age of social media | Main
Mashable
A Digital Perspective
TNW UK
Battlestar Galactica: Blood & Chrome , a prequel to that most amazing scifi TV series, was supposed to be a TV series too. Except NBCUniversal's SyFy channel got cold feet, and cancelled its airing plans. Perhaps because this CGI-heavy production - made with scans of the original sets, and featuring a young William Adama - was delivered somewhat late. Still, it's all good for gaming network Machinima , one of YouTube's very biggest channels: further to Universal's decision to run it online as a 10 x 12 minute web series , the first episode (above) got nearly 2 million views .
DISRUPTOMATIC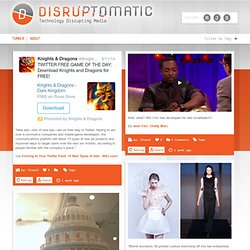 Anne-Marie Roussel
MIPBlog
April 4, 2012 Social TV, direct-to-consumer, data, participatory formats and transmedia were key themes at the market's final session today By Gary Smith Left to right: Simon Staffans, MediaCity Finland; Marc Goodchild, IpDipSkyBlue.tv; Richard Kastelein, Agora Media/Appmarket.tv; Omri Marcus, Red Arrow Entertainment; and James Martin, Reed MIDEM
C21Media
Multi Platform TV Daily
#transmediascoop