Daily Reading
Karmarama Stories
Property Blog Posts | Independent Blogs
Pictures Trending on Web, Funny and Interesting Picture Galleries
TROLLing Zone
Central Perk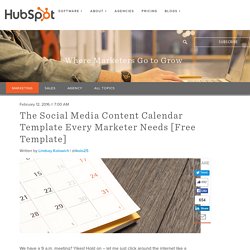 The Social Media Publishing Schedule Every Marketer Needs [Template]
We have a 9 a.m. meeting? Hold on, let me just click around the internet like a maniac trying to find something for the morning tweet. Who schedules 9 a.m. meetings, anyway? I digress. The point of that little scenario is that things come up. We have meetings.
Siobhan O'Flynn's 1001 Tales
Transmedia Camp 101
PR Daily News: Public Relations news and marketing in the age of social media | Main
A Digital Perspective
TNW UK
Netflix launched a feature that lets up to five different people create a profile on the same account — ensuring your queue is kept separate from your brother or mother's. This also enables Netflix (and its advertisers) to better target individuals based on their unique watching habits. Finally, users can connect their profiles to Facebook, making it that much easier to share their actual preferences with friends (and vice versa).
DISRUPTOMATIC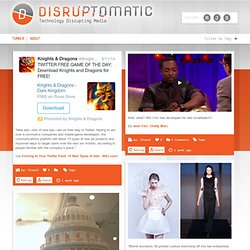 Anne-Marie Roussel
MIPBlog
April 4, 2012 Social TV, direct-to-consumer, data, participatory formats and transmedia were key themes at the market's final session today By Gary Smith Left to right: Simon Staffans, MediaCity Finland; Marc Goodchild, IpDipSkyBlue.tv; Richard Kastelein, Agora Media/Appmarket.tv; Omri Marcus, Red Arrow Entertainment; and James Martin, Reed MIDEM
C21Media
Multi Platform TV Daily
#transmediascoop