Daily Reading
Karmarama Stories
Property Blog Posts | Independent Blogs
Pictures Trending on Web, Funny and Interesting Picture Galleries
TROLLing Zone
Central Perk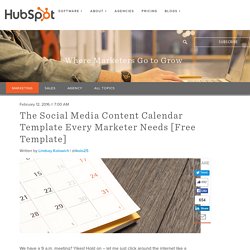 The Social Media Publishing Schedule Every Marketer Needs [Template]
We have a 9 a.m. meeting? Hold on, let me just click around the internet like a maniac trying to find something for the morning tweet. Who schedules 9 a.m. meetings, anyway? I digress. The point of that little scenario is that things come up. We have meetings.
Siobhan O'Flynn's 1001 Tales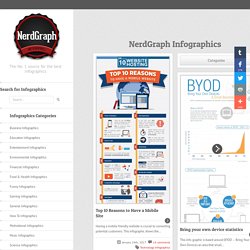 Skip to primary content Skip to secondary content Categories Saving Money in your Twenties In your twenties, you have it in your power to prepare for the financial realities… April 10th, 2014 comments Financial Infographics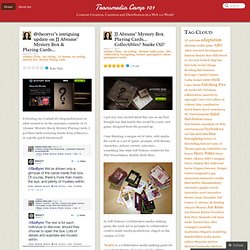 I got very very excited about this one as my first thought was that maybe this would be a new card game, designed from the ground up. I was thinking a unique set of rules, with maybe the cards as a set of 'game' prompts, with themes, characters, actions, events, outcomes… something like what Jeff Watson created for his PhD Dissertation, Reality Ends Here. In Jeff Watson's collaborative media-making game, the cards act as prompts to collaborative creative multi-media productions, staged on the campus of USC:
Transmedia Camp 101
PR Daily News: Public Relations news and marketing in the age of social media | Main
How to Promote Your Work on Behance As many of you already know, Behance is a world leader in helping creatives around the world promote their work. On Behance you can showcase your best works, connect with others, and build your reputation among fellow designers and artists. One could even argue that Behance has become a hotspot... continue reading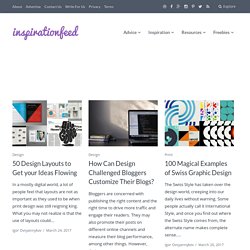 07 Apr 2014 Easily Unsubscribe from all LinkedIn Emails LinkedIn, the social network for professionals, sends too many email notifications and they also make it difficult for you to unsubscribe from these emails. There's an easy workaround though. The 10 HTML Codes You Need to Know for Writing on the Web
This post is continued from part 1 – read here. 6. Download movies for your laptop No joke, I finished every move on Cathay Pacific in about 6 weeks.
A Digital Perspective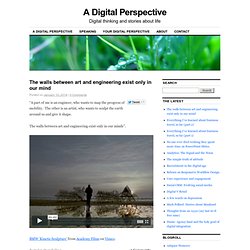 TNW UK
"Bitonti envisions 3D-printed couture branching off into two enterprises: the mass-production model, where any consumer can become a maker at a low cost, and the luxury model, where high-end garments are created using 3D printing processes, in addition to luxury materials. He predicts code will compete alongside couture for the fashion industry's profits, just as an album is now sold on iTunes instead of as a physical object." (via The Future of Fashion Is Code, Not Couture, Says Designer)
DISRUPTOMATIC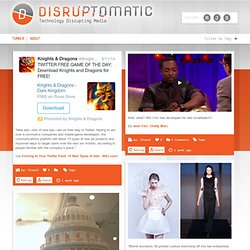 To "shazam" a song has become as much of a popular expression in the music sphere as "to google" directions on a map in the search world. I have been "shazaming" the Olympics on my TV since they started in late July, and the results have been interesting, especially as seen through the lens of the Social TV ecosystem. Through a deal Shazam signed with Olympics broadcaster NBC, U.S. viewers can use the Shazam app on their smartphone to access additional info such as extra content on athletes, updated info on event results, and medal count. They can also share on Twitter and Facebook.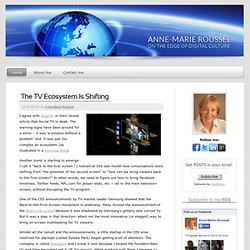 Anne-Marie Roussel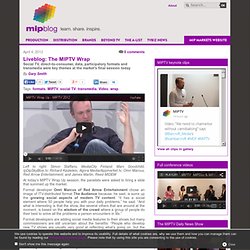 MIPBlog
April 4, 2012 Social TV, direct-to-consumer, data, participatory formats and transmedia were key themes at the market's final session today By Gary Smith
C21Media
Multi Platform TV Daily
The TV networks officially announced their new programming slates for 2012-2013 at Upfronts in New York City this week. By the time they rolled their first look footage for advertisers and critics, the new series already had dedicated Twitter accounts set up, ready to interact with the shows' first fans. Social media has become such a huge part of the TV landscape that any network not securing a simple, memorable handle for their new shows is way behind.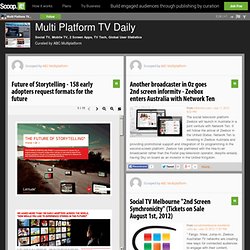 #transmediascoop