Tech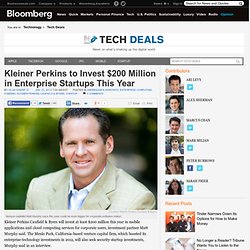 Kleiner Perkins to Invest $200 Million in Enterprise Startups This Year
Courtesy Kleiner Perkins Caufield & Byers Venture capitalist Matt Murphy says this year could be even bigger for corporate-software maker. Kleiner Perkins Caufield & Byers will invest at least $200 million this year in mobile applications and cloud computing services for corporate users, investment partner Matt Murphy said. The Menlo Park, California-based venture capital firm, which boosted its enterprise-technology investments in 2012, will also seek security-startup investments, Murphy said in an interview.
Microsoft is in talks with Silver Lake Partners and Dell's CEO Michael Dell to invest $1 billion to $3 billion in a leveraged buyout of the PC maker, sources close to the matter told CNBC Tuesday. While an investment from Microsoft is unexpected, it makes sense considering that Microsoft depends on personal computer makers like Dell to help sell its software products. Meanwhile, talks between Silver Lake Partners, one of the main sponsors in talks with Dell to help bring it private, and the special committee for Dell's shareholder are continuing and a deal is expected to be reached by the end of the week.
Microsoft May Invest $1-$3 Billion in Dell Buyout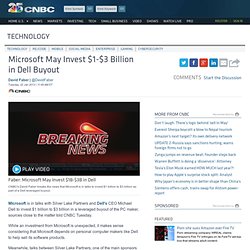 Facebook Twitter Google+ Save E-mail Share Print Mark Leet Photography The three founders of Ayasdi, from left, Gurjeet Singh, Gunnar Carlsson and Harlan Sexton. Ayasdi is a data analysis start-up built on the career of one man: Gunnar Carlsson, a professor of mathematics at Stanford. Government spending for science has helped a lot too. Dr.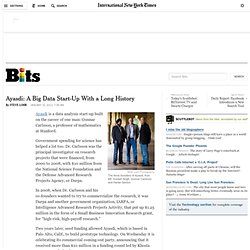 Ayasdi: A Big Data Start-Up With a Long History
Infusionsoft gets $54M venture investment from Goldman Sachs - Phoenix Business Journal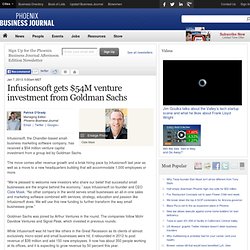 Infusionsoft, the Chandler-based small-business marketing software company, has received a $54 million venture capital investment from a group led by Goldman Sachs. The move comes after revenue growth and a brisk hiring pace by Infusionsoft last year as well as a move to a new headquarters building that will accommodate 1,000 employees or more. "We're pleased to welcome new investors who share our belief that successful small businesses are the engine behind the economy," says Infusionsoft co-founder and CEO Clate Mask .
Samsung and Android was a Huge success to the mobile industry since the launch of the original Samsung Galaxy S. Sadly, a report from Bloomberg Businessweek confirms that Samsung will begins its plan on moving away from Android platform step by step , by adopting a New fresh OS, which called Tizen. Samsung confirms that it will be launching Tizen OS powered Smartphones during this year. The Main reason of this action that the Korean giant wants to take more control on its Mobile experience the company's delivering to its users. Having its own eco system will give Samsung a full control on updates, features and hardware specifications of all its products.
Samsung confirm plans to move away from Android Platform this year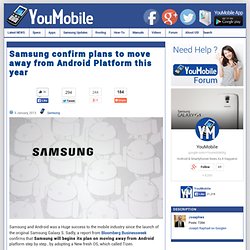 This year in cloud: Amazon-almost-all-the-time and the other 5 top stories of 2012 — Cloud Computing News
New framework: 2013 and beyond - What will appear and disappear in our lives | Trends in the Living NetworksTrends in the Living Networks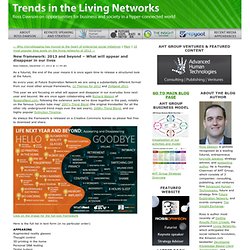 As a futurist, the end of the year means it is once again time to release a structured look at the future. As every year, at Future Exploration Network we are using a substantially different format from our most other annual frameworks, 12 Themes for 2012 and Zeitgeist 2011 . This year we are focusing on what will appear and disappear in our everyday lives next year and beyond. We are once again collaborating with Richard Watson of NowandNext.com , following the extensive work we've done together in the past, notably on the famous 'London tube map' 2007+ Trend Blend (the original trendsetter for all the other city underground trend maps over the last years), 2008+ Trend Blend , and our highly popular Extinction Timeline . As always the framework is released on a Creative Commons license so please feel free to download and share.
Today Google+ is announcing its first major new product, Communities , which lets users create groups, organize, and communicate around their interests. It's a clear effort to define Google+ against competitors like Facebook and Twitter. It's not about organizing around friends and family or following your interests in real time.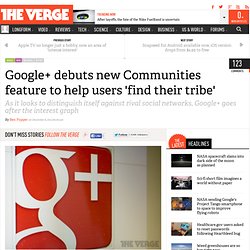 Google+ debuts new Communities feature to help users 'find their tribe'
Brings j2 Critical Mass in Web Media Space --(BUSINESS WIRE)-- (NasdaqGS: JCOM), the provider of business cloud services, today announced that it has acquired , a leading media company in the technology market. The acquisition provides j2 a series of world-class web properties, including PCMag.com , ComputerShopper, ExtremeTech, and Geek.com .
j2 Global Acquires Ziff Davis, Inc. (NASDAQ:JCOM)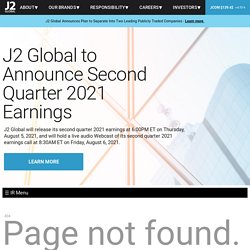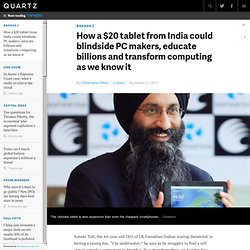 Suneet Tuli, the 44-year-old CEO of UK/Canadian/Indian startup Datawind, is having a taxing day. "I'm underwater," he says as he struggles to find a cell signal outside a restaurant in Mumbai. Two days from then, on Sunday Nov. 11, the president of India, Pranab Mukherjee, will have unveiled the seven-inch Aakash 2 tablet computer Tuli's company is selling to the government for distribution to 100,000 university students and professors. (If things go well, the government plans to order as many as 5.86 million .) In the meantime, Tuli is deluged with calls from reporters, and every day his company receives thousands of new orders for the commercial version of the Aakash 2.
How a $20 tablet from India could blindside PC makers, educate billions and transform computing as we know it
Personal, wearable computers in your future
A book in The Future. It is The Future. You wake up at dawn and fumble on the bedstand for your (Google) Glass. Peering out at the world through transparent screens, what do you see? If you pick up a book, do you see a biography of its author, an analysis of the chemical composition of its paper, or the share price for its publisher?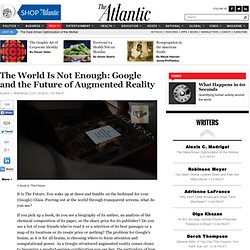 The World Is Not Enough: Google and the Future of Augmented Reality - Alexis C. Madrigal
Wired Editor-in-Chief Chris Anderson Photo by Valerie Macon/Getty Images In the title of his latest book, Wired Editor Chris Anderson is clear that he thinks the maker movement will change the world. Enabled by a swath of new technologies, the hacker culture known for tinkering with computer software is moving into the physical world, giving rise to new forms of art, manufacturing, and industrial design.
Wired editor Chris Anderson and Slate's David Plotz discuss "Makers" and the DIY movement.
NEW YORK CITY — Salesforce CEO Marc Benioff, always game for a little tech trash talk , said that Microsoft's Windows 8 operating system would be "the end of Windows" and that "Windows is irrelevant." Benioff, answering questions at a press conference at the Cloudforce show in Manhattan, mostly kept to the script of promoting Salesforce's cloud services during the Q&A session with reporters and analysts. The main Cloudforce keynote mostly mimicked all the announcements at Dreamforce last month , except for the just-announced addition of 20 social analytics services to its Marketing Cloud .
Salesforce CEO Marc Benioff: Windows 8 is 'the end of Windows'
Armies of Expensive Lawyers, Replaced by Cheaper Software
But that was in 1978. Now, thanks to advances in artificial intelligence, "e-discovery" software can analyze documents in a fraction of the time for a fraction of the cost. In January, for example, Blackstone Discovery of Palo Alto, Calif., helped analyze 1.5 million documents for less than $100,000. Some programs go beyond just finding documents with relevant terms at computer speeds.
Google reportedly set to blow open the tablet market later this year with $99 Nexus tablet
By Simon Evans MIAMI (Reuters) - World number one Serena Williams fought back from a set down to beat Maria Sharapova 4-6 6-3 6-0 and win the Sony Open for a record sixth time on Saturday as she continued her dominance over her closest rival. With the win, Williams, who struggled with her serve in the first two sets, becomes only the fourth woman in the Open era to win the same WTA tournament six times, joining Martina Navratilova, Chris Evert and Steffi Graf. "I finally have some record," Williams said. "Like it's really cool. I can't seem to catch up with Margaret Court or Steffi or ...
Acording to Microsoft CEO Steve Ballmer, 2012 is "the most epic year in Microsoft history," and the launch of Windows 8 is a bigger deal to Redmond than the launch of Windows 95. "Windows 95 was certainly the biggest thing in the last 20 years until now," Ballmer told The Seattle Times . "I think Windows 8 certainly surpasses it." His opinion of Windows 8's import is, indeed, epic. "We're trying to really re-imagine the world from the ground up with Windows 8," he said.
Ballmer: Win8 'certainly surpasses' Win95 in importance
Kleiner to Invest More than $100 Million in Enterprise
MSFT, ORCL, CRM Big Winners In Piper Jaffray IT Spending Survey
The future of marketing: your face
Google's Self-Driving Car Passes 300,000 Miles, Employees To Start Commuting With It
The Next Internet? Inside PARC's Vision of Content Centric Networking
Realtime Gets $100 Million To Build "Whole New Era Of The Internet," AKA The Real-Time Web
Internet addiction even worries Silicon Valley | Technology | The Observer
500 Startups Employs Data and Analytics to Pick Tech Startups - SiliconHills
Closing the Loop
Silicon Beach emerges as a tech hotbed
Dell to Buy Quest Software for $2.4 Billion
Improving the known, exploring the unknown, and innovating to be well-known
Microsoft to buy Yammer for more than $1 billion: WSJ
Why Google and Apple Are Now Enemies
Bionic Brains and Beyond
Gartner: Top 10 emerging infrastructure trends
Cloud Clan Editor's Blog - Cloud Firms Bet Big on Social CRM
Mary Meeker 2012: Mobile's Hypertrajectory and the Re-imagining of Everything
SAP to Expand Cloud Presence with Acquisition of Ariba
Connections, Channels, and Collaboration: New Imperatives for Today's CIO
From Silicon Valley, A New Approach To Education : All Tech Considered
Toothpaste, toilet paper, white matter, and jam: Clues for better decision making
Oakley Tests Technology That Would Rival Google's Project Glass
The Digitization of Human Interactions: From Long Tail to Mass Disruption
Facebook to Buy Instagram for $1 Billion in Cash, Stock - Deal Journal
Google+ Hangouts Get Apps, Including SlideShare and Diagram Tools
Big Data is Creating The Future - It's A $50 Billion Market
IBM's Quantum Computers Could Change The World (Mostly In Very Good Ways)
2012: All about the 'fourth' screen? - Research
Google to Sell Heads-Up Display Glasses by Year's End
Brian Vellmure - Google+ - What perhaps the greatest tech visionary of our era was…
Top Ten Predictions for 2012
The 2012 top 10 emerging technologies
Google Near Launch of Cloud-Storage Service
2012 brings a pause in the disruption
Report: 2012 Temkin Experience Ratings of Tech Vendors
Web economy in G20 set to double by 2016, Google says
Brian Vellmure - Google+ - Not amazed that tablets and e-reader growth doubled -…
The hot tech gig of 2022: Data scientist
Following Digital Breadcrumbs To 'Big Data' Gold
UPDATE 2-Oracle to buy RightNow for around $1.5 bln
15 years of Download.com, the original app store | The Download Blog
Oracle Open World 2011 – Initial Thoughts
Apple Is Quietly Disintermediating Google In Mobile Search
The Era of mobile dominance is beginning - destroy/dstorey
The Web is Back
Flexible Galaxy Skin From Samsung: Future of Smartphone? [VIDEO, PHOTOS]
Exploring the future of computing: The Hybrid Model
Cloud_Survey_2011vpub
Jive Software Said to Hire Morgan Stanley, Goldman Sachs for IPO
Augmented Reality Kills The QR Code Star
270808_IoT_in_2020_Workshop_Report_V1-1
Survey: Buyers want sub-$250 Amazon tablet
The Interconnected World of Tech Companies [INFOGRAPHIC]
Future Tech Jobs: We Need Social Science Graduates - Rawn Shah - Connected Business
What is Google's Chrome OS?
App Stores Will Be $4 Billion Business This Year
macpcinfo750