Futures Organisations
University Futures | Facebook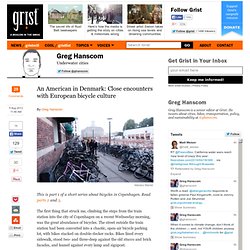 The first thing that struck me, climbing the steps from the train station into the city of Copenhagen on a recent Wednesday morning, was the great abundance of bicycles. The street outside the train station had been converted into a chaotic, open-air bicycle parking lot, with bikes stacked on double-decker racks. Bikes lined every sidewalk, stood two- and three-deep against the old stucco and brick facades, and leaned against every lamp and signpost.
An American in Denmark: Close encounters with European bicycle culture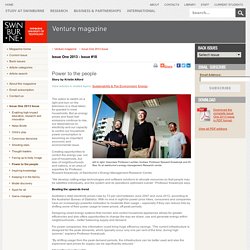 Power to the people> Swinburne Magazine
Story by Kristin Alford
About us
Our mission We aim at being a reference research and training institute on the future of the World of Work as it impacts corporations and their strategies. Founded in 2004, the Boostzone Institute stemmed from the will to understand and forecast how the evolution of the World of Work and in particular the emergence of Network-Centric Management is going to bring a sea change in the management of organizations. Its founding members are all professionals of Human Capital management, Networks and Community management, Technology management and Strategic management. In essence, the Boostzone Institute is a community of managers and experts who believe that globalization and collaboration technology are transforming the economy and the society in fundamental ways , that networks and communities are becoming the central driving force of business, and that all managers should strive to have a deeper understanding of how networks and communities can be governed.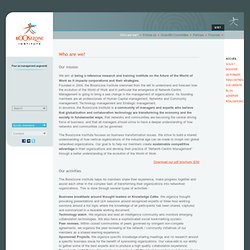 George Church is a giant in gene sequencing, synthetic biology and DNA science. In the October, 2012 Discover Magazine, George Church teases with some ideas he has for achieving physical immortality (indeterminant lifespans) via Synthetic biology. George's idea is to bring in sections of DNA from exotic organisms or genes that are rare for humans to enable all people to have desired genetic capabilities. He describes capabilities such as immunity to all viruses and cellular immunity to radiation and creating immunity to diseases. They are working to sequence and determine the genetic basis for long lived animals and humans and determine how to engineer longer lived people. They are working on approaches to rejuvenate different kinds of cells including the neurons of the brain.
George Church outlines a pathway to indeterminant lifespans via Synthetic Biology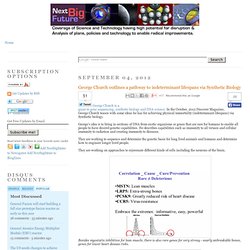 the foresight epidemic
Strategic Foresight > Our programs > Executive Education > Swinburne University of Technology
Leading in turbulent and difficult times Thursday 13 – Friday 14 June 2013, 9.30am - 5pm The Westin Melbourne 205 Collins Street, Melbourne 3000 View map Develop your understanding of foresight and how it will be useful in your leadership practice Acquire the ability to construct coherent and compelling views of the future Learn how to avoid your 'scanning blindspots' and to see more broadly Enhance your ability to influence others About the program The playing field is changing.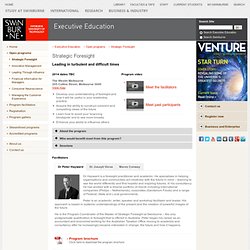 Winda Benedetti , NBC News – 316 days Imagine a future in which you earn badges and achievements at every turn. Meanwhile, companies are constantly encouraging you to level up your life as a way to draw you in. Perhaps you earn a special badge as you run the treadmill at the gym or you level up when you buy so many cans of soda. Perhaps you're waiting at the bus stop and a billboard asks you to help solve a difficult math problem. According to a new study, gaming is going to be creeping into our lives in a big way in the years to come ... and we may not even realize when we're playing.
In the future, you'll game without knowing it
Global connectivity, smart machines, and new media are just some of the drivers reshaping how we think about work, what constitutes work, and the skills we will need to be productive contributors in the future. This report analyzes key drivers that will reshape the landscape of work and identifies key work skills needed in the next 10 years. It does not consider what will be the jobs of the future. Many studies have tried to predict specific job categories and labor requirements. Consistently over the years, however, it has been shown that such predictions are difficult and many of the past predictions have been proven wrong. Rather than focusing on future jobs, this report looks at future work skills—proficiencies and abilities required across different jobs and work settings.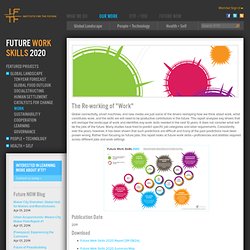 "Enhancing Human Capacities" is the first to review the very latest scientific developments in human enhancement. It is unique in its examination of the ethical and policy implications of these technologies from a broad range of perspectives. - Presents a rich range of perspectives on enhancement from world leading ethicists and scientists from Europe and North America - The most comprehensive volume yet on the science and ethics of human enhancement - Unique in providing a detailed overview of current and expected scientific advances in this area
Future of Humanity Institute - Publications
Foresight Engine
The Search for Foresight
Download this gallery (ZIP, 643 KB) Download full size (13 KB) On March 1, 2012, The first " FUTURE DAY " was born. Hereafter it is to be an annual celebration of potential 'futures' - whatever these may be that emerge - and an opening up/outreach/catalyst for inclusive discussion, futures event and futures ideas. It is hoped the day will spawn networks and ongoing discussion, projects and solutions. The concept is that:
An AU-perspective on the first ever Future Day - creating change Deutsche Post DHL | Delivering Tomorrow - Logistics 2050
The World in 2050: Deutsche Post DHL Releases a Study on the Future
Oops! Sorry, the page you requested either doesn't exist or isn't available right now! Please check the URL for proper spelling and capitalization. If you're having trouble locating a destination on Yahoo!
History of WFSF
Tuesday, 11 March 2008 10:11 WFSF T he World Futures Studies Federation emerged from the ideas and pioneering work of such persons as Igor Bestuzhev-Lada (Russia), Bertrand de Jouvenel (France, 1903-1987), Johan Galtung (Norway), Robert Jungk (Austria 1913-1994), John McHale (UK/USA, 1922-1978) and others who in the 1960s conceived of the concept of futures studies at the global level. This resulted in the organization of the first International Futures Research Conference in Oslo, Norway, in September 1967, for which Mankind 2000 was responsible in cooperation with the International Peace Research Institute, Oslo, and the Institut für Zukunftsfragen. A Continuing Committee was created, with headquarters in Paris. The principal work of this Committee was the convening of the International Futures Research Conference in Kyoto, Japan, in April 1970, in cooperation with the Japanese Association for Future Studies, under the leadership of Hayashi Yujiro and Hidetoshi Kato .
FERN
Future of Western Civilisation
Polly Higgins - Eradicating Ecocide: Laws and Governance to Prevent the Destruction of our Planet by ianmackenz on SoundCloud
There isn't enough in the world. Not enough wealth to go around, not enough space in cities, not enough medicine, not enough intelligence or wisdom. Not enough genuine fun or excitement.
The GFF
Prospective-Foresight
prospective institute & think tank
Welcome to Communities of the Future