Futures Organisations
Cold Antarctic water probable cause of dead fish washed up on Ninety Mile Beach, EPA says. Updated Tue 17 Jun 2014, 2:28pm AEST Thousands of dead fish washed up on Victoria's Ninety Mile Beach were probably killed by cold Antarctic water, according to the Environmental Protection Authority (EPA).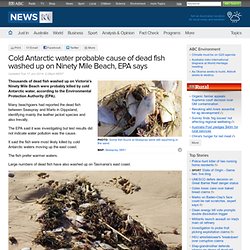 Many beachgoers had reported the dead fish between Seaspray and Marlo in Gippsland, identifying mainly the leather jacket species and also trevally. The EPA said it was investigating but test results did not indicate water pollution was the cause. Building Mobile Games with Stencyl. Developing a cool game generally requires advanced programming skills.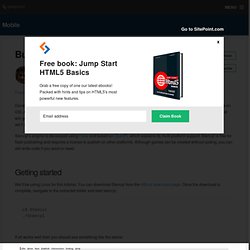 Stencyl provides a platform for creating games on iOS, Android, Flash, Windows, Mac or Linux without writing a line of code. It provides a simple drag and drop interface that will get you creating ideas faster. In this tutorial, we'll take a sneak peak into what Stencyl is all about. During this tutorial, we'll see how to add characters and scenes to a game and how to define their behaviours. Breathing - Home. Creating Change Creating Foresight | What could we create through foresight & strategy? Social Engineering and a Design-led Plan to "Govern" | Creating Change Creating Foresight. This post is about futures.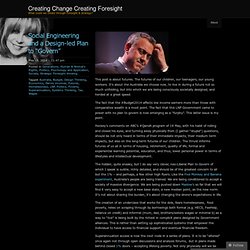 The futures of our children, our teenagers, our young workers. It's about the Australia we choose now, to live in during a future not so much unfolding, but into which we are being consciously societally designed, and herded at a great speed. The fact that the #Budget2014 affects low income earners more than those with comparative wealth is a moot point. The fact that this LNP Government came to power with no plan to govern is now emerging as a "furphy". This latter issue is my point. Unconditional Basic Income is the answer to our increasingly unequal present and our technologically unemployed future. University Futures | Facebook. An American in Denmark: Close encounters with European bicycle culture. This is part 1 of a short series about bicycles in Copenhagen.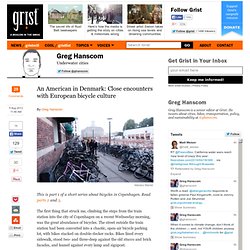 Read parts 2 and 3. The first thing that struck me, climbing the steps from the train station into the city of Copenhagen on a recent Wednesday morning, was the great abundance of bicycles. Power to the people> Swinburne Magazine. Story by Kristin Alford View articles in related topics: Sustainability & The Environment, Energy left to right: Associate Professor Lachlan Andrew, Professor Ryszard Kowalczyk and Dr Bao Vo at swinburne's energy management Research centre The option to switch on a light and turn on the television is a ritual taken for granted in most households.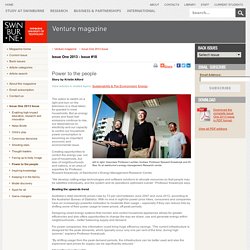 But as energy prices and fossil fuel emissions continue to rise, our dependence on electricity and our capacity to control our household power consumption is becoming an important economic and environmental issue. About us. Our mission We aim at being a reference research and training institute on the future of the World of Work as it impacts corporations and their strategies.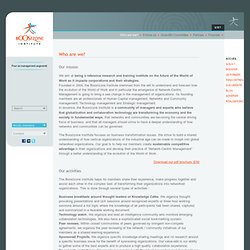 Founded in 2004, the Boostzone Institute stemmed from the will to understand and forecast how the evolution of the World of Work and in particular the emergence of Network-Centric Management is going to bring a sea change in the management of organizations. Its founding members are all professionals of Human Capital management, Networks and Community management, Technology management and Strategic management. George Church outlines a pathway to indeterminant lifespans via Synthetic Biology. George Church is a giant in gene sequencing, synthetic biology and DNA science.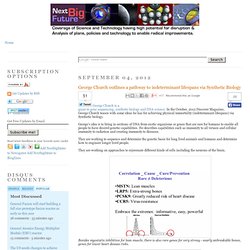 In the October, 2012 Discover Magazine, George Church teases with some ideas he has for achieving physical immortality (indeterminant lifespans) via Synthetic biology. George's idea is to bring in sections of DNA from exotic organisms or genes that are rare for humans to enable all people to have desired genetic capabilities. He describes capabilities such as immunity to all viruses and cellular immunity to radiation and creating immunity to diseases. They are working to sequence and determine the genetic basis for long lived animals and humans and determine how to engineer longer lived people.
They are working on approaches to rejuvenate different kinds of cells including the neurons of the brain. The foresight epidemic. Strategic Foresight > Our programs > Executive Education > Swinburne University of Technology. About the program The playing field is changing.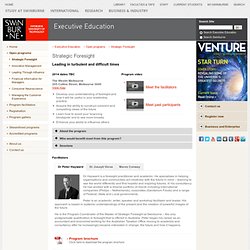 System turbulence and rapid change are the 'new normal' in the world of key decision-makers. Each day decisions must be made and plans devised for an ever-changing and often uncertain future. For those charged with leading and navigating through such uncertainty, success can prove problematic. Strategic foresight challenges leaders to engage with complexity as part of their leadership practice. Future Work Skills 2020. Global connectivity, smart machines, and new media are just some of the drivers reshaping how we think about work, what constitutes work, and the skills we will need to be productive contributors in the future.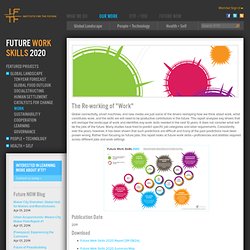 This report analyzes key drivers that will reshape the landscape of work and identifies key work skills needed in the next 10 years. It does not consider what will be the jobs of the future. Many studies have tried to predict specific job categories and labor requirements. Consistently over the years, however, it has been shown that such predictions are difficult and many of the past predictions have been proven wrong. Rather than focusing on future jobs, this report looks at future work skills—proficiencies and abilities required across different jobs and work settings.
Future of Humanity Institute - Publications. This book explores how to reason when you suspect that your evidence is biased by observation selection effects.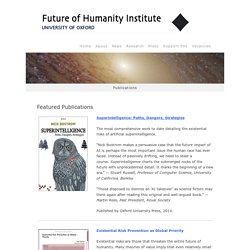 We will be discussing many interesting applications: philosophical thought experiments and paradoxes aside, we will use our results to address several juicy bits of contemporary science: cosmology (how many universes are there?) , evolution theory (how improbable was the evolution of intelligent life on our planet?) , the problem of time's arrow (can it be given a thermodynamic explanation?) , game theoretic problems with imperfect recall (how to model them?)
, traffic analysis (why is the "next lane" faster?) Foresight Engine. The Search for Foresight. An AU-perspective on the first ever Future Day - creating change. Deutsche Post DHL | Delivering Tomorrow - Logistics 2050. History of WFSF. Tuesday, 11 March 2008 10:11 WFSF The World Futures Studies Federation emerged from the ideas and pioneering work of such persons as Igor Bestuzhev-Lada (Russia), Bertrand de Jouvenel (France, 1903-1987), Johan Galtung (Norway), Robert Jungk (Austria 1913-1994), John McHale (UK/USA, 1922-1978) and others who in the 1960s conceived of the concept of futures studies at the global level. This resulted in the organization of the first International Futures Research Conference in Oslo, Norway, in September 1967, for which Mankind 2000 was responsible in cooperation with the International Peace Research Institute, Oslo, and the Institut für Zukunftsfragen. A Continuing Committee was created, with headquarters in Paris.
The principal work of this Committee was the convening of the International Futures Research Conference in Kyoto, Japan, in April 1970, in cooperation with the Japanese Association for Future Studies, under the leadership of Hayashi Yujiro and Hidetoshi Kato.
Technology
Theories & Insights. Transhuman/futurism. Shaping Tomorrow. The World Future Council: WFC - Home. Future of Western Civilisation. Polly Higgins - Eradicating Ecocide: Laws and Governance to Prevent the Destruction of our Planet by ianmackenz. Accelerating Future. There isn't enough in the world. Not enough wealth to go around, not enough space in cities, not enough medicine, not enough intelligence or wisdom. Not enough genuine fun or excitement.
The GFF. Futurity.org. Prospective-Foresight. Prospective institute & think tank. Welcome to Communities of the Future.
---