Education
6 Online Tools That Will Help The Writing Process. Writing can be a difficult task for many students.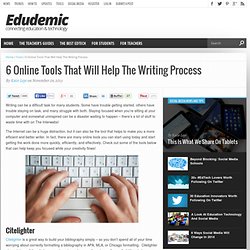 Some have trouble getting started, others have trouble staying on task, and many struggle with both. Staying focused when you're sitting at your computer and somewhat uninspired can be a disaster waiting to happen – there's a lot of stuff to waste time with on The Interwebs! The Internet can be a huge distraction, but it can also be the tool that helps to make you a more efficient and better writer. In fact, there are many online tools you can start using today and start getting the work done more quickly, efficiently, and effectively. Transcribe: An Awesome Chrome App for Transcribing Audio. If you ever have a need to transfer an audio recording into text format, you'll likely love this little Chrome Web app.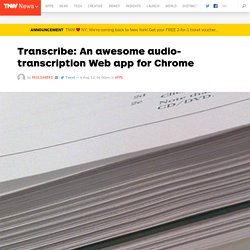 Aimed at journalists, students or anyone with a need to convert interviews and such like to the written from, Transcribe does exactly as it says on the tin. And it's so incredibly simple to use. You can either access the app through the Chrome Web Store, or simply go straight to the webpage ( bookmark it and add it to your toolbar for easy access. Transcribe is geared towards Google Chrome because because the Web app requires the HTML5 functionality.
Network per un apprendimento sociale sicuro per insegnati e studenti. Info. Wallwisher.com :: Words that stick. 5 Social Media Activities for Your Next HR Training Session. This post originally appeared on the American Express OPEN Forum, where Mashable regularly contributes articles about leveraging social media and technology in small business.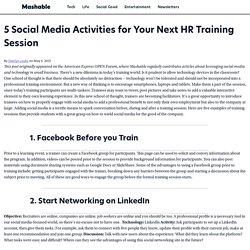 There's a new dilemma in today's training world: Is it prudent to allow technology devices in the classroom? One school of thought is that there should be absolutely no distraction — technology won't be tolerated and should not be incorporated into a professional training environment. But a new way of thinking is to encourage smartphones, laptops and tablets. Make them a part of the session, since today's training participants are multi-taskers. Trainees may want to tweet, post pictures and take notes to add a valuable interactive element to their own learning experience. Learn a new language with Google's Language Immersion Chrome extension. There are more than a few tools online to help you learn a new language, but none are as effective as immersing yourself in another country's language by actually traveling there.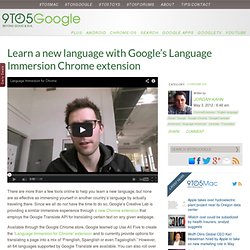 Since we all do not have the time to do so, Google's Creative Lab is providing a similar immersive experience through a new Chrome extension that employs the Google Translate API for translating certain text on any given webpage. Available through the Google Chrome store, Google teamed up Use All Five to create the "Language Immersion for Chrome" extension and to currently provide options for translating a page into a mix of "Frenglish, Spanglish or even Tagaloglish." However, all 64 languages supported by Google Translate are available. Free Online Course Materials. 450 Free Online Courses from Top Universities. Try Audible Now & Get a FREE Audiobook!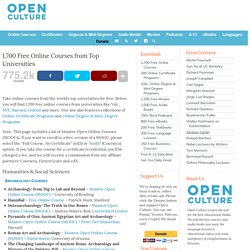 Get free online courses from the world's leading universities – Stanford, Yale, MIT, Harvard, Berkeley, Oxford and more. You can download these audio & video courses (often from iTunes, YouTube, or university web sites) straight to your computer or mp3 player. Over 30,000 hours of free audio & video lectures, await you now.
Scratch | Home | imagine, program, share. 16 Ways Educators Can Use Pinterest [INFOGRAPHIC] Teachers are known for their organizational skills, so chances are they'll love Pinterest's intuitive and logical design.
The social network's user experience has helped it earn a top spot among today's most popular social networks. Therefore, we predict that teachers will give it a gold star, too. Lore. Vineet Madan: The Digital Transformation of Education: A 21st Century Imperative.
Over the past several years, the education debate in America has increasingly become a conversation about technology.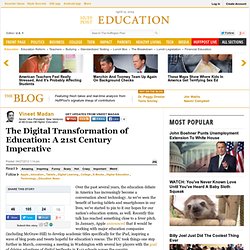 As we've seen the benefit of having tablets and smartphones in our lives, we've started to pin to it our hopes for our nation's education system, as well. Recently this talk has reached something close to a fever pitch. In January, Apple announced that it would be working with major education companies (including McGraw-Hill) to develop academic titles specifically for the iPad, inspiring a wave of blog posts and tweets hopeful for education's rescue.
The FCC took things one step further in March, convening a meeting in Washington with several key players with the goal of driving adoptions of digital textbooks in K-12 schools across the country. However, as with any movement, critics have emerged. 25 Kickstarter Tips For Students. 100 Ways To Use Twitter In Education, By Degree Of Difficulty. Twitter may have started off as a fun social media site for keeping up with friends and sharing updates about daily life, but it's become much more than that for many users over the past few years as the site has evolved and grown.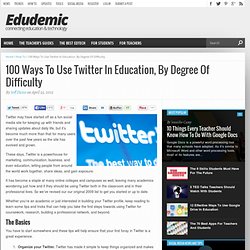 These days, Twitter is a powerhouse for marketing, communication, business, and even education, letting people from around the world work together, share ideas, and gain exposure. It has become a staple at many online colleges and campuses as well, leaving many academics wondering just how and if they should be using Twitter both in the classroom and in their professional lives. So we've revised our our original 2009 list to get you started or up to date. Whether you're an academic or just interested in building your Twitter profile, keep reading to learn some tips and tricks that can help you take the first steps towards using Twitter for coursework, research, building a professional network, and beyond. Google Drive vs. SkyDrive vs. Dropbox. Yesterday, Microsoft unleashed a desktop sync app for SkyDrive.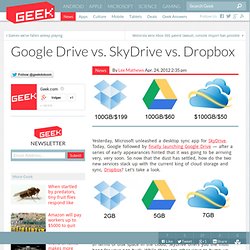 Today, Google followed by finally launching Google Drive — after a series of early appearances hinted that it was going to be arriving very, very soon. So now that the dust has settled, how do the two new services stack up with the current king of cloud storage and sync, Dropbox? Let's take a look. Free Storage. Web & Democracy. Teaching Students to Become Curators of Ideas: The Curation Project. I know a lot of people view curation as a buzz word devoid of meaning, but I like the metaphor!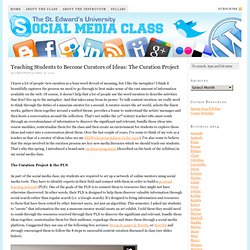 I think it beautifully captures the process we need to go through to best make sense of the vast amount of information available on the web. Of course, it doesn't help that a lot of people use the word curation to describe activities that don't live up to the metaphor. And that takes away from its power. 20 Excellent Free Rich-Text Editors. Rich-text editors, also known as online rich-text editors, are web components that allow users to edit and enter text within a web browser. Rich-text editors are used in numerous ways such as in enhancing your comment input form or as part of a web application that allows entry of user-generated and formatted content. Rich-text editors are essentially web-based WYSIWYG ("what you see is what you get") editors. There are many rich-text editors out there. What's even better than a lot of choices? Many of the best rich-text editors currently in the market are free.
The easy way to Plan and Journal your life. » 2011 Top 100 Tools List and Presentation finalised Learning in the Social Workplace. Yesterday, I finalised the Top 100 Tools for Learning 2011 list. In the last few days of voting there was a surge of contributions (both online and by email) that brought the number of contributions to 531. Many thanks to everyone who took the time to share their Top 10 Tools and help me compile this, the 5th annual survey of learning tools. The final list and presentation is available in full on this page HERE, but below I embed the presentation that I have created that is also available on Slideshare. This year as for the last couple of years, the #1 tool is Twitter.
Print Free Graph Paper. Scholar. Team WhiteBoarding with Twiddla - Painless Team Collaboration for the Web. Il futuro della lettura è social ma l'Europa è ancora indietro. L'avvento dei libri in formato elettronico offre ai lettori nuove possibilità di interazione, condivisione e scambio di idee. Una tendenza che è già realtà negli Usa ma che da noi ancora non ha preso piede. Il tutto in un mercato che nel 2020 sarà esclusivamente digitale per un lettore su due di RICCARDO BAGNATO METTIAMOLA così: c'è chi sottolinea i propri libri con evidenziatori, biro o senza dimenticare qualche post-it fra le pagine e chi, invece, non oserebbe sfiorare il testo nemmeno con una matita.
Da oggi, per gli uni e per gli altri potrebbe esserci però una via di mezzo. A Taxonomy of Social Reading: a proposal. This site is powered by Commentpress, which allows comments to be attached to individual paragraphs, to whole pages, or to an entire document. To leave a comment on a paragraph, click the 'speech bubble' icon to its left; the appropriate comments section will open and scroll to the comment form. To leave a comment on an entire page, click the link to "Comments on the whole page" in the right–hand column. OpenLeaks. Word Tamer. Exquisite Corpse. The road to Tahrir - The Egyptian Example.
While the uprising in Egypt caught most observers of the Middle East off guard, it did not come out of the blue. The seeds of this spectacular mobilization had been sown as far back as the early 2000s and had been carefully cultivated by activists from across the political spectrum, many of these working online via Facebook, twitter, and within the Egyptian blogosphere. Working within these media, activists began to forge a new political language, one that cut across the institutional barriers that had until then polarized Egypt's political terrain, between more Islamically-oriented currents (most prominent among them, the Muslim Brotherhood) and secular-liberal ones.
Latest Empirical Findings on Democratic Effects of the Internet. The 35 Best Web 2.0 Classroom Tools Chosen By You. Online Video Lectures and Course Materials — Open Yale Courses. WorldWideScience. European Commission - Education & Training - Official documents on the Lifelong Learning Programme. Interactive media resources.
50 Online Tools to Convert Documents and Media Files | Technically Digital. 10 Useful Online Task Management Tools | Technically Digital.
---