Pierogi and Rolls
Buffalo Chicken Rolls. I'm thinking we're very comfortable together at this point, me and you.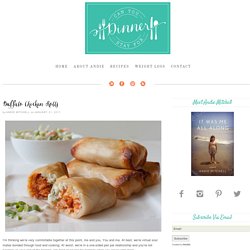 You and me. At best, we're virtual soul mates bonded through food and cooking. At worst, we're in a one-sided pen pal relationship and you're not keeping up your end of the bargain. I'm tired of paying for postage when you never write back. Pierogi Recipe. October 2, 2010 My mom is obsessed with keeping a stocked freezer, but I guess I don't really take after her, because my freezer tends to be relatively empty, aside from random containers of stock/ramen broth, frozen dumplings and pierogi.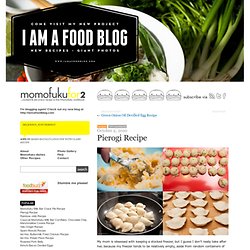 I admit, I store buy frozen chinese dumplings and pierogi for those times that I just don't feel like cooking. I tell myself it's because of ease and convenience, but really, I just love the taste of frozen pockets filled with deliciousness. Pierogi are fast, tasty, and ideal for when I let myself get too hungry and become a crazy unthinking monster. Jalapeno Hummus Ravioli. I have been experimenting with hummus a lot lately while serving as the Sabra Brand Ambassador on MixingBowl.com and decided to try a Hummus Ravioli recipe they shared on their Facebook Page.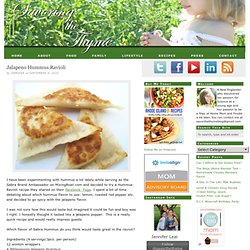 I spent a bit of time debating about which hummus flavor to use: lemon, roasted red pepper etc. and decided to go spicy with the jalapeno flavor. I was not sure how this would taste but imagined it could be fun and boy was I right. I honestly thought it tasted like a jalapeno popper. This is a really quick recipe and would really impress guests. Pierogies Recipe at Epicurious. Make dough: Put flour in a large shallow bowl and make a well in center.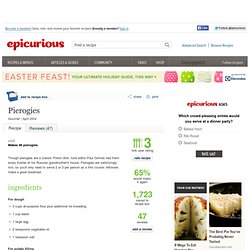 Add water, egg, oil, and salt to well and carefully beat together with a fork without incorporating flour. Continue stirring with a wooden spoon, gradually incorporating flour, until a soft dough forms. Transfer dough to a lightly floured surface and knead, dusting with flour as needed to keep dough from sticking, until smooth and elastic, about 8 minutes (dough will be very soft).
Invert a bowl over dough and let stand at room temperature 1 hour. Potato and Cheese Pierogi | MyGourmetConnection Recipes. Pierogi are traditional Polish noodle dumplings, filled with a variety of classic sweet and savory mixtures.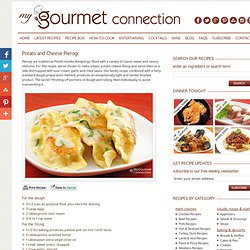 For this recipe, we've chosen to make a basic potato-cheese filling and serve them as a side dish topped with sour cream, garlic and chive sauce. Our family recipe, combined with a fairly standard dough preparation method, produces an exceptionally light and tender finished product. The secret? Pinching off portions of dough and rolling them individually to avoid overworking it. 3-1/2 cups all-purpose flour, plus more for dusting3 large eggs2 tablespoons sour cream3/4 to 1 cup water 1-1/2 lbs baking potatoes, peeled and cut into 1-inch slices2 tablespoons unsalted butter1 tablespoon extra-virgin olive oil1 small sweet onion, chopped1 clove garlic, minced1/4 teaspoon dried thyme3/4 to 1 cup grated dry farmer's cheeseKosher salt and freshly ground pepper to taste 1/2 stick butter, cut into 1 tablespoon portions1 recipe Sour Cream Garlic-Chive Sauce.
---