Chinese
Take-Out, Fake-Out: Sweet & Sour Chicken. It's easy to make the popular take out sweet & sour chicken at home We made it to Friday!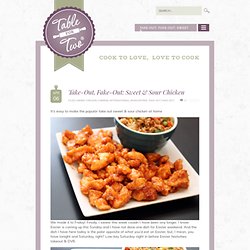 Finally. I swear this week couldn't have been any longer. I know Easter is coming up this Sunday and I have not done one dish for Easter weekend. General Tso's Chicken…possibly the best food ever. A recipe!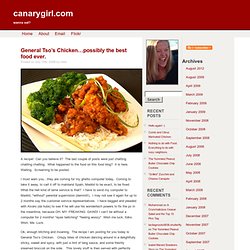 Can you believe it? The last couple of posts were just chatting chatting chatting. What happened to the food on this food blog? Recipe: sweet & sour chicken. I was ridiculously excited when I came across this recipe for homemade sweet and sour chicken.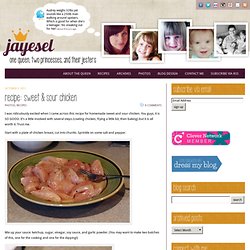 You guys, it is SO GOOD. It's a little involved with several steps (coating chicken, frying a little bit, then baking) but it is all worth it. Trust me. How to Make Your Own Spring Rolls. Your passion for healthy living brought you here - let's keep talking!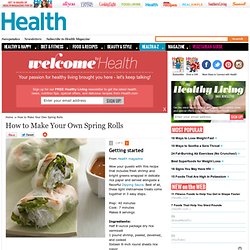 Home>> How to Make Your Own Spring Rolls From Health magazine Wow your guests with this recipe that includes fresh shrimp and bright greens wrapped in delicate rice paper and served alongside a flavorful Dipping Sauce. Chicken Lo Mein Recipe. Vegan Miso Soup Recipe - Made Just Right. Photo courtesy of Adactio[/caption] It used to be that chicken soup was the prescribed go-to meal for anyone feeling under the weather.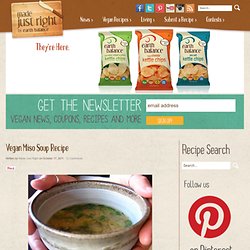 There are however healthier plant-based options that not only help ease one through the transition from illness back to health, but also contribute to an overall sense of well-being. Miso soup is at the top if that list! What's your go-to meal when you're not feeling so hot? Tell us below in the comments for a chance to win free Earth Balance®! Food52: 9 Takeout Classics, Done At Home. Call anything "world's easiest" and we're skeptical, but marisab67 is on to something.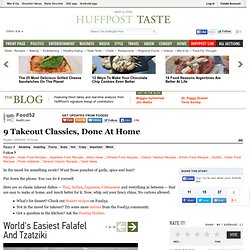 We'd never made falafel from scratch before and were astonished at how easy -- and fun -- it could be. The food processor does double duty for the herbed chickpea mixture and then the garlic-scented tzatziki, saving us from both fine-chopping and washing extra dishes. The falafel patties are easily formed (a good time to put children or other passersby to work) and well-behaved in the frying pan. Foodbuzz 24, 24, 24: Chinese Buffet at Home. It is no secret that I have an obsession with Chinese cuisine.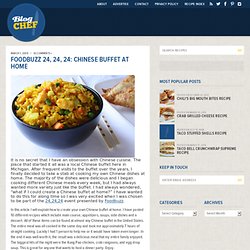 The place that started it all was a local Chinese buffet here in Michigan. After frequent visits to the buffet over the years, I finally decided to take a stab at cooking my own Chinese dishes at home. The majority of the dishes were delicious and I began cooking different Chinese meals every week, but I had always wanted more variety just like the buffet. I had always wondered, "what if I could create a Chinese buffet at home?" I have wanted to do this for along time so I was very excited when I was chosen to be part of the 24,24,24 event presented by Foodbuzz.
Better Than Takeout Orange Chicken. Yesterday as I stood in the kitchen trying to figure out what to make for dinner I wondered to myself, how do those people do it on those shows where they are given random ingredients and are suppose come up with something genius.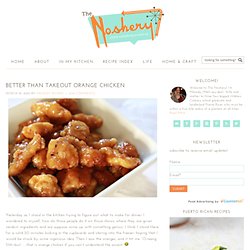 I think I stood there for a solid 20 minutes looking in the cupboards and staring into the freezer hoping that I would be struck by some ingenious idea. Then I saw the oranges, and it hit me "O-raang Shh-ikun"….that is orange chicken if you can't understand the accent.
---