E-cat
Get flash to fully experience Pearltrees
Guest post by Ric Werme Six months ago I posted, with Anthony's consent and misgivings, Cold Fusion Going Commercial!? . It's time to take a look at how Dr Rossi and his Energy Catalyzer are doing.
The following press release was posted today by Andrea Rossi on his web site: PRESS RELEASE : Bologna-Rome (Italy) August 4th 2011 EFA- Energia da Fonti Alternative srl, the Italian Company through which the rights for the production of Andrea Rossi's E-Cat were granted to Praxen Defkalion Green Technologies LTD, publicly announces that the License and Technology Transfer Agreement between the two companies has been recently terminated.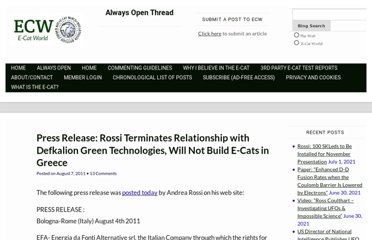 Yet another test of Andrea Rossi's Energy Catalyzer (E-Cat) has been performed on a 4.5 kW version near the University of Bologna. This time a new set of observers were present, one of which is the chairman of the Swedish Skeptics Society, who confirmed that Copper is being formed from Hydrogen and Nickel -- cold fusion! by Hank Mills Pure Energy Systems News The evidence in support of Andrea Rossi's "cold fusion" or "LENR" (low energy nuclear reaction) based Energy Catalyzer continues to grow.
Andrea Rossi Andrea Rossi (born 3 June 1950) is an Italian inventor [ 1 ] and entrepreneur. [ 2 ] He is the inventor of the Energy Catalyzer (also called E-Cat), which is a purported cold fusion or Low-Energy Nuclear Reaction (LENR) thermal power source. [ 3 ] He claimed to have invented a process to convert organic waste into oil for which, in 1978, he founded a company named Petroldragon . In the 1990s, following the collapse of the company, he was jailed for environmental crimes and tax fraud, serving six months in prison. He was ultimately acquitted. [ 4 ]
As cities continue dramatic growth, the use of the automobile becomes seriously problematic. Huge parking lots, crowded roads servicing increasingly concentrated populations housed in high rise condominiums exacerbate transport and parking problems within our cities. Transit may be a partial answer but often the systems are only efficient at rush hour so become uneconomic beyond these times. As well, walking to transit service to and from home is not easy for seniors , especially if burdened with a load of groceries. An obvious solution lies in the use of semi-recumbent tricycles which are safe and capable of safely carrying generous loads.. Doctor and hospital visits with an electric assist trike eliminate the need for huge parking lots and parking fees.