Raising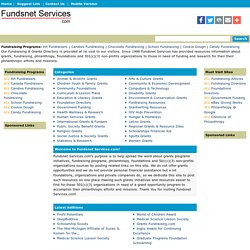 Fundsnet Services.com | Grants and Fundraising Directory for nonprofit organizations and schools.
Fundsnet Services.com's purpose is to help spread the word about grants programs initiatives, fundraising programs, philanthropy, foundations and 501(c)(3) non-profits organizations sources by posting related links on this site. We do not offer grants opportunities and we do not provide personal financial assistance but a lot foundations, organizations and private companies do, so we dedicate this site to post such resources on one place making such grants initiatives and resources easier to find for those 501(c)(3) organizations in need of a grant opportunity program to accomplish their philanthropic efforts and missions. Thank You for visiting Fundsnet Services.com!
Symbid
Sponsors Content Type Articles Blogs Questions Documents Videos Sites Editorials Latest EditorialTrendingMost Viewed
Crowdsourcing and Crowdfunding - The Industry Website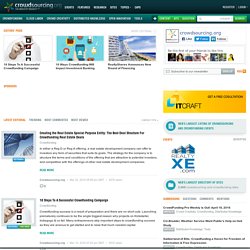 Youcapital
Donne e Media Vogliamo un Paese che rispetti le donne" è stato il grido di un milione di donne italiane scese in piazza a febbraio per rivendicare maggiore dignità e pari opportunità in un Paese ancora molto maschilista, dove l'apparenza conta più di qualsiasi merito, competenza professionale o qualità personale. Un Paese dove fare la velina è tra le professioni più ambite, dove grazie alla politica abbiamo imparato che cosa sono le escort e, grazie alla tv e alla pubblicità, siamo convinti che...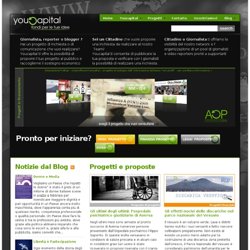 Kapipal - Raise Money for Your Dreams!
9 crowdfunding websites to help you change the world. - Webdistortion
For many people, the thought of taking significant financial risk holds them back from jumping head-long into launching the idea that has been stuck in the recesses of their head. This collection of sites are designed to take the risk out of that creativity and innovation, allowing even the little guy to do something amazing. Who needs venture capital funding to get their idea off the ground? If you've been holding back because of it, you might just find there's help out there, fueled by the community, and managed by some of these fantastic sites, which can help you fund your idea, business startup or music project. KickStarter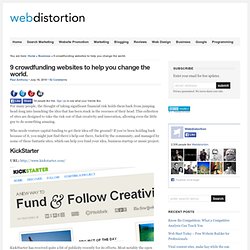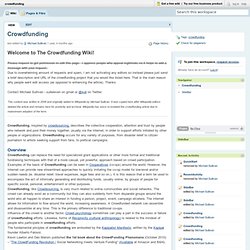 Please request to get permission to edit this page. I approve people who appear legitimate so it helps to add a message with your request. Due to overwhelming amount of requests and spam, I am not activating any editors so instead please just send a brief description and URL of the crowdfunding project that you would like listed here.
crowdfunding / Crowdfunding
Crowd Funding | Startup Business Crowd Funding | Crowdfunding a Businss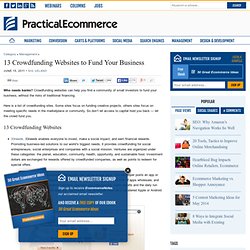 Who needs banks? Crowdfunding websites can help you find a community of small investors to fund your business, without the risks of traditional financing. Here is a list of crowdfunding sites. Some sites focus on funding creative projects, others sites focus on meeting specific needs in the marketplace or community.
13 Crowdfunding Websites to Fund Your Business
Language: English Bahasa Indonesia Bahasa Melayu Dansk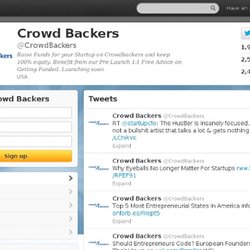 Crowd Backers (crowdbackers) on Twitter
Crowdfunded windmill will generate energy for members' own use
Growd: considering new tools in order to connect agile co-creation with crowdfunding What if crowdfunding could be embed in an agile way to co-creation processes, hackathons and other development meetings alike? What if this sort of solution is not only open source, but also generates new communities, collaboration and Common goods? If you're moved by those questions too please keep reading and find how you can help us below... The challenge Tired about how many hackathons or co-creation results vanish after people meet
Crowdfunding the commons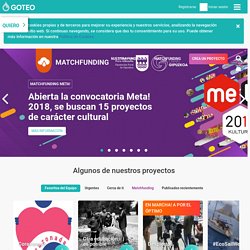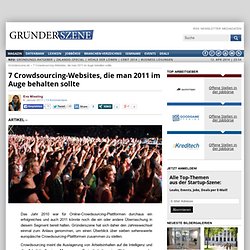 7 crowdsourcing websites that you should keep an eye 2011
Das Jahr 2010 war für Online-Crowdsourcing-Plattformen durchaus ein erfolgreiches und auch 2011 könnte noch die ein oder andere Überraschung in diesem Segment bereit halten. Gründerszene hat sich daher den Jahreswechsel einmal zum Anlass genommen, um einen Überblick über sieben sehenswerte europäische Crowdsourcing-Plattformen zusammen zu stellen. Crowdsourcing meint die Auslagerung von Arbeitsinhalten auf die Intelligenz und die Arbeitskraft einer Masse von Freizeitarbeitern im Web, was von der Erstellung von Logos über Modedesigns bis hin zur Finanzierung von Geschäftsideen reichen kann. Das Konzept Crowdsourcing hat zuletzt weiter deutlich an Größe gewonnen.
TechStars » Funding and Mentorship from the #1 Startup Accelerator in the World
Email PasswordI forgot my password Connect with Facebook It's faster and easier I don't have an account yet, but, I would like to create one right now
Crowdfunding, Investment in startups, microinvest, mymicroinvest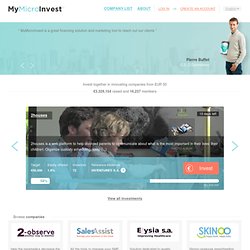 Crowdfunding for Startups | Startup Addict
Go here for Startup Addict Crowdfunding. You must have a verified paypal account to post a project or startup. Are you waiting for Equity Crowdfunding for startups? If so please sign up below: Get Early Access to our Equity Crowdfunding Platform? StartupAddict is a haven for entrepreneurial SuperHeros thwarting the forces of mediocrity.
Crowdfunding for entrepreneurs (Crowd Investing investment rounds for startups) | SocialCompare - Site communautaire de comparatifs
Crowdsourcing gehört zu den Modewörtern in der Internetgemeinde und zahlreiche Angebote, die auf diesem Prinzip basieren, erobern nach dem amerikanischen nun auch den deutschen Markt. Der Grund ist einfach: Crowdsourcing-Angebote ermöglichen es, ohne eigene Angestellte oder die aufwändige Suche nach geeigneten Fachleuten, trotzdem zahlreiche Dienstleistungen effektiv über das Internet einzukaufen und auf umfassendes Knowhow zuzugreifen. Was ist Crowdsourcing? Jeff Howes Wortneuschöpfung (Wired Magazine) aus dem Jahr 2006 setzt sich aus den englischen Begriffen Crowd und Outsourcing zusammen. Es bezeichnet das Auslagern von klassischen Dienstleistungsaufgaben, nicht wie beim Outsourcing an Drittunternehmen, sondern an eine Crowd (dt: Masse) – in der Regel ist das eine Gruppe von Internetnutzern. Weil hier das Wissen der Masse verfügbar gemacht wird, spricht man in diesem Zusammenhang auch gerne von der "Intelligenz der Masse".
Crowdsourcing for startups | start-up scene
Cofundos.org - community innovation and funding
Kachingle is a monetization, distribution, discovery, billing and co-marketing platform for apps and content. Kachingle utilizes network effect and allows users to customize their own bundles or select from pre-built bundles. Unique to Kachingle is the ability for partners to co-market with one another with just a simple API call. This, and our exclusive usage-based revenue sharing technology built on our proven micro-payment engine make Kachingle the monetization platform of the future. Kachingle - Different From Other App Revenue Models
Kachingle - Social cents for the Open Web
Home | Start Some Good: Igniting Ideas, Investment & Impact.