Raising
Fundsnet Services.com | Grants and Fundraising Directory for nonprofit organizations and schools.
Symbid
Youcapital
For many people, the thought of taking significant financial risk holds them back from jumping head-long into launching the idea that has been stuck in the recesses of their head.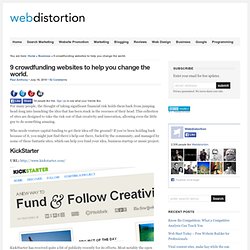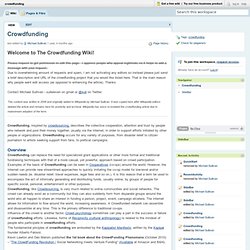 Please request to get permission to edit this page. I approve people who appear legitimate so it helps to add a message with your request. Due to overwhelming amount of requests and spam, I am not activating any editors so instead please just send a brief description and URL of the crowdfunding project that you would like listed here.
Crowd Funding | Startup Business Crowd Funding | Crowdfunding a Businss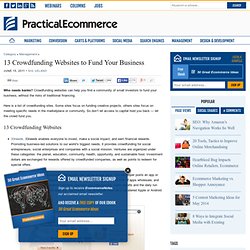 Who needs banks?
Crowd Backers (crowdbackers) on Twitter
Crowdfunded windmill will generate energy for members' own use
We've seen numerous creative approaches to supplying sustainable energy for home users, but recently one caught our eye that seemed a little different. Targeting consumers unwilling or unable to outfit their own homes with wind or solar energy collectors, Dutch Windcentrale offers a chance to own a portion of a local windmill and enjoy a proportionate amount of the green energy it produces.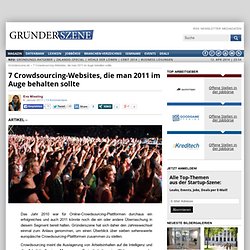 7 crowdsourcing websites that you should keep an eye 2011
Das Jahr 2010 war für Online-Crowdsourcing-Plattformen durchaus ein erfolgreiches und auch 2011 könnte noch die ein oder andere Überraschung in diesem Segment bereit halten.
Crowdfunding for Startups | Startup Addict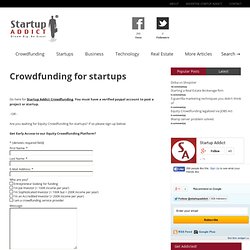 Go here for Startup Addict Crowdfunding . You must have a verified paypal account to post a project or startup.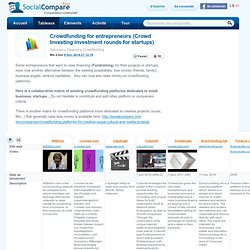 Crowdfunding for entrepreneurs (Crowd Investing investment rounds for startups) | SocialCompare - Site communautaire de comparatifs
Some entrepreneurs that want to raise financing ( Fundraising ) for their projects or startups, have now another alternative between the existing possibilities: love money (friends, family), business angels, venture capitalists... they can now also raise money on crowdfunding platforms.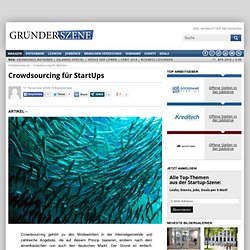 Crowdsourcing gehört zu den Modewörtern in der Internetgemeinde und zahlreiche Angebote, die auf diesem Prinzip basieren, erobern nach dem amerikanischen nun auch den deutschen Markt. Der Grund ist einfach: Crowdsourcing-Angebote ermöglichen es, ohne eigene Angestellte oder die aufwändige Suche nach geeigneten Fachleuten, trotzdem zahlreiche Dienstleistungen effektiv über das Internet einzukaufen und auf umfassendes Knowhow zuzugreifen.
Crowdsourcing for startups | start-up scene
Kachingle - Social cents for the Open Web