Marketing sportif
How to Apply
The GMAT® exam is administered in a computer-adaptive format that adjusts to your level. The GMAT consists of four main parts—the Analytical Writing Assessment, the Quantitative section, the Verbal section, and the Integrated Reasoning section. You have three and a half hours in which to take the exam, but plan for a total time of approximately four hours.
Format & Timing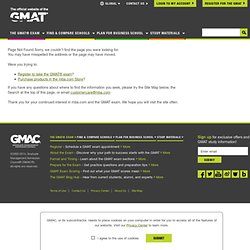 L'actualité du Sport Business qui BUZZ !
Accueil | EasyLive, Sport Cam, Bet Box.
SPORTANNONCES.COM - Syst me d'annonces sportives sur internet. Trouvez votre quipe, chercher des joueurs.
Rugby business
Login to ActiveRecruiter.
Tage Mage - TAGE MAGE
Au Bonheur des Dames, l'invention du grand magasin
Welcome to Learnmarketing.net - Learn about Marketing here. Free Marketing Education, Lessons and Marketing Resources