Art
25 Creative and Easy DIY Canvas Wall Art Ideas. Be an artist yourself and make beautiful art for your home.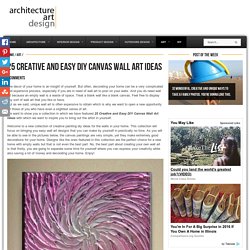 You don't have to pay a lot of money on art pieces, you can simply create them by yourself. We found easy tutorials and ideas for everyone, for those who have a sense for painting and the one that doesn't have. You just need to buy white canvas and start with the creating process. Simple art pieces with amazing pallet of colors will look amazing in every modern home. Slaveika Aladjova: Art, Design & Photography. "Passage" Art Prints by nicolasjolly. The Winged Victory Of Samothrace Could One Day Dominate Your City's Skyline. Photo © Vasily Klyukin.
In an era of skyscraper frenzy, where the world's metropoles compete for the record of the tallest tower (with buildings as high as 1000 meters being reportedly under construction), a young businessman from Russia has envisioned a different kind of architectural landmark. 37-year-old Vasily Klyukin, founder of the successful Sovcombank and manager of the real estate fund K2H, has been working for the past year on a conceptual architecture project that means to give a legendary status to the skyscrapers and other iconic buildings we erect in our cities.
The whole project began after Klyukin bought a small building in Monaco which he then wished to replace with a tall tower that would become a landmark for the Principate. In order to convince Prince Albert II, he began drawing original skyscrapers and towers with the aim of creating the most impressive and beautiful architectural landmark befitting the prestigious city-state. Artistic Sculpting With Paint Art by Justin Gaffrey. Justin Gaffrey didn't get any art education from any school or institution, but this does not prevent him to create beautiful paintings.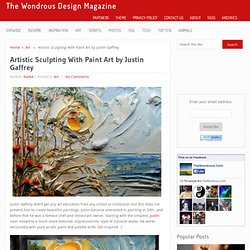 Justin became interested in painting in 2001, and before that he was a famous chef and restaurant owner. Starting with the simplest, Justin soon moved to a much more textured, impressionistic style of classical works. He works exclusively with pure acrylic paint and palette knife. Get inspired :) Audrey Kawasaki's Creative Workspace (11 pics) Tim Shumate. Emma SanCartier Illustration. Real Life Disney Characters by Jirka Väätäinen. By combining photo compositing and digital painting, Jirka Väätäinen uses her imagination to bring to life realistic versions of Disney's most famous female characters.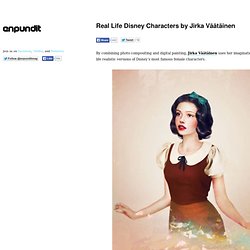 Snow White Rapunzel Alice from Alice in Wonderland. Emeeme: Thumbnail Takanori Aiba. Rune Guneriussen. These dream-like installations are assembled, and then photographed by Norwegian artist Rune Guneriussen.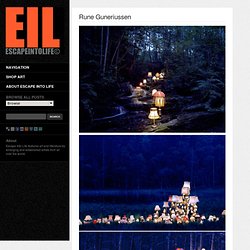 Just imagine being out for a walk in Norway's countryside, turning a corner and discovering a magical forest of lamps, a tangle of chairs, or a river of books. Sadly, once the photograph is taken, Rune removes the installation, the only proof of it's existence being these images… sort of like waking up from an amazing dream that you could have sworn was real. As an artist, I believe strongly that art itself should be questioning and bewildering as opposed to patronising and restricting.
50 Inspiring Examples of Emotional Portrait Photography. Emotional portrait photography is all about capturing and preserving the moments of real life forever.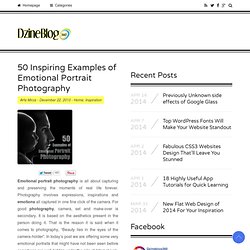 Photography involves expressions, inspirations and emotions all captured in one fine click of the camera. For good photography, camera, set and make-over is secondary. It is based on the aesthetics present in the person doing it. Marcela Bolivar (graydecay) – photomanipulator | Design your way. Marcela Bolivar is an excellent photomanipulator and dark artist from Columbia.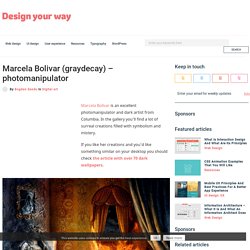 In the gallery you'll find a lot of surreal creations filled with symbolism and mistery. If you like her creations and you'd like something similar on your desktop you should check . You will definitely like these articles Best collection of robots illustrations – 49 artworks. Drowning Beautiful | Derek Gores. Sketchbook on the Behance Network. Amazingly Creative Drawing Vs Photography.
The Decade in Pictures - Pixcetera Blog. Where Science, Art and Photography Intersect (25 photos) Silhouette with Matches Caleb Charland demonstrates lessons in physics and mathematics with his mind-blowing photography.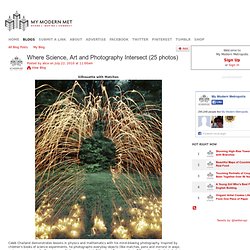 Inspired by children's books of science experiments, he photographs everyday objects (like matches, pens and mirrors) in ways we've never imagined, often using multiple exposures to tell the story. For example, in Fifteen Hours, the last photo in this set, Charland used 15 exposures to show how the flame of a dinner candle beautifully burns down. In still others, like in Cube with Rule and Penlight, Caleb Charland sits in pitch black darkness and, with a penlight in his hand, traces the shape of a cube along a ruler.
Greys. Art deco custom motorcycle. Every few months, a bike comes along that completely stops me in my tracks.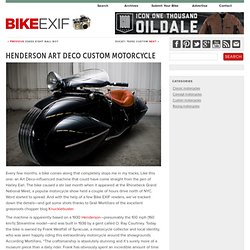 Like this one: an Art Deco-influenced machine that could have come straight from the pen of Harley Earl. The bike caused a stir last month when it appeared at the Rhinebeck Grand National Meet, a popular motorcycle show held a couple of hours drive north of NYC. Word started to spread. Most Beautiful Henna Colours | Henna, Used, Ceremonies, Art, Also. Henna also known as Mehandi has been used to decorate young women's bodies as part of marriage celebrations from ancient time say, it is about 5000 years old tradition.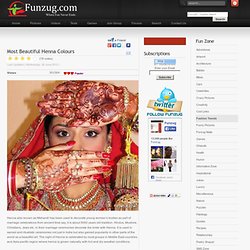 Hindus, Muslims, Christians, Jews etc. in their marriage ceremonies decorate the bride with Henna. It is used in sacred and ritualistic ceremonies not just in India but also gained popularity in other parts of the world as a beautiful art. A Mirrored Memory (8 Photos. Texas based photographer, Tom Hussey reflects on his recent collaboration with the pharmaceutical company, Novartis for their "Reflections" campaign. "Based on an earlier portfolio image, I was awarded a job for an Alzheimer's drug called the Exelon Patch made by Novartis. The Exelon Patch helps patients maintain long-term memories during the early stages of this horrific disease. I was fortunate to be included in a lot of the early concept stages for the campaign.
G A L L E R Y. Staples Art. Suckatlife.com - artwork by lawrence yang. Photography's Longest Exposure - household name : : : blog. [click +] Six months. That's right. This dream-like picture shows each phase of the sun over Bristol's Clifton Suspension Bridge taken during half a year. The image was captured on a pin-hole camera made from an empty soda can with a 0.25mm aperture and a single sheet of photographic paper.
---