Psychology
How to tell in 15 minutes whether someone likes you - by Bridget Webber. Bridget Webber's image for: "Body Language that Shows when someone of the Opposite Sex Fancies you" Caption: Location: Image by: Wouldn't it be great to be able to tell within fifteen minutes whether someone likes you or not?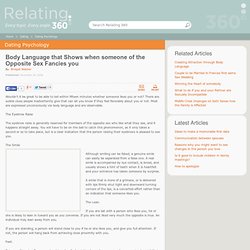 Psychology studies relevant to everyday life from PsyBlog. Why the #$%! Do We Swear? For Pain Relief. Bad language could be good for you, a new study shows.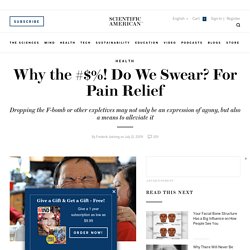 For the first time, psychologists have found that swearing may serve an important function in relieving pain. The study, published today in the journal NeuroReport, measured how long college students could keep their hands immersed in cold water. During the chilly exercise, they could repeat an expletive of their choice or chant a neutral word. First 3D Map of the Brain's Connections. We knew anatomy could be gorgeous, but this is beyond anything else we've ever seen, and it's guaranteed to be something you haven't seen, being the first 3D image of a brain's connections.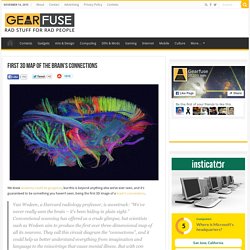 Van Wedeen, a Harvard radiology professor, is awestruck: "We've never really seen the brain – it's been hiding in plain sight." Conventional scanning has offered us a crude glimpse, but scientists such as Wedeen aim to produce the first ever three-dimensional map of all its neurons. They call this circuit diagram the "connectome", and it could help us better understand everything from imagination and language to the miswirings that cause mental illness. Teenagers' brains 'can resist temptation' Do Dogs Know Death? How animals perceive death has been a longstanding puzzle.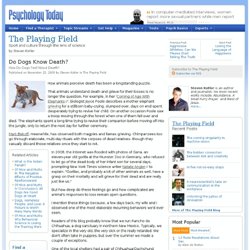 That animals understand death and grieve for their losses is no longer the question. For example, in her ' Coming of Age With Elephants ', biologist Joyce Poole describes a mother elephant grieving for a stillborn baby-crying, slumped over, days on end spent desperately trying to revive her child. On another occasion Poole saw a troop moving through the forest when one of them fell over and died. The elephants spent a long time trying to revive their companion before moving off into the jungle, only to return the next day for further ceremony.
Me, Myself and My Stranger: Understanding the Neuroscience of Selfhood. Where are you right now?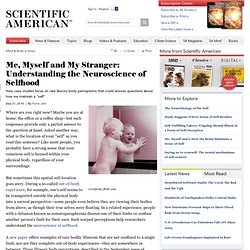 Maybe you are at home, the office or a coffee shop—but such responses provide only a partial answer to the question at hand. Asked another way, what is the location of your "self" as you read this sentence? Like most people, you probably have a strong sense that your conscious self is housed within your physical body, regardless of your surroundings. But sometimes this spatial self-location goes awry. During a so-called out-of-body experience, for example, one's self seems to be transported outside the physical body into a surreal perspective—some people even believe they are viewing their bodies from above, as though their true selves were floating. The Dark Side of Self-Control.
Why do people drink too much, eat too much, smoke cigarettes, take drugs , or have sex with people they've just met?
What's to blame for all this bad behavior? Most people would say that, while these self-destructive acts can have many root causes, they all have one obvious thing in common: they are all examples of failures of self-control . Each of us has desires that we know we shouldn't give in to, but when faced with temptation, some of us lack the willpower to resist it.
How to Live With an Unknowable Mind. We know surprisingly little about our own personalities, attitudes and even self-esteem.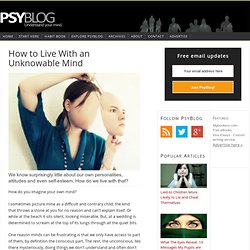 How do we live with that? How do you imagine your own mind? 10 More Common Faults in Human Thought. Humans This list is a follow up to Top 10 Common Faults in Human Thought.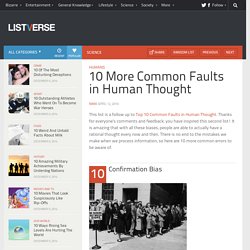 Thanks for everyone's comments and feedback; you have inspired this second list! It is amazing that with all these biases, people are able to actually have a rational thought every now and then. Dunning–Kruger effect. The Dunning–Kruger effect is a cognitive bias in which unskilled individuals suffer from illusory superiority, mistakenly rating their ability much higher than is accurate.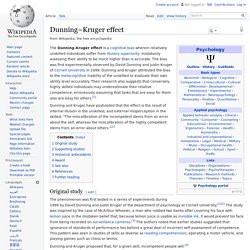 This bias is attributed to a metacognitive inability of the unskilled to recognize their ineptitude.[1] Actual competence may weaken self-confidence, as competent individuals may falsely assume that others have an equivalent understanding. David Dunning and Justin Kruger of Cornell University conclude, "the miscalibration of the incompetent stems from an error about the self, whereas the miscalibration of the highly competent stems from an error about others".[2] Proposal[edit] Psychology-of-a-hoarder.png (PNG Image, 800x2289 pixels) 15 Styles of Distorted Thinking. 25 Acts of Body Language to Avoid. Our body language exhibits far more information about how we feel than it is possible to articulate verbally.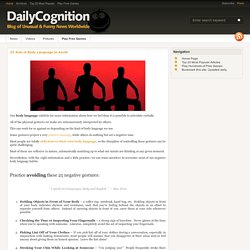 All of the physical gestures we make are subconsciously interpreted by others. This can work for or against us depending on the kind of body language we use. Some gestures project a very positive message, while others do nothing but set a negative tone. Most people are totally oblivious to their own body language, so the discipline of controlling these gestures can be quite challenging. Sexual chemistry: How brain chemicals that divide us into four personality groups are the key to finding perfect love...
By Louise Atkinson Updated: 08:20 GMT, 22 February 2011 Who knows why Brad Pitt chose Angelina Jolie over Jennifer Aniston or why Helena Bonham-Carter prefers to live in a separate house to her long-term partner Tim Burton? The course of true love is a complex combination of personality, circumstance, upbringing and timing, but an eminent U.S. anthropologist claims to have uncovered a key secret to why some relationships work and others prove to be a little more tricky. After 30 years of studying the science of romantic love, Dr Helen Fisher is convinced that attraction is closely linked to the chemistry of your personality type and how it matches — or clashes — with that of your chosen partner.
Color Psychology. By David Johnson Like death and taxes, there is no escaping color. It is ubiquitous. Yet what does it all mean? Poor Man's Polygraph Part 5. Poor Man's Polygraph Part 5 Parallel Lie People tend to tell the truth except when the truth prevents them from achieving a desired outcome. The next time you purchase a product or service use the Poor Man's Polygraph to give yourself a degree of confidence that you are not being cheated. Likewise, parents use the Poor Man's Polygraph, more aptly described as the Parental Polygraph, to test the veracity of your kids. Kids, especially teenagers, tell their parents the truth when they know their parents will approve of their activities and become evasive or even outright lie when they know their parents will disapprove of their activities.
---