Psychology
by Bridget Webber Created on : December 26, 2008 Last Updated : October 05, 2012 Wouldn't it be great to be able to tell within fifteen minutes whether someone likes you or not? There are subtle clues people inadvertently give that can let you know if they feel favorably about you or not. Most are expressed unconsciously via body language and are observable.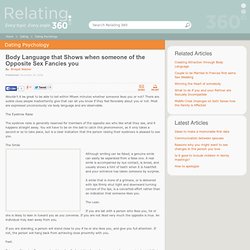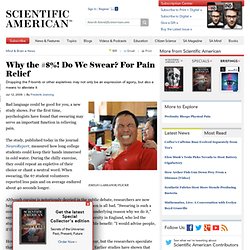 Why the #$%! Do We Swear? For Pain Relief
Mind & Brain :: News :: July 12, 2009 :: :: Email :: Print Dropping the F-bomb or other expletives may not only be an expression of agony, but also a means to alleviate it By Frederik Joelving FRAK!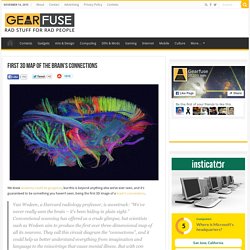 We knew anatomy could be gorgeous , but this is beyond anything else we've ever seen, and it's guaranteed to be something you haven't seen, being the first 3D image of a brain's connections . Van Wedeen, a Harvard radiology professor, is awestruck: "We've never really seen the brain – it's been hiding in plain sight." Conventional scanning has offered us a crude glimpse, but scientists such as Wedeen aim to produce the first ever three-dimensional map of all its neurons. They call this circuit diagram the "connectome", and it could help us better understand everything from imagination and language to the miswirings that cause mental illness.
Teenagers' brains 'can resist temptation'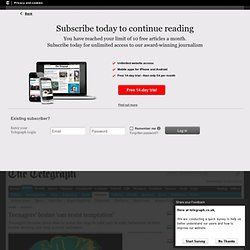 MRI scans of boys' and girls' brains aged 10 and 13 show that activity in a part of the pre-frontal cortex tasked with deciding whether or not to take risks, called the ventral striatum, increases significantly. Jennifer Pfeifer, professor of psychology at the University of Oregon in the US, said the finding should provide parents of young teenagers with some relief. She said: "People tend to think of adolescence as the time when teenagers are really susceptible to peer pressure. "That is the case, but in addition to that added susceptibility they are also improving their ability to resist it. "It's just that peer pressure is increasing because they spend a lot more time with peers during this time and less time with family. So it is a good thing that resistance to such influences is actually strengthening in their brains."
How animals perceive death has been a longstanding puzzle. That animals understand death and grieve for their losses is no longer the question. For example, in her ' Coming of Age With Elephants ', biologist Joyce Poole describes a mother elephant grieving for a stillborn baby-crying, slumped over, days on end spent desperately trying to revive her child. On another occasion Poole saw a troop moving through the forest when one of them fell over and died. The elephants spent a long time trying to revive their companion before moving off into the jungle, only to return the next day for further ceremony.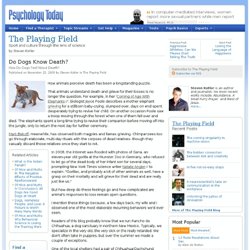 Do Dogs Know Death?
SELF REFLECTION: Bodily illusions teach neuroscientists about the sense of self. Image: crimfants, flickr.com Where are you right now? Maybe you are at home, the office or a coffee shop—but such responses provide only a partial answer to the question at hand. Asked another way, what is the location of your "self" as you read this sentence? Like most people, you probably have a strong sense that your conscious self is housed within your physical body, regardless of your surroundings.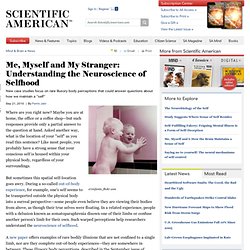 Why do people drink too much, eat too much, smoke cigarettes, take drugs , or have sex with people they've just met? What's to blame for all this bad behavior? Most people would say that, while these self-destructive acts can have many root causes, they all have one obvious thing in common: they are all examples of failures of self-control . Each of us has desires that we know we shouldn't give in to, but when faced with temptation, some of us lack the willpower to resist it.
We know surprisingly little about our own personalities, attitudes and even self-esteem. How do we live with that? How do you imagine your own mind?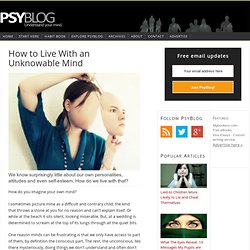 Myth #1 – Introverts don't like to talk . This is not true. Introverts just don't talk unless they have something to say. They hate small talk.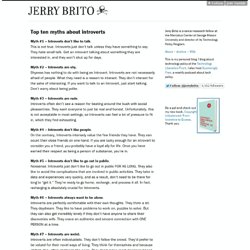 Mind & Brain :: Mind Matters :: August 25, 2009 :: :: Email :: Print Two scientists suggest that depression is not a malfunction, but a mental adaptation that brings certain cognitive advantages By Paul W. Andrews and J. Anderson Thomson Jr. Depressed, thinking Image: istock/Guillermo Perales Gonzalez
Depression's Evolutionary Roots
This list is a follow up to Top 10 Common Faults in Human Thought . Thanks for everyone's comments and feedback; you have inspired this second list! It is amazing that with all these biases, people are able to actually have a rational thought every now and then. There is no end to the mistakes we make when we process information, so here are 10 more common errors to be aware of.
The Dunning–Kruger effect is a cognitive bias in which unskilled individuals suffer from illusory superiority , mistakenly rating their ability much higher than average. This bias is attributed to a metacognitive inability of the unskilled to recognize their mistakes. [ 1 ] Actual competence may weaken self-confidence, as competent individuals may falsely assume that others have an equivalent understanding. David Dunning and Justin Kruger of Cornell University conclude, "the miscalibration of the incompetent stems from an error about the self, whereas the miscalibration of the highly competent stems from an error about others". [ 2 ] [ edit ] Historical references
psychology-of-a-hoarder.png (PNG Image, 800x2289 pixels)
Our body language exhibits far more information about how we feel than it is possible to articulate verbally. All of the physical gestures we make are subconsciously interpreted by others. This can work for or against us depending on the kind of body language we use. Some gestures project a very positive message , while others do nothing but set a negative tone. Most people are totally oblivious to their own body language , so the discipline of controlling these gestures can be quite challenging.
By Louise Atkinson UPDATED: 08:20 GMT, 22 February 2011 Who knows why Brad Pitt chose Angelina Jolie over Jennifer Aniston or why Helena Bonham-Carter prefers to live in a separate house to her long-term partner Tim Burton? The course of true love is a complex combination of personality, circumstance, upbringing and timing, but an eminent U.S. anthropologist claims to have uncovered a key secret to why some relationships work and others prove to be a little more tricky.
by David Johnson Like death and taxes, there is no escaping color . It is ubiquitous. Yet what does it all mean?
Poor Man's Polygraph Part 5