iPADS
Learning and Teaching with iPads. iPad, My Primary Computer. iPads for Education | Victoria, Australia.
iPad Research. iPads in Classrooms. Video/Photo. Apple TV. Apps. Dark Side of the iPad ~ Collecting student projects is difficult! Since its release the iPad has garnered arguments regarding whether it is primarily a device for consumption or creation.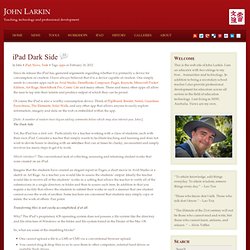 I have always believed that it is a device capable of creation. One simply needs to consider apps such as Avid Studio, DemiBooks Composer, Pages, Keynote, Minecraft Pocket Edition, Art Rage, SketchBook Pro, Comic Life and many others. Whoa Nellie! Are we getting ahead of ourselves? - Keith Rispin » Keith Rispin. Smiley with Ringeye Nellie I have had three Whoa Nellie!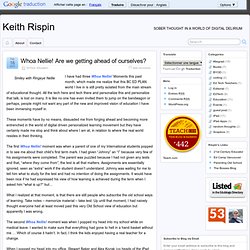 Moments this past month, which made me realize that this BC ED PLAN world I live in is still pretty isolated from the main stream of educational thought. All the tech here and tech there and personalize this and personalize that talk, is lost on many. Mobile Learning in Horry County Schools. iPad. Apple's handheld and tablet devices can be valuable for teaching and learning.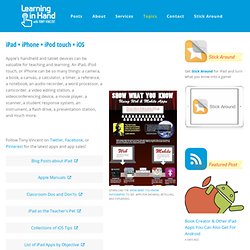 An iPad, iPod touch, or iPhone can be so many things: a camera, a book, a canvas, a calculator, a timer, a reference, a notebook, an audio recorder, a word processor, a camcorder, a video editing station, a videoconferencing device, a movie player, a scanner, a student response system, an instrument, a flash drive, a presentation station, and much more. iPad with Wes. iPads can't improve learning without good teaching Pt 1. Clearly there is a lot of buzz around iPads in schools at the moment.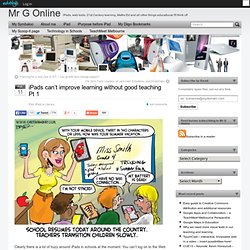 You can't log on to the Web without reading about another school or entire district or department investing massive coin in a sparkling set of the Wonder Tablets, excited that they will cure all the ills of the current education systems around the world. From reading my blog, you would be no doubt convinced that I am very much in this Pro-iPad camp. Make no mistake I am. However, no matter how versatile and potentially powerful a product the iPad is, it is merely an extremely expensive placemat without creative, well planned teaching behind its use.
How We Got Here. Our iPad pilot teachers and I are using this blog to allow you to have a glimpse into our 1:1 iPad pilot classrooms.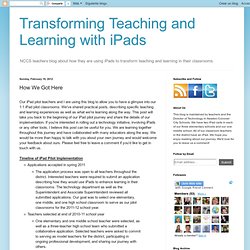 We've shared practical posts, describing specific teaching and learning experiences as well as what we're learning along the way. This post will take you back to the beginning of our iPad pilot journey and share the details of our implementation. If you're interested in rolling out a technology initiative, involving iPads or any other tools, I believe this post can be useful for you. We are learning together throughout this journey and have collaborated with many educators along the way. We would be more than happy to talk with you about your own journey and would welcome your feedback about ours. The iPad 2′s Killer Feature Is HD Mirroring — Apple News, Tips and Reviews.
---