Japan Tsunami Eartquake March 2011
And no one's covering it, as usual. Fukushima: Radioactive cesium levels jump 9,000 percent in just three days, nobody knows why Wednesday, July 24, 2013 by: Jonathan Benson, staff writer (NaturalNews) Some of the highest levels of ionizing radiation yet detected since the disaster first occurred were recently recorded at the Fukushima Daiichi nuclear power facility in Japan, according to shocking new reports. The Tokyo Electric Power Company (TEPCO), which runs the crippled nuclear plant, says levels of radioactive cesium in a water well were 9,000 percent higher on July 8, 2013, than they were three days earlier, and nobody knows why this is the case. The Asahi Shimbun reports that TEPCO observed the spike after testing water in a well on the seaward side of Fukushima's No. 2 reactor.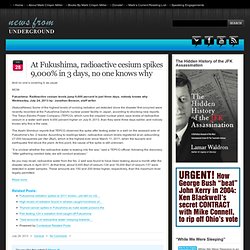 At Fukushima, radioactive cesium spikes 9,000% in 3 days, no one knows why
[Alert] Fukushima emission to reach Tokyo area from afternoon of 3/19/2013
Posted by Mochizuki on March 18th, 2013 · 1 Comment According to the meteorological agency of Switzerland, the emission from Fukushima would reach Tokyo area by wind after 15:00 of 3/19/2013. Tepco is receiving power from Tohoku-Electric Power Co, but they are having some problems with sending it to the coolant system of SFPs. ↓ Before the blackout ↓ After the blackout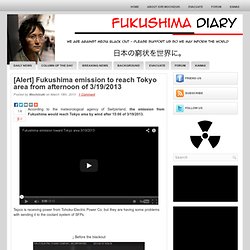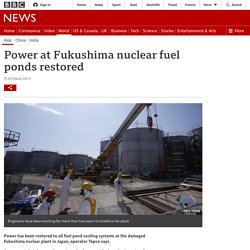 Power at Fukushima nuclear fuel ponds 'partially restored'
19 March 2013Last updated at 23:52 ET Engineers have been working for more than two years to stabilise the plant Power has been restored to all fuel pond cooling systems at the damaged Fukushima nuclear plant in Japan, operator Tepco says. A power cut shut down cooling systems for four spent fuel ponds at reactors 1, 3 and 4 on Monday evening, although cooling to the reactors themselves was not affected. All cooling systems were operational by early Wednesday morning, Tepco said.
March 2013-Record radioactivity found in Fukushima fish
Tracking Fukushima aftermaths
New View from Inside Fukushima: Chaos and Uncertainty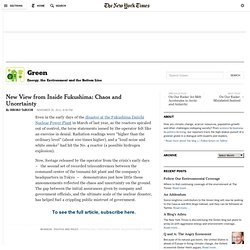 Even in the early days of the disaster at the Fukushima Daiichi Nuclear Power Plant in March of last year, as the reactors spiraled out of control, the terse statements issued by the operator felt like an exercise in denial. Radiation readings were "higher than the ordinary level" (about 100 times higher), and a "loud noise and white smoke" had hit the No. 4 reactor (a possible hydrogen explosion). Now, footage released by the operator from the crisis's early days – the second set of recorded teleconferences between the command center of the tsunami-hit plant and the company's headquarters in Tokyo – demonstrates just how little those announcements reflected the chaos and uncertainty on the ground. The gap between the initial assurances given by company and government officials, and the ultimate scale of the nuclear disaster, has helped fuel a crippling public mistrust of government.
what Twitter tought the world
desespoir des employes de fukushima
Chernobyl and Eastern Europe Blog: Nuclear Accidents Archives
If you are one of the many people who believe that accidents at nuclear facilities are a thing of the past, think again. A friend passed along some information that France's Tricastin nuclear facility has been temporarily closed after approximately 30 cubic meters (75 kilograms) of liquid containing unenriched uranium spilled from an overflowing reservoir. The liquid seeped into the ground and also reached the Gaffiere and Lauzon rivers. The Tricastin facility, which is operated by Areva/Socatri, is located at Bollene in the south of France, 40 km from the tourist city Avignon. Tricastin has both nuclear reactors and a radioactive waste treatment plant.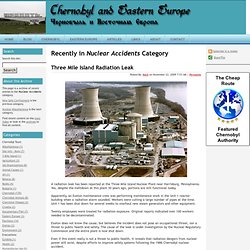 Niveau record de radiations mesuré à Fukushi
> Toutes les images de la catastrophe Dans le but d'aider à la localisation des victimes du violent séisme, et du tsunami qui ont dévasté le nord-est du Japon ce matin, Google a lancé un outil en ligne, accessible gratuitement, et disponible en anglais et en japonais, rapporte 01.net. Alors que les communications téléphoniques sont très perturbées, voire impossibles, cette page permet aux proches de victimes de localiser plus facilement. Les personnes présentes dans la zone du séisme peuvent se signaler sur cette page, et ainsi rassurer leurs proches.
Séisme au Japon. Google lance un outil de localisation des victimes - Monde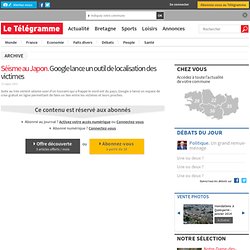 Apple's role during the Earthquake
SAVE JAPAN!
BBC News - Japan earthquake: Footage of moment tsunami hit
Tweets from Japan (English)
Here are tweets from Japan amid of the earth quake crisis (translation by @vida_es_bella, otherwise noted). * ディズニーランドでの出来事 http://twitter.com/unosuke/status/46376846505426944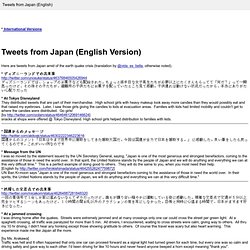 How To Help Japan: Earthquake Relief Options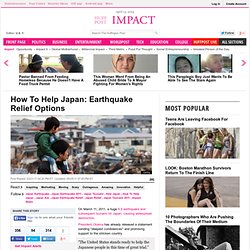 On March 11, 2011, a huge 8.9 earthquake and subsequent tsunami hit Japan, causing widespread destruction. President Obama has already released a statement sending "deepest condolences" and promising support to the stricken country. "The United States stands ready to help the Japanese people in this time of great trial." Additionally, many organizations and funds have mobilized to provide relief to those affected by the disaster. In response to the quake, The Red Cross has already launched efforts in Japan.
magnitude increased to 9.1
Japan earthquake and tsunami: The moment mother nature engulfed a nation
By Daily Mail Reporter Created: 12:48 GMT, 11 March 2011 Japan was today plunged into chaos after a cataclysmic earthquake sent merciless tsunami waves rushing through its helpless streets. The unforgiving tide of water unleashed after one of the biggest quakes in recent history obliterated tens of thousands of buildings, devouring almost anything in its path. As the death toll soared, dozens more countries braced themselves for similar scenes of destruction as the full force of the mother nature powered through the Pacific ocean.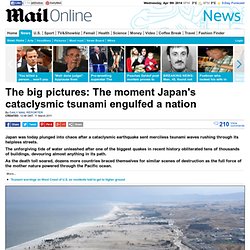 Japan's aftershock attack
Devastation as Tsunami Crashes Into Japan
comment se forme un tsunami
This is a rush transcript. Copy may not be in its final form. JUAN GONZALEZ: Japan has been hit with a massive 8.9-magnitude earthquake, one of the strongest earthquakes ever recorded. The quake triggered a 10-meter-high tsunami along Japan's northern coastline.
Japan Struck by One of Biggest Earthquakes in Recorded History, Tsunamis Threaten Pacific Basin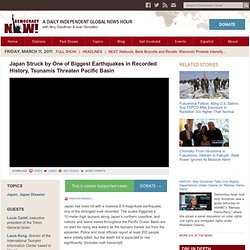 Latest on Fukushima nuke plant incident, click on pearltrees to access the links. It was interesting to hear yesterday during the official conference press in Japan that authorities invited population to exclusively follow official recommendations. They discouraged them from following Facebook or Twitter and warn them against chain emails.
Twitter effect on natural catasrophes
data centers and cloud services put at risk
a new excuse for new scams
NHK WORLD English
So what do we know? Here's a run down of events so far: - The biggest earthquake to hit Japan in 140 years struck the northeast coast on Friday, triggering a 10-metre tsunami that swept away everything in its path, including houses, cars and farm buildings on fire.
Japan earthquake | Page 3
Video commented in Japanese
Why Japan is prone to earthquaked
Largest earthquake in recorded history in Japan
This post is part of our special coverage Japan Earthquake 2011. Photo from March 11 earthquake in Japan shared by @mitsu_1024 (via wikitree.co.kr) On Friday, March 11, 2011 at 2:46:23 p.m. local time, an 8.9-magnitude earthquake struck Japan, the largest in recorded history. Here are some online resources that people are using to get in touch with each other: Hashtags being used in the Japanese Twittersphere are #sendai and #jishin.
zeitonline/Japan Erdbeben
Sismos Internacional - 2011 - Página 2 - MeteoPT.com - Fórum de Meteorologia
Pessoal!! 5.2 na cordilheira Bética!!! Em Espanha!! Preliminary Earthquake Report Magnitude 5.3 Mb Date-Time 11 May 2011 16:47:26 UTC 11 May 2011 18:47:26 near epicenter 11 May 2011 16:47:26 standard time in your timezone
Twitter reaction to Tsunami
Seisme historique au Japon
Twitter reacton on CNN coverage
Strong Quake Shakes Japan
Japan Nuclear Plant situation
Global Disaster Alert and Coordination System
» Japan earthquake unleashes tsunami
Japan earthquake - live updates | World news
text.php?id=hawaii.2011.03.11
weather
Audioboos from Japan detail the tragedy of the Tsunami
citizentube's Channel
Powerful quake rocks Japan - Asia-Pacific
Recents elements tagged with 'earthquake' by all the kweepers