Color photo sharing
Color me stupid: A privacy nightmare in the making | Cringely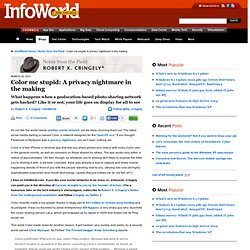 It's not like the world needs another social network, yet we keep churning them out.
Photo-sharing network says goodbye to privacy
How does a social network with no privacy settings at all sound? Because that's the setup with Color, a new application from Bill Nguyen, the entrepreneur who sold Lala to Apple in 2009 for around $80 million. Color is essentially a photo-sharing application, but one which decides for itself who sees your pictures, based on your location and how often you've shared photos in the past.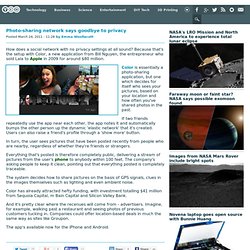 Color photo-sharing app takes social networking to an amazing, terrifying new place
CHART OF THE DAY: Look At How Much More Money Color Has Than Its Rivals
Color introduces location-based photo-sharing app | Social Networking | iOS Central
A new photo-sharing app is attempting to redefine the "social networking" experience, moving away from far-flung communities that you choose to other smartphone users whom who may or may not know—but who are probably standing just a few feet away.