Color photo sharing
Color me stupid: A privacy nightmare in the making | Cringely. It's not like the world needs another social network, yet we keep churning them out.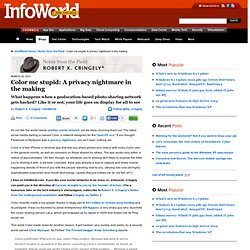 The latest social media darling is named Color, a network designed for the "post-PC era. " If you thought Facebook or MySpace was a privacy nightmare, you ain't seen nothing yet. Color is a free iPhone or Android app that lets you share photos and videos with every Color user in the general vicinity, as well as comment on those shared by others. Photo-sharing network says goodbye to privacy. How does a social network with no privacy settings at all sound?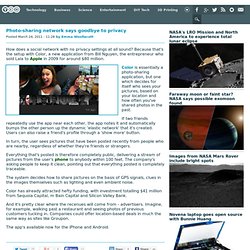 Because that's the setup with Color, a new application from Bill Nguyen, the entrepreneur who sold Lala to Apple in 2009 for around $80 million. Color is essentially a photo-sharing application, but one which decides for itself who sees your pictures, based on your location and how often you've shared photos in the past. Color App Hack Lets You Spy On Anyone's Photos Anywhere - Andy Greenberg - The Firewall. Color photo-sharing app takes social networking to an amazing, terrifying new place. Brand new public photo-sharing app Color has the potential to be the coolest — or the most frightening — social media platform yet.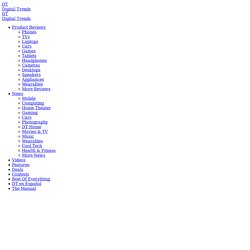 Launched Wednesday night for iPhone and Android, Color is the brainchild of Bill Nguyen, who sold his music-streaming company Lala to Apple in 2009 for $80 million. At first glance, Color might seem like a copycat of mobile apps like Instagram or PicPlz. But with a proximity-based sharing functionality, it holds far greater potential. Color comes loaded with onion layers of features.
On the first level, the app allows users to take pictures or videos with their smartphone, which are then uploaded to the Color app network. CHART OF THE DAY: Look At How Much More Money Color Has Than Its Rivals. Color introduces location-based photo-sharing app | Social Networking | iOS Central. A new photo-sharing app is attempting to redefine the "social networking" experience, moving away from far-flung communities that you choose to other smartphone users whom who may or may not know—but who are probably standing just a few feet away.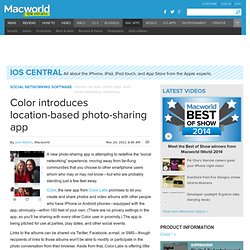 Color, the new app from Color Labs promises to let you create and share photos and video albums with other people who have iPhone or Android phones—equipped with the app, obviously—within 150 feet of your own. (There are no privacy settings in the app, so you'll be sharing with every other Color user in proximity.) The app is being pitched for use at parties, play dates, and other social events. Links to the albums can be shared via Twitter, Facebook, e-mail, or SMS—though recipients of links to those albums won't be able to modify or participate in the photo conversation from their browser.
New Photo-Sharing App Color Has No Shades of Privacy - Kashmir Hill - The Not-So Private Parts.
---