Apple geolocation Ap
Canadian Alliance for Development Initiatives and Projects (CADIP) Short-Term Volunteer Projects in Spain Participating in an international short term volunteer project (so called Workcamp ) can be an exciting prospect. It is an interesting and meaningful way to travel with purpose and spend 2-3 weeks in a foreign environment. Working and living together with other young people from around the world provides an excellent opportunity to make many new friends, learn about unknown places and culture, gain new skills and experience.
Volunteer in Spain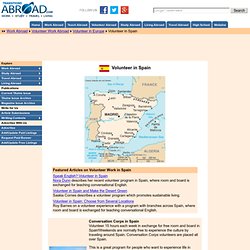 Detailed analysis of iPhone location data | The well-prepared mind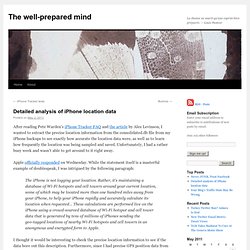 After reading Pete Warden's iPhone Tracker FAQ and the article by Alex Levinson, I wanted to extract the precise location information from the consolidated.db file from my iPhone backups to see exactly how accurate the location data were, as well as to learn how frequently the location was being sampled and saved. Unfortunately, I had a rather busy week and wasn't able to get around to it right away. Apple officially responded on Wednesday.
My iPhoneTracker Maps - a set on Flickr
Of course we couldn't have Apple news without Gruber bashing.
Hacker News | Apple Q&A on gathering and use of location data (Apple Press Release)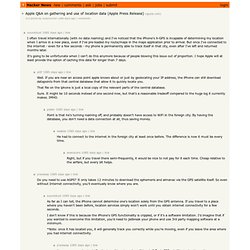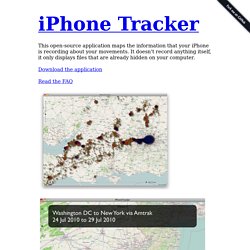 This open-source application maps the information that your iPhone is recording about your movements. It doesn't record anything itself, it only displays files that are already hidden on your computer. Download the application Read the FAQ Authors Alasdair Allan (alasdair@babilim.co.uk) @aallan on Twitter Pete Warden (pete@petewarden.com) @petewarden on Twitter
petewarden/iPhoneTracker @ GitHub
IPrivacy4IT – Clarinette's blog
Apple, Google Under More Government Privacy Focus
What's Good About iPhone's Location Tracking - Darkreading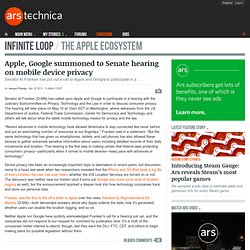 Apple, Google summoned to Senate hearing on mobile device privacy
Senator Al Franken (D-MN) has called upon Apple and Google to participate in a hearing with the Judiciary Subcommittee on Privacy, Technology and the Law in order to discuss consumer privacy.
ORG Zine | Applesauce
Wendy M Grossman looks at the iPhone tracking 'scandal' and argues that it is just a symptom of a wider problem!
Steve Jobs On Location Data: "We Don't Track Anyone"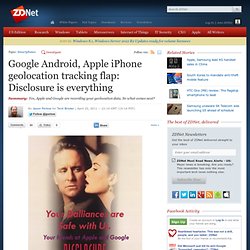 Google Android, Apple iPhone geolocation tracking flap: Disclosure is everything
Yes, Apple and Google are recording your geolocation data.
Sen. Kirk calls on Congress to investigate smartphone tracking - The Hill's Twitter Room
Apple & Google Location Tracking: A Breakdown of the Geolocation Crisis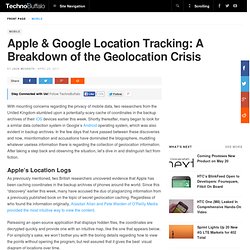 With mounting concerns regarding the privacy of mobile data, two researchers from the United Kingdom stumbled upon a potentially-scary cache of coordinates in the backup archives of their iOS devices earlier this week.
No, iPhone location tracking isn't harmless and here's why
Apple's patent location histories
Just for @ruskin147 - where #iphonetracker has me in the UK for the last few months... - The Sound of Bill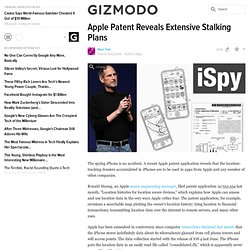 SExpand
apple-patent-reveals-extensive-stalking-plans from gawker.com
Sen. Kirk calls on Congress to investigate smartphone tracking - The Hill's Twitter Room
Apple, Google tap phone location data: report - Technology & science - Security
Text: We're sorry. The text content of this page is no longer available. Do you care if your cell phone tracks your location?Discuss this story You Optional short answer(140 characters left) Apple's iPhones and Google's Androids Send Cellphone Location
PTI Apr 22, 2011, 11.29am IST
US senator questions Apple for using phone-tracking software - The Economic Times
You may not know where you're going in life, but you always know where you've been—and so does your iPhone.
iPhone revealed to track, log users' locations | Mobile Technology - InfoWorld
Larry Magid: The Scary Implications of the iPhone Tracking Everywhere You Go (Video)
Last Thursday I took the 4:00 PM Megabus from Boston to New York. I knew where I was going as did a few of my friends.
My Life According to the iPhone's Secret Tracking Log - Alexis Madrigal - Technology
I know I should be upset.
ACLU of Northern California : Your iPhone Knows Where You Were Last Night. Who Else Knows?
We recently announced that it's time for a privacy check-in for location-based services and mobile devices. Apparently Apple didn't get the memo, as its latest iPhone and iPad regularly record your location in a hidden file. Join us and tell Apple that you demand control over your sensitive location information! As we discussed at our panel yesterday at Where 2.0, user trust is critical for a company's long-term health. If users don't trust your service, or if regulators or the press get wind of privacy violations, the consequences can range from fines and lawsuits to the death of your product entirely. (Just ask Google how Buzz worked out for them.)
Votre iPhone enregistre vos déplacements à votre insu !
Cool or Creepy? Your iPhone and iPad Are Keeping Track of Everywhere You Go, And You Can See It - Kashmir Hill - The Not-So Private Parts
iPhone secretly tracks user location, say researchers
Secret iPhone Feature Tracks Owners' Whereabouts
Cellphones Track Your Every Move, and You May Not Even Know
iPhone Tracker application (plus a 32 bit version) | Julian Pistorius