Games
Play Retro Classic Games roms Online Free. BrowserQuest. Problem loading page. Take typing lessons, test your typing speed and practice typing for free! This is keybr.com, a web application that will help you teach touch typing.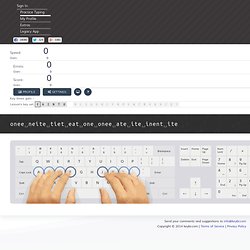 Touch typing is typing without using the sense of sight to find the keys. A person possessing touch typing skills will know their location on the keyboard through muscle memory. It can improve any individual's typing speed and accuracy dramatically. This is a short tutorial that will explain how does this application work. Luftrauser. Line. Cubed. Impasse. GameBoy Color Games | Gamenert | Only The Best Free Online Games.
The Great Gatsby - For Nes. Avoider. Popular games.
---