Short Films
Pockets by @DANIELSwastaken. Pockets are pretty convenient, but can be dangerous when the wrong hands are in them.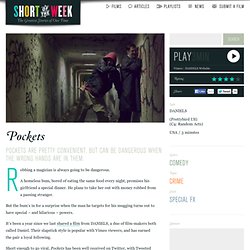 Robbing a magician is always going to be dangerous. A homeless bum, bored of eating the same food every night, promises his girlfriend a special dinner. F | Today. The Duel at Blood Creek - Short Film. SIGNS. The Fantastic Flying Books of Mr. Morris Lessmore (2011) ELECTROSHOCK - ESMA 2011. High Maintenance. Brink. RUIN. Ryan Lewis - Fake Empire. (notes on) biology on Vimeo: Couch Mode. Address Is Approximate on Vimeo: Couch Mode. Rest by Cole Schreiber | Zombie Love Short Film.
The zombie art-house film that will have you feeling a spot of compassion for the undead.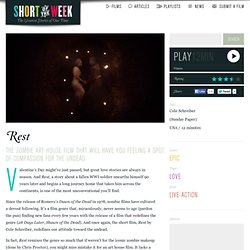 Valentine's Day might've just passed, but great love stories are always in season. And Rest, a story about a fallen WWI soldier unearths himself 90 years later and begins a long journey home that takes him across the continents, is one of the most unconventional you'll find. Since the release of Romero's Dawn of the Dead in 1978, zombie films have cultured a devout following. It's a film genre that, miraculously, never seems to age (pardon the pun) finding new fans every few years with the release of a film that redefines the genre (28 Days Later, Shawn of the Dead).
And once again, the short film, Rest by Cole Schreiber, redefines our attitude toward the undead.
---