DIY
Weathered Beach Signs | Crafts by Amanda. Spring break has come and gone and many people hit the beach during this time of year.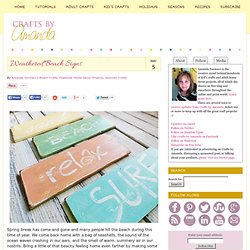 We come back home with a bag of seashells, the sound of the ocean waves crashing in our ears, and the smell of warm, summery air in our nostrils. Bring a little of that beachy feeling home even farther by making some rustic looking beach signs to dress up your home. Hand Stitching, part 1 - LA. One of my favorite crafts is hand stitching-- it's fun, addictive, expressive and relaxing :) Over the next few weeks, I'm going to share easy ways to make your own patterns for hand stitching along with some tips and ideas :) These are some samples of my past projects-- I like to draw patterns freehand and use my handwriting.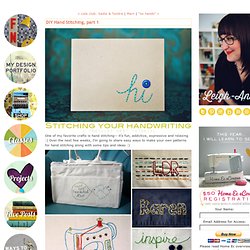 However, sometimes I adapt clipart type images to make a more complicated pattern, like the sewing machine or I just stitch the outline of an image I love, like the Goonies "Hey You Guys" silhouette :) I use a Back Stitch for all my hand stitching because it's very versatile and I like the look but you can use any combination of stitches for your projects... there's lots of fun ones! Today, we're going to start with handwriting & transferring your pattern :) How To Mix Chalkboard Paint in Any Color. We love using chalkboards as backdrops for displays and parties (like this one here!).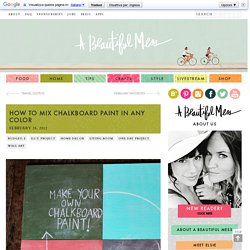 So we were super excited to learn that you can create your own custom colors-and it's really easy! We first learned how from Martha Stewart whose tutorial you can read here. She recommends that you use latex paint, but we tried it out with acrylic paints with much success. Turn Photo Negatives Into Artsy, Personalized Lamps. Soap Making Instructions | Soap Making Recipes and Tutorials | Teach Soap. How to make gift bags from newspaper | How About Orange - StumbleUpon. When I bought something at a store recently, the clerk handed me my purchase in a bag made from a newspaper.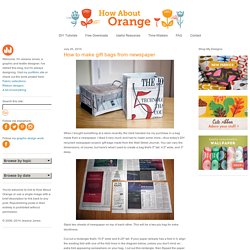 I liked it very much and had to make some more—thus today's DIY recycled newspaper project: gift bags made from the Wall Street Journal. You can vary the dimensions, of course, but here's what I used to create a bag that's 5" tall, 4.5" wide, and 3" deep. Stack two sheets of newspaper on top of each other. This will be a two-ply bag for extra sturdiness. How to Make Leaf Skeletons - The Idea Room - StumbleUpon. I wanted to share with you a project from one of my readers who shares with us how to make leaf skeletons.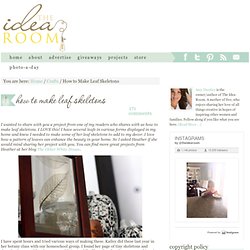 I LOVE this! I have several leafs in various forms displayed in my home and knew I needed to make some of her leaf skeletons to add to my decor. I love how a pattern of leaves can enhance the beauty in your home. So I asked Heather if she would mind sharing her project with you. You can find more great projects from Heather at her blog The Other White House. 25 Clever Ideas to Make Life Easier - StumbleUpon. Here are clever ideas to make life easier.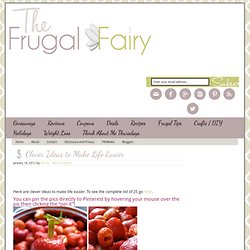 To see the complete list of 25 go here. You can pin the pics directly to Pinterest by hovering your mouse over the pic then clicking the "pin it"! Via: amy-newnostalgia.blogspot.com. I Could Do That - StumbleUpon. Tutorial: Homemade Sidewalk Chalk | oh my! handmade goodness - StumbleUpon. By Michelle Vackar, Modern Handmade Child One of our favorite outside activities at our home is drawing with chalk on the driveway.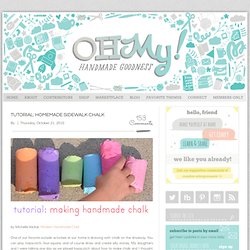 You can play hopscotch, four-square, and of course draw and create silly stories. Most Popular Repurposing Tricks of 2011 - StumbleUpon. The best trick of all is repairing broken stuff.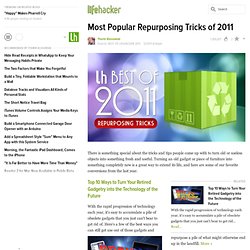 You would be amazed that in this throw away age so many things can be repaired easily. Invest your money in quality tools, and you will find the tool pays for itself in the first few repairs you make with it. Furoshiki Gift Wrapping. Holder for Charging Cell Phone (made from lotion bottle) | Make It and Love It - StumbleUpon. My husband and I both have cell phones.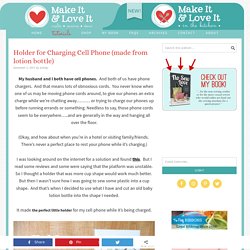 And both of us have phone chargers. And that means lots of obnoxious cords. You never know when one of us may be moving phone cords around, to give our phones an extra charge while we're chatting away……… or trying to charge our phones up before running errands or something. Needless to say, those phone cords seem to be everywhere…..and are generally in the way and hanging all over the floor. (Okay, and how about when you're in a hotel or visiting family/friends. Your source of daily updated funny pictures and gifs. - StumbleUpon.
Stuffed animal - Wall to Watch - StumbleUpon. Make a Lunch Box from a Milk Jug - StumbleUpon. Gifts to Make for Your Man. To make all of these Instructables, download this collection of How To's as an ebook.
Download » Gifts to Make For Your Man gives you full step-by-step instructions for 40 cool gifts you can make, including everything from wallets to belts to cookies.
---