General
iPads can't improve learning without good teaching Pt 2 – Writing. Used with permission from Debbie Ridpath Ohi at Inkygirl.com ( ) Writing and technology has been a controversial subject for many traditionalists in education.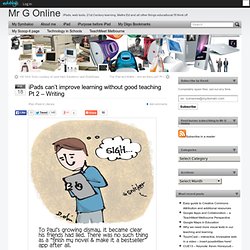 "Spell check stops children from learning to spell". "All students do today is copy and paste from Wikipedia and Google searched articles." " Children need to handwrite all their drafts". "William Shakespeare didn't have a laptop" ( OK, i just threw that in for fun!) Ipadschools - home. Send To Dropbox - Email files to your Dropbox!
Essential%20iPad%20websites%20filled%20with%20Apps%20to%20Guide%20Your%20Instruction. Are We Really Evaluating the Use of iPads in Our Classroom. One of the things we need to be doing as educators is to critically evaluate the resources and learning experiences that we provide for our students.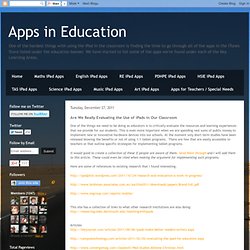 This is even more important when we are spending vast sums of public money to implement new or innovative hardware devices into our schools. At the moment only short term studies have been released showing the benefits or not of using 1:1 tablet programs. There are few that are easily accessible to teachers or that outline specific strategies for implementing tablet programs. It would good to create a collection of these if people are aware of them. Send them through and I will add them to this article. Creative Uses for iPad in the Classroom. 39 Sites For Using iPads in the Classroom.
Pages - Menu This Blog Linked From Here Sites to Follow Friday, October 7, 2011.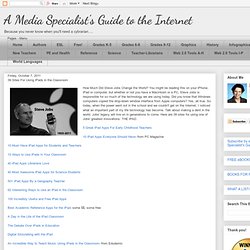 iCreate vs. iConsumption. Posted by Ginger Lewman on December 9th, 2011 Presenter: Scott MeechLocation: Chicago Suburbs, Illinois, USATwitter: @smeech Presentation Description: Many argue that the iPad is the premiere consumption device at this time but it isn't very good at creating.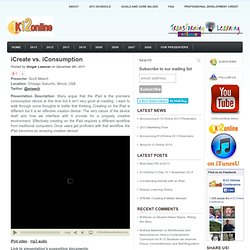 I want to walk through some thoughts to battle that thinking. Creating on the iPad is different but it is an effective creation device. iPads in our classrooms: reflections after 2 weeks | Laura Doggett. It has been a busy few weeks in the MFL department at Berkhamsted.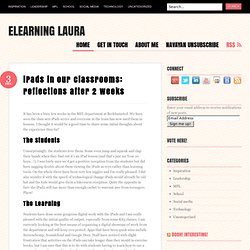 We have seen the class sets iPads arrive and everyone in the team has now used them in lessons. I thought it would be a good time to share some initial thoughts about the experience thus far! The Students. EdApps.ca. Look Mum – No Cables! iPad2 Mirroring In The Classroom. We had a big day last week.
A day when long term planning in a school and taking a measured risk paid off. Let me explain… HOME. Internet Catalogue. I Education Apps Review - I Education Apps Review - Apple TV may revolutionize the use of a teacher iPad in the classroom! iPads in Education.
39 Sites For Using iPads in the Classroom. iPad in Education. Lessons from an iPad Rollout. Mobile Computing | Feature Lessons from an iPad Rollout Florida's "first iPad high school" has deployed 300 iPads to its high school teachers and students.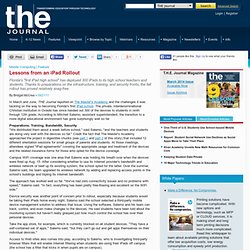 Thanks to preparations on the infrastructure, training, and security fronts, the fall rollout has proved relatively snag-free. iPads in the Classroom. iPad in Education. iPads for Education | Victoria, Australia. Skype, the iPad and connected learning - misterel teaching. iPads and Tablets in Education. The iPad Classroom. Blog. I have been reading my fair share of blogs, wikis and other documentation as schools around the world are deploying iPads in their classroom.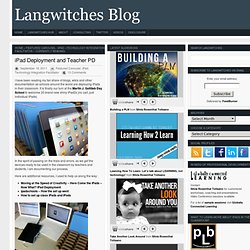 It is finally our turn at the Martin J. Gottlieb Day School to welcome 20 brand new shiny iPad2s (no cart, just individual iPads) Getting Started with iPads. Fc-ipads - home. Learning and Teaching with iPads.
---