Web Development
Get flash to fully experience Pearltrees
Usability and the utility, not the visual design, determine the success or failure of a web-site. Since the visitor of the page is the only person who clicks the mouse and therefore decides everything, user-centric design has become a standard approach for successful and profit-oriented web design. After all, if users can't use a feature, it might as well not exist. We aren't going to discuss the implementation details (e.g. where the search box should be placed) as it has already been done in a number of articles; instead we focus on the main principles, heuristics and approaches for effective web design — approaches which, used properly, can lead to more sophisticated design decisions and simplify the process of perceiving presented information.
Here are our editor's picks for the Top 10 Best Flash Websites of 2013 based on visual artistry, integrated sound, ease of use, and uniqueness. Last Updated: March 18, 2013 1 | Disney New Fantasyland Disney's New Fantasyland website uses Flash to bring visitors to an enchanted land that's been long hidden from our view. As the story has it, this is a place where mermaids sing, beauties tell tales, beasts roar and elephants fly. We can only hope that the real attraction lives up to the web experience. Best Flash Websites | Website Design & Development
Published January 1st, 2008 in Design When you are creating a new website you may be inspired by seeing other sites that feature unique layouts. The 20 sites listed here don't simply use a typical two or three column layout. Many of them use background images to interact with and control the layout in some unique way. Some of them I really like, and some I'm not sold on, but all are unique in one way or another. For more design inspiration , see: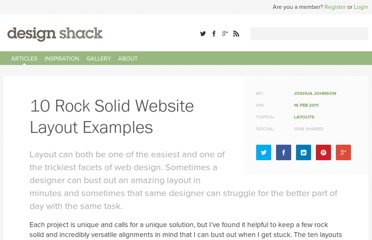 Layout can both be one of the easiest and one of the trickiest facets of web design. Sometimes a designer can bust out an amazing layout in minutes and sometimes that same designer can struggle for the better part of day with the same task. Each project is unique and calls for a unique solution, but I've found it helpful to keep a few rock solid and incredibly versatile alignments in mind that I can bust out when I get stuck. The ten layouts below should be enough to get you through even the worst cases of designer's block when you can't figure out the best way to arrange the content on your page. Keeping It Simple
Beautiful graphics and colors are great and play a big part in web design, but most would agree that the backbone of a solid user experience is the layout. After all, what good is all of the eye candy if one can not easily read and digest the content. There is nothing better than opening a perfectly organized and readable website – a page where the layout invites you to browse the site's content.