Inspiration
Most Amazing Miniature Food Artworks by Shay Aaron | The Wondrous Design... - StumbleUpon. Dream Big by Peter Fecteau | koikoikoi - StumbleUpon. Carved-book-landscapes-by-guy-laramee from thisiscolossal.com - StumbleUpon. (click images for detail) For the better part of three decades multidisciplinary artist Guy Laramee has worked as a stage writer, director, composer, a fabricator of musical instruments, a singer, sculptor, painter and writer.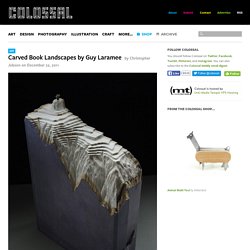 Among his sculptural works are two incredible series of carved book landscapes and structures entitled Biblios and The Great Wall, where the dense pages of old books are excavated to reveal serene mountains, plateaus, and ancient structures. Of these works he says: So I carve landscapes out of books and I paint Romantic landscapes. Фото и рисунки, арт и креативная реклама - StumbleUpon. The Art of Paul Kuczynski - mashKULTURE - StumbleUpon. Best Street Art of 2011 - StumbleUpon. Little People - a tiny street art project - StumbleUpon.
L'avant et l'après de peintures connues | La boite verte - StumbleUpon. Image of the Day: Aquarium Phonebooth - Food - GOOD - StumbleUpon. Lighting designer Benoit Deseille and artist Benedetto Bufalino transformed this phone booth in Lyon, France, into an aquarium, as part of the city's annual Festival of Light.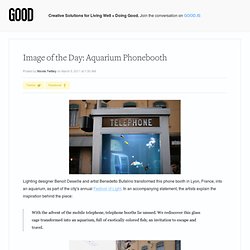 In an accompanying statement, the artists explain the inspiration behind the piece: With the advent of the mobile telephone, telephone booths lie unused. We rediscover this glass cage transformed into an aquarium, full of exotically colored fish; an invitation to escape and travel.
---