Inspiration
Most Amazing Miniature Food Artworks by Shay Aaron | The Wondrous Design... - StumbleUpon
Dream Big by Peter Fecteau | koikoikoi - StumbleUpon
carved-book-landscapes-by-guy-laramee from thisiscolossal.com - StumbleUpon
(click images for detail) For the better part of three decades multidisciplinary artist Guy Laramee has worked as a stage writer, director, composer, a fabricator of musical instruments, a singer, sculptor, painter and writer. Among his sculptural works are two incredible series of carved book landscapes and structures entitled Biblios and The Great Wall, where the dense pages of old books are excavated to reveal serene mountains, plateaus, and ancient structures. Of these works he says: So I carve landscapes out of books and I paint Romantic landscapes.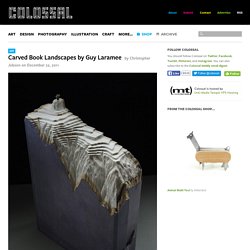 Фото и рисунки, арт и креативная реклама - StumbleUpon
The Art of Paul Kuczynski - mashKULTURE - StumbleUpon
Best Street Art of 2011 - StumbleUpon
Brooklyn Bridge Park, New York, USA I am currently ramping up for my new show, Global Model Village, which will feature the image above which was taken in New York last year. The show opens September 27th at Andipa Gallery in London and features a mix of installations placed in different cities around the world over the past couple of years. The show coincides with the launch of my new book - incidentally also called Global Model Village (can you see a pattern here?), which comes out the same day in the UK from Boxtree Macmillan and in the USA from Blue Rider Press. Continuing the international theme, the book will also be released in Germany, from Cadeau / Hoffmann Und Campe, under the title Kleine Leute in der Weiten Welt, with a Japanese version coming early next year too, along with a translation of my first book!
Little People - a tiny street art project - StumbleUpon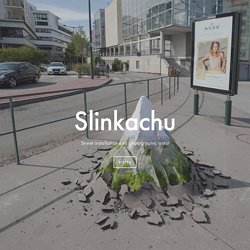 L'avant et l'après de peintures connues | La boite verte - StumbleUpon
Image of the Day: Aquarium Phonebooth - Food - GOOD - StumbleUpon
Lighting designer Benoit Deseille and artist Benedetto Bufalino transformed this phone booth in Lyon, France, into an aquarium, as part of the city's annual Festival of Light. In an accompanying statement, the artists explain the inspiration behind the piece: With the advent of the mobile telephone, telephone booths lie unused. We rediscover this glass cage transformed into an aquarium, full of exotically colored fish; an invitation to escape and travel.