Visualization
cyoa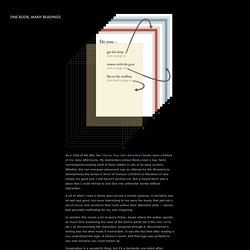 As a child of the 80s, the Choose Your Own Adventure books were a fixture of my rainy afternoons. My elementary school library kept a low, fairly unmaintained-looking shelf of them hidden in one of its back corners. Whether this non-marquee placement was an attempt by the librarians to deemphasize the books in favor of 'serious' (children's) literature or was simply my good luck I still haven't worked out.
jeffrey heer
PCD 2/13/09 Heer
Jeffrey Heer , Stanford Computer Science (HCI) jheer stanford.edu Seminar on People, Computers, and Design Stanford University March 6, 2009 In this talk, I will chart the course of visual depictions of data over the last 200 years, from the classic data graphics of Playfair and Minard to modern interactive visualization systems. Along the way, we will consider the factors that contribute to the effectiveness of information graphics and the role of computational tools in the visualization process. I will conclude with a review of current research directions in interactive visualization and suggest opportunities for future investigation. Jeffrey Heer is an Assistant Professor of Computer Science at Stanford University, where his research focuses on human-computer interaction, interactive visualization, and social computing.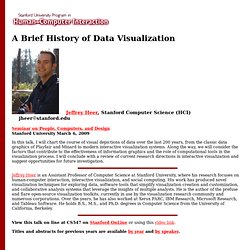 Visualization Lab | UC Berkeley
Skip to main content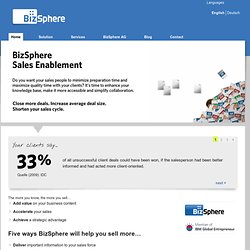 Home | Enable Your Sales
Treemap quick tutorial at noumena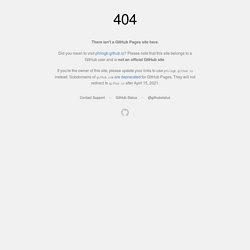 Posted in: JavaScript InfoVis Toolkit , Visualization , Tutorial This tutorial requires you to have read Feeding JSON tree structures to the JIT and on controllers first Hi, this is going to be a quick tutorial on how to set the treemap up and running. Note: You could change all calls to TM.Squarified to TM.SliceAndDice or TM.Strip and it should also work. We are going to work with this tree JSON structure:
create, share, and embed interactive charts online
Track Compare Share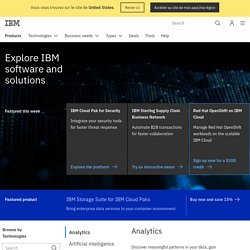 Try out the newest version of IBM Many Eyes! New site design and layout Find visualization by category and industry New visualization expertise and thought leadership section Expertise on the Expert Eyes blog Learn best practices to create beautiful, effective visualizations New, innovative visualizations from the visualizations experts of IBM Research
widgenie - Home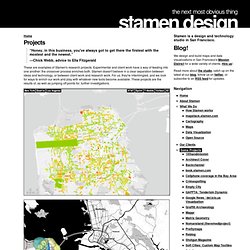 "Honey, in this business, you've always got to get there the firstest with the mostest and the newest." —Chick Webb, advice to Ella Fitzgerald These are examples of Stamen's research projects. Experimental and client work have a way of feeding into one another: the crossover process enriches both.
design | Projects
Colin Ware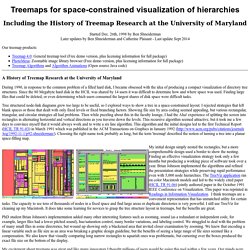 by Started Dec. 26th, 1998, last updated June 25th, 2009 by Catherine Plaisant Our treemap products: Treemap 4.0 : General treemap tool (Free demo version, plus licensing information for full package) PhotoMesa : Zoomable image library browser (Free demo version, plus licensing information for full package) Treemap Algorithms and Algorithm Animations (Open source Java code) A History of Treemap Research at the During 1990, in response to the common problem of a filled hard disk, I became obsessed with the idea of producing a compact visualization of directory tree structures. Since the 80 Megabyte hard disk in the HCIL was shared by 14 users it was difficult to determine how and where space was used.
Ben Shneiderman
Blog Archive » Information Visualization for Knowledge Discovery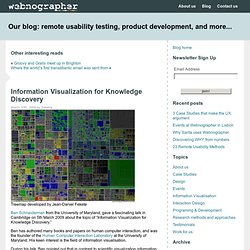 Treemap developed by Jean-Daniel Fekete Ben Schneiderman from the University of Maryland, gave a fascinating talk in Cambridge on 5th March 2009 about the topic of "Information Visualization for Knowledge Discovery." Ben has authored many books and papers on human computer interaction, and was the founder of the Human Computer Interaction Laboratory at the University of Maryland. His keen interest is the field of information visualisation. During his talk, Ben pointed out that in contrast to scientific visualization information visualization is a relatively young field as information visualization conferences have only been going for about 15 years.
Watch Watch the jQuery spy screencast ( alternative flash version ) QuickTime version is approximately 60Mb, flash version is streaming. View the demo and source code used in the jQuery spy screencast Simple Spy
Simple jQuery Spy Effect | jQuery for Designers - Tutorials and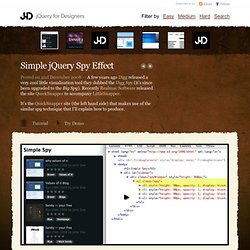 http://www.ctrlc.hu/timecloud/examples/subversion/svn-timecloud.
News 26 January 2013 - Version 2.1.1 Relased This release adds support for jQuery 1.9.0 along with a couple of other bug fixes. If you're using a version of jQuery later than 1.8, be extra sure you're not rendering your page in quirks mode to avoid breaking tooltips for IE users. See jQuery's notes on quirks compatiblity for more info. See the full changelog for details of all changes. 15 October 2012 - Version 2.1 Released This release is primarily a bug-fix release, but also adds support for Internet Explorer 10.