Portfolios
Alan Van Ryzin - Freelance Game Artist - Weapons. Michael Kutsche - Character Design/ Concept Art/ Illlustration - Alice - cheshire_cat.jpg. Michal Lisowski . com. Concept art : Farvus' illustration & concept art portfolio. [Tutorial] Tileable Textures. 3D FOLIO. BoBo the seal? Paul Poff Game Artist. Environment Artist with BFA in Game Art and Design. Jared Thebeau. 3D & 2D Portfolio : Jesse Carpenter - 3D Environment Artist, CG Artist.
STRIKER: Conceptual 3d /2d Artist. Daphz.art. M.M.Taylor. Art of Ben Lewis. Atomicfate - Online Portfolio of Adam Pitts. Matthew Lichy | 3D Artist. Traviseverett3d.com - 3D Environmental Artist. DragonFly портфолио. XTRM3D.com. Jonathan Fletcher - 3D Artist. CSABA MOLNAR PORTFOLIO. Art-Machine's Online Portfolio - Digital Artist. Jon-Troy Nickel | 'Folio. Slipgatecentral. Pior. Renaud Galand. Blog *NEW* « Tom Parker. Oops, you shouldnt be here :) my blog has moved to some progress on my sci fi chick, just started refining the clothes but got shedloads still to add and ding up, let alone the face and hair yet Quick hour speed sculpt whilst listening to Unkles – Lonely souls for an hour sneak Peek at my latest character Just been playing with the new dynamesh features in zbrush 4r2, its cool for speed sculpts but still prefer good ole base meshes Theres lots of great info about Slide London and their amazing character art studio in this months issue of ImagineFX, including an interview with myself about my time so far with Slide as a freelancer.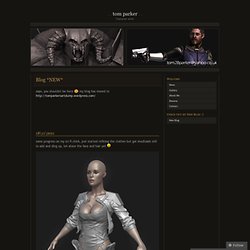 Born Robotic - Bal's Portfolio. Garagarape - Fred. KAKASSE. Ange Sarric - 3D Artist. Josh Singh. TheTombstone. Tamara Bakhlycheva - First-Keeper - CGHUB. The Art of Rafael Grassetti. Jonathan Fletcher - 3D Artist. PORTFOLIO BK09. Bogdan Gabelko - Bogdanbl4 - CGHUB. Helder Pinto | Level Artist Portfolio. Noe Serrano Art. Scott Homer. GoSsS's Portfolio. Orb Website. FAFArt. Alloa's Portfolio. EzMeow. Peris. Wireframeworlds. Sam Roberts - Environment Artist. P O R T F O L I O - Art of Marc-Antoine Hamelin, Environment Artist. Hellboy. Jeroen Maton. Ichii3d.com (Richard Gardner, Environment Artist) The portfolio of Eric Kozlowsky. Meshcrafter- Portfolio of Nathanial Castronovo. ARTEM VOLCHIK | 3D DESIGN. The art of Kevin Johnstone. Ilya Nedyal Portfolio. Bobby Rice. PHILIPK.NET. Jessica Dinh. My big list of portfolios. Ben Cloward. I helped to develop our company's particle effects editor by giving design specs, feedback, bug testing, etc.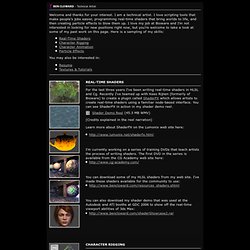 You can see examples of my particle effects in my particle effects demo reel. Particle Effects Demo Reel (34.4 MB WMV) 2D/Traditionnal. Avery coleman - concept art. *Buy a new .COM, get one new .INFO for FREE for 1st year only.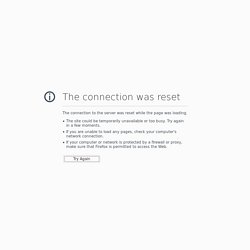 Not valid on renewals or transfers. Plus ICANN fee of 18¢ per domain per year. † Good for one 1-year registration of any available .COM, .US, .BIZ, .INFO, .NET or .ORG **New .COs, first year only. Offer ends 6/30/2012. ‡ Annual discounts available on NEW purchases only. GoDaddy.com is the world's No. 1 ICANN-accredited domain name registrar for .COM, .NET, .ORG, .INFO, .BIZ and .US domain extensions. Barontieri Creative Designer. VYLE_ART.com >> the art of David levy. George guo's sketching~ - CGHUB Forum. Ruanjia.com|3DGallery|2DGallery|Sketch. The Lantern Factory. Autodestruct.com - The Online Operations of Paul Richards.
Pinup Research & Development. Feng Zhu Design. MASSIVE BLACK. Sam Spratt | Homepage. Ryan Church - TRANSFORMERS3 - busway1.1 copy.jpg. Drawings | Laurie Lipton Official Website. Igor Kieryluk - Gallery. The Art Of Jeremy Enecio. I recently ran into a stunning portfolio of art by Jeremy Enecio, a Phillipines born illustrator who migrated to the US when he was four.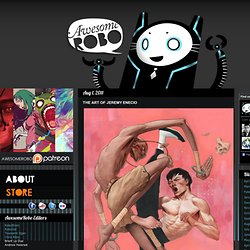 His work is absolutely beautiful, and even when he works digitally his work retains an incredibly painterly feel. I encourage you guys to check out eight more of his works after the break. With the exception of the Street Fighter piece above, I find a lot of his other work to be surreal, haunting and incredibly beautiful. As a heads up, there might be some NSFW content after the break. If you guys like his work, I'd strongly recommend you guys pick up some of his high quality Giclee prints of his beautiful work here to support his efforts. Galleries | Raynault. Voidart. Do I have a soul? by ~Mar-ka on deviantART. Aditya777's deviantART gallery. 2D. A young artist. Gurney Journey. Blog reader Christoph Heuer visited an exhibition of paintings from the Düsseldorf Academy that recently closed at the Museum Kunstpalast in Düsseldorf, Germany.
In an email he described the show to me, and it was so interesting that I asked if he'd be willing to share it with GurneyJourney readers. So here is Christoph's report: "The exhibition covered the history of the Düsseldorf Academy of Arts from 1819 until 1919 and how it influenced the artists in many other parts of the world. Moleskine Sketches By Trevor Henry. Daniel Lieske.com - Digital Art by Daniel Lieske - Sketchbook. Sketches are a very important instrument for me.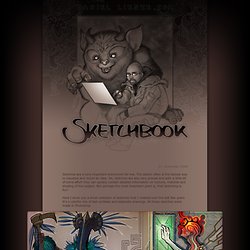 The sketch often is the fastest way to visualize and record an idea. Yet, sketches are also very precise and with a little bit of extra effort they can quickly contain detailed information on texture, material and shading of the subject. Torvenius's deviantART gallery. J e f f S i m p s o n A r t. CGPortfolio - jian guan. Concept Root - Concept Art, Concept Artists from the Games and Movie Industry.