PORTFOLIOS
37 brilliant design portfolios to inspire you | Portfolios. The internet is full of thousands upon thousands of awe-inspiring design portfolios.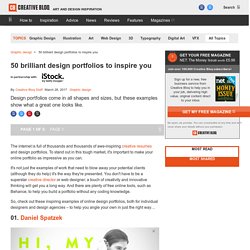 To enable you to stand out in this tough market, it's important to make your online portfolio as impressive as you can. It's not just the examples of work that need to blow away your potential clients (although they do help) it's the way that they're presented. You don't have to be a superstar web designer; a touch of creativity and innovative thinking will get you a long way. And there are plenty of free online tools, such as Behance, to help you build a portfolio without any coding knowledge. Create the perfect design portfolio: 30 pro tips | Portfolios. How much time do you spend improving your portfolio?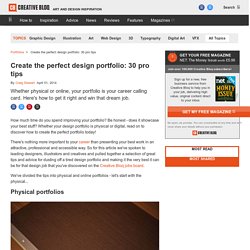 Be honest - does it showcase your best stuff? Whether your design portfolio is physical or digital, read on to discover how to create the perfect portfolio today! Rytis Gasparavicius - Designer and art director. 30 brilliant design portfolios to inspire you | Portfolios. Issuu - You Publish. Portfolio Websites | Folio Focus - Gallery of Design Portfolios. 10 Of The Most Stunning Portfolio Designs. Having a great portfolio is the basis of getting attention from the right kinds of customers these days and it doesn't matter what you are doing, whether you specialise in website design or anything else, you will need a great portfolio.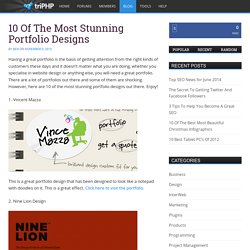 There are a lot of portfolios out there and some of them are shocking. However, here are 10 of the most stunning portfolio designs out there. Enjoy! Advertising Portfolio. By Ed Mahony of NewsDrillDigital.com Putting together a portfolio (or book) Most people in advertising should have a portfolio.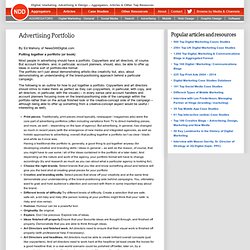 Copywriters and art directors, of course. Dpd design. 36+ Resources To Craft The Perfect Portfolio. A portfolio can be an amazing platform as it showcases your work, skills, experience and personality to potential clients and employers.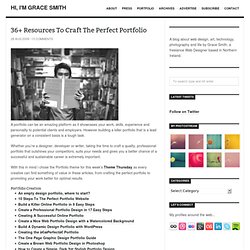 However building a killer portfolio that is a lead generator on a consistent basis is a tough task. Whether you're a designer, developer or writer, taking the time to craft a quality, professional portfolio that outshines your competitors, suits your needs and gives you a better chance of a successful and sustainable career is extremely important. With this in mind i chose the Portfolio theme for this week's Theme Thursday as every creative can find something of value in these articles, from crafting the perfect portfolio to promoting your work better for optimal results.
Portfolio Creation. 90 Inspirational And Creative Portfolio Designs. Portfolio usually known as your work identity over web or showcase of your works which helps you to get paid.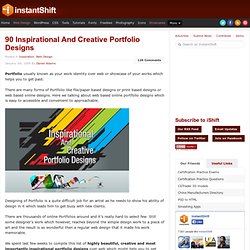 There are many forms of Portfolio like file/paper based designs or print based designs or web based online designs. Here we talking about web based online portfolio designs which is easy to accessible and convenient to approachable. Designing of Portfolio is a quite difficult job for an artist as he needs to show his ability of design in it which leads him to get busy with new clients. Blog Archive » 7 Tips For Creating a Print-Based Design Portfolio. This is a bold statement, but building a portfolio is quite tricky because everyone seems to have a differing opinion on how it should be done.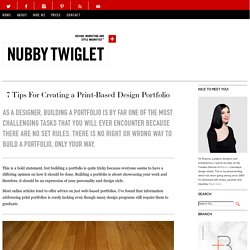 Building a portfolio is about showcasing your work and therefore, it should be an expression of your personality and design style. Most online articles tend to offer advice on just web-based portfolios. Dzine Blog | Design inspiration and Resources. Graphic Design & Web Design Blog. Beautiful Design Resumes & their Matching Portfolio Sites | Creative Opera Design Blog: Creative Advice and Inspiration for Graphic Designers and Web Designers. On 03.21.09, In Inspiration, Popular, by Manda It seems like most design resumes are too hot (so over-the-top creative that they are hard to read) or too cold (boring old Microsoft Word); this batch is just right.
Bonus resume tips have been included at the end of the post! 38 Impressive Graphic Designer Portfolios – Wanna have an Ideal Portfolio?? | Graphic Design Blog - An Ultimate resource of Graphic Design. How to Prepare a Portfolio for a Graphic Design Job | Graphic Design Portfolios. Employment: How to Prepare a Design Portfolio with focus on the Graphic Design Portfolio A portfolio is an important process and package, whether you are fresh out of school, a designer, a freelancer, an art director, or seeking employment in the graphic design field.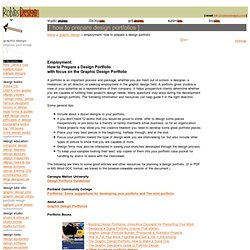 A portfolio gives studios a view of your potential as a representative of their company. It helps prospective clients determine whether you are capable of fulfilling their project's design needs. Many questions may arise during the development of your design portfolio.
---