USA
Politics Blogs (US) News
Politics (US) News
Healthcare Reform News
Bank Regulation News
US Economy News
Barack Obama News
USA News
World News Report
News
Since 1907, United Press International (UPI) has been a leading provider of critical information to media outlets, businesses, governments and researchers worldwide. UPI is a global operation with offices in Beirut, Hong Kong, London, Santiago, Seoul and Tokyo. Our headquarters is located in downtown Washington, DC, surrounded by major international policy-making governmental and non-governmental organizations. UPI licenses content directly to print outlets, online media and institutions of all types. In addition, UPI's distribution partners provide our content to thousands of businesses, policy groups and academic institutions worldwide. Our audience consists of millions of decision-makers who depend on UPI's insightful and analytical stories to make better business or policy decisions.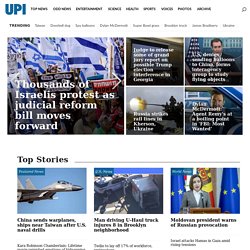 François Sinzikiramuka, perpetrator (left); Christophe Karorero, survivor. Jean Pierre Karenzi, perpetrator (left); Viviane Nyiramana, survivor. Godefroid Mudaheranwa, perpetrator (left); Evasta Mukanyandwi, survivor. Juvenal Nzabamwita, perpetrator (right); Cansilde Kampundu, survivor. Deogratias Habyarimana, perpetrator (right); Cesarie Mukabutera, survivor. François Ntambara, perpetrator (left); Epiphanie Mukamusoni, survivor.
2 workers killed in South Texas tank collapse | abc13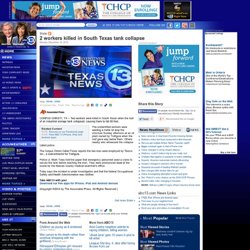 CORPUS CHRISTI, TX -- Two workers were killed in South Texas when the roof of an industrial storage tank collapsed, causing them to fall 60 feet. The unidentified workers were welding a metal lid atop the structure Sunday afternoon at an oil plant owned by Trafigura when the roof gave way below them. Others nearby who witnessed the collapse called police. The Corpus Christi Caller-Times reports the two men were employed by Tarsco Inc., a subcontractor for Trafigura. Police Lt. Mark Tuley told the paper that emergency personnel used a crane to secure the tank before reaching the men.