21st Century Fluencies
Digital Survival
Addressing digital citizenship with the "Digital Citizenship Survival Kit".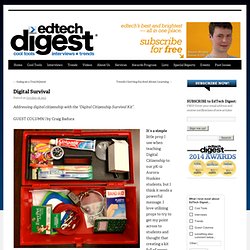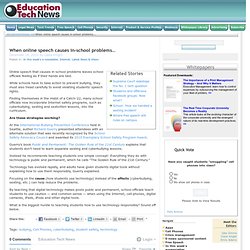 When online speech causes in-school problems...
Online speech that causes in-school problems leaves school officials feeling as if their hands are tied.
This quick and informational audio presents Love and Logic's stance on technology.
Love and Logic Speedy Solutions: Technology and Kids (mp3 download)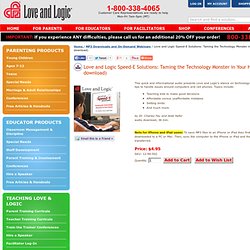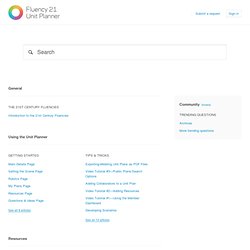 Snapshot of a Deeper Learning Classroom: Aligning TED Talks to the Four Cs | Fluency21 – Committed Sardine Blog
via Edutopia—Heather Wolpert-Gawron Edutopia is pleased to premiere the first blog in a new series designed to showcase compelling examples of how students are developing 21st century skills through a deeper-level of learning. Through this blog series, we hope to increase awareness and encourage replication of successful models. Chris Anderson, TED curator. (Photo credit: Pierre Omidyar via Wikimedia Commons)
21st Century Fluency Institute on Vimeo
Understanding the Digital Generation - Ian Jukes on Vimeo
Collaboration Fluency on Vimeo
Media Fluency on Vimeo
Solution Fluency on Vimeo
Creativity Fluency on Vimeo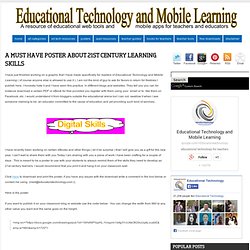 I have just finished working on a graphic that I have made specifically for readers of Educational Technology and Mobile Learning ( of course anyone else is allowed to use it ). I am not the kind of guy to ask for favors in return for freebies I publish here. I honestly hate it and I have seen this practice in different blogs and websites. They tell you you can for instance download a certain PDF or eBook for free provided you register with them using your email or to like them on Facebook..etc. I would understand it from bloggers outside the educational arena but I can not swallow it when I see someone claiming to be an educator committed to the cause of education and yet providing such kind of services. I have recently been working on certain eBooks and other things ( let it be surprise ) that I will give you as a gift for the new year.
A Must Have Poster about 21st Century Learning Skills
Educators & Linkedin: There Is A Place For You | ED News Daily
All About Computer Cookies - Session Cookies, Persistent Cookies,How to Enable/Disable/Manage Cookies
Twitter, without a doubt, has become the social network for educators to take their professional development into their own hands. Twitter allows teachers to connect with other educators from around the world, join discussions related to their interests and have a steady stream of resources (to help them teach and learn) available to them whenever, whereever and however. Creating a network on Twitter has catapulted educators to be part of a connected world where learning happens anytime, help is only a tweet away, collaboration partners meet and communicate, conversations that directly or indirectly impact their physical lives take place 24/7. Twitter is helping educators gain many 21st century skills and literacies which could easily transfer to their classrooms. So the next question is…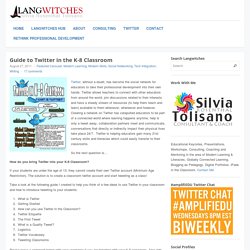 Should teachers expect privacy regarding their cell phones? Not in this case, a New Jersey appeals court ruled in a claim involving a sex crime. An ex-student went to police to report middle-school teacher Patrick DeFranco had committed sex acts with him when DeFranco was his teacher. To back up his claim, the former student agreed to phone DeFranco and let police listen in on the call.
Education Tech News » Blog Archive Teacher claims 'expectation of privacy' with cell phone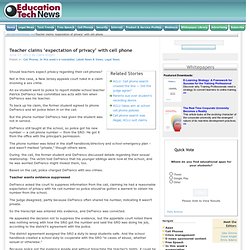 Rhondda's Reflections – wandering around the Web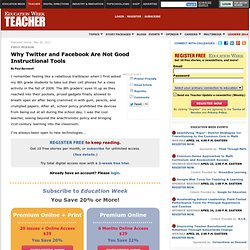 Education Week Teacher: Why Twitter and Facebook Are Not Good Instructional Tools
Published Online: May 30, 2012 First Person By Paul Barnwell I remember feeling like a rebellious trailblazer when I first asked my 8th grade students to take out their cell phones for a class activity in the fall of 2009. The 8th graders' eyes lit up as they reached into their pockets, prized gadgets finally allowed to breath open air after being crammed in with gum, pencils, and crumpled papers.
http://www.powerontexas.com/wp-content/uploads/2011/09/TEA-007-lessonPlan-WhiteOak-Vocab-Review-Spanish.pdf
- From the Classroom: Best Tech Practice Video of the Week - Using Twitter as a Lifeline
Welcome to YouTube! The location filter shows you popular videos from the selected country or region on lists like Most Viewed and in search results.To change your location filter, please use the links in the footer at the bottom of the page. Click "OK" to accept this setting, or click "Cancel" to set your location filter to "Worldwide". The location filter shows you popular videos from the selected country or region on lists like Most Viewed and in search results.
shakespeareanimated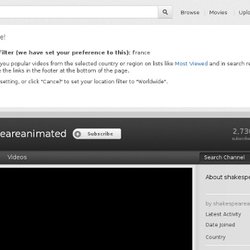 45 in 45 by Mike McGowan on Prezi
Media: Social Networking Guidelines
iMOM » Tweens » Parenting » Safety » Media: Social Networking Guidelines Here are 10 tips for monitoring and protecting your kids on social networking websites: 1.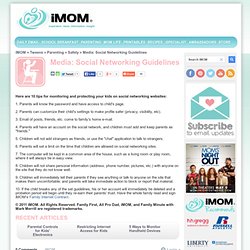 8 TED Talks You Need to Share with Your Students
Using multimedia in the classroom has become imperative in the 21st century classroom. Students tend to show more engagement and motivation when you play a video in the class.Given this importance of audio visual materials in education, more and more websites are created to provide video resources for educators. I have already compiled a list of 80 educational video resources to make it handy for teachers and even students to access the different video platforms and browse the materials they want. TED ( Technology, Entertainment, Design ) is one of my favorite video resource I use quite often.
Teaching Young Students to use Technology Responsibly
We need to prepare our students to act responsibly when the moment of stupidity arrives.We should not just hand students technology and expect them to use it responsibly. They are kids after all. Here is a fictitious story to show my point: imagine three fifth grade students check out a Flip video camera to work on a class project during lunch recess. They want to show the principle of an arc by showing a student swinging on a swing.
Welcome to the EdRoundtable. One of us will throw out an idea or question, and the roundtable adds their views. This edition of the EdRoundtable focuses on Google+ and its possible implications for education.
EdRoundtable: The Future of Google+ in Education
Infographic: The Lowdown on Social Media and College Admissions
Technology in Education Group News
Connect a Million Minds - Home
Some JCPS students take part in social media education program
Translated matching for multilingual plagiarism detection introduced
Start small, make training personally relevant, pair staff with knowledgeable co-workers—and keep it fun, readers recommend By Meris Stansbury, Online Editor Read more by Meris Stansbury "Removing technology from its stature as something mystical and powerful is something I stress to whomever I'm working with," says one reader. We often hear about tech-savvy educators and administrators who have an array of best practices and whose love for technology is evident. But as anyone who's ever been part of a school or district knows, not all teachers and administrators are as comfortable or familiar with technology.
http://metproject.org/downloads/MET_Gathering_Feedback_Practioner_Brief.pdf
NO SOPA: 'American Censorship Day'
http://www.copyright.gov/circs/circ03.pdf
Presentations
International Society for Technology in Education Group News
http://www.marcprensky.com/writing/Prensky%20-%20Digital%20Natives,%20Digital%20Immigrants%20-%20Part2.pdf
Digital Tools for Students
Jacqui Murray
http://www.p21.org/storage/documents/P21_Framework_Definitions.pdf
Dr Matthew J. Koehler
Summary of Project - Digital Citizen Project at Illinois State
- 20 Things Students Want the Nation to Know About Education
21centuryedtech - 21 Century Info
Blogs - DAILY INSIGHT: 15 digital citizenship resources for schools
s Copyright and Fair Use Resources
The NCTE Definition of 21st Century Literacies
21st Century Literacy
Fact Sheet: Digital Promise Initiative
http://www.p21.org/storage/documents/aacte_p21_whitepaper2010.pdf
http://route21.p21.org/images/stories/states/il_two_pager.pdf
Larry Ferlazzo's Websites of the Day… - "The Benjamin Franklin Effect" In The Classroom
Online Tools
Defining a 21st Century Education: At a glance
The Partnership for 21st Century Skills - Above & Beyond