Psychology Studies
Get flash to fully experience Pearltrees
What happened in the basement of the psych building 40 years ago shocked the world.
How do we use this Conformity for social good? More persistence, attendance, course completion? by uboost Oct 21
Now I know why I have a hard time studying by baileyboo721 Oct 23
Psychology is the study of the human mind and mental processes in relation to human behaviors - human nature. Due to its subject matter, psychology is not considered a 'hard' science, even though psychologists do experiment and publish their findings in respected journals. Some of the experiments psychologists have conducted over the years reveal things about the way we humans think and behave that we might not want to embrace, but which can at least help keep us humble. That's something.
Ten of the most influential social psychology studies. "I have been primarily interested in how and why ordinary people do unusual things, things that seem alien to their natures. Why do good people sometimes act evil?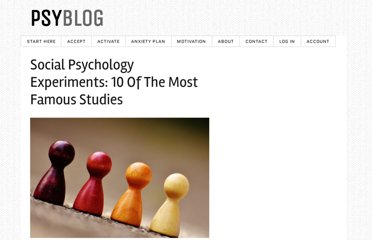 A wealth of psychological insights from ten more key social psychology studies. Over the last 7 months I've been exploring 10 more of my favourite social psychology studies, each with an insightful story to tell about how our minds work. This follows on from an article I wrote two years ago ( 10 brilliant social psychology studies ).
Dec. 30, 2009 — 2009 may well be remembered for its scandal-ridden headlines, from admissions of extramarital affairs by governors and senators, to corporate executives flying private jets while cutting employee benefits, and most recently, to a mysterious early morning car crash in Florida. The past year has been marked by a series of moral transgressions by powerful figures in political, business and celebrity circles. New research from the Kellogg School of Management at Northwestern University explores why powerful people - many of whom take a moral high ground - don't practice what they preach. Researchers sought to determine whether power inspires hypocrisy, the tendency to hold high standards for others while performing morally suspect behaviors oneself.
People love to give each other advice. The web is full to bursting with all types of pseudo-psychological advice about life. The problem is, how much of this is based on real scientific evidence? Well, here on PsyBlog we've got the scientific evidence. So here's my top 10 list of what you can learn practically from the psychological research discussed here recently. 1.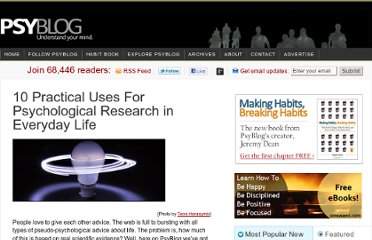 The Asch Experiment, by Solomon Asch, was a famous experiment designed to test how peer pressure to conform would influence the judgment and individuality of a test subject. The experiment is related closely to the Stanford Prison and Milgram Experiments , in that it tries to show how perfectly normal human beings can be pressured into unusual behavior by authority figures, or by the consensus of opinion around them.
Whether donning a suit for an interview or a sexy outfit for a date, it's obvious that most of us are well aware of the power of clothing to affect how other people perceive us. But what about the power of our clothes to affect our own thoughts? Relevant to this question is the growing "embodied cognition" literature showing that the position and state of our bodies can affect our thoughts - for example, cleaning their hands makes people feel morally purer . In a new study Hajo Adam and Adam Galinsky propose that clothes can have similar effects on our thoughts - a phenomenon they call "enclothed cognition". In contrast to embodied cognition effects which are fairly direct, the researchers think enclothed cognition effects will depend on two conditions - first, the symbolic meaning of the clothing and second, the actual wearing of the clothes. To test this idea, the researchers focused on the power of white coats, synonymous with scientists and their attention to detail.