Literature
Poetry 180 - Tuesday 9:00 AM. In this poem, disaster strangely invades the ordinary.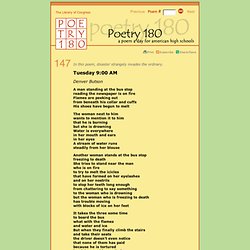 A man standing at the bus stop reading the newspaper is on fire Flames are peeking out from beneath his collar and cuffs His shoes have begun to melt The woman next to him wants to mention it to him that he is burning but she is drowning Water is everywhere in her mouth and ears in her eyes A stream of water runs steadily from her blouse Another woman stands at the bus stop freezing to death She tries to stand near the man who is on fire to try to melt the icicles that have formed on her eyelashes and on her nostrils to stop her teeth long enough from chattering to say something to the woman who is drowning but the woman who is freezing to death has trouble moving with blocks of ice on her feet.
Jabberwocky. 'Twas brillig, and the slithy toves Did gyre and gimble in the wabe: All mimsy were the borogoves, And the mome raths outgrabe.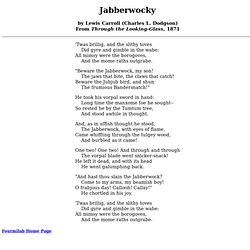 "Beware the Jabberwock, my son! The jaws that bite, the claws that catch! Beware the Jubjub bird, and shun The frumious Bandersnatch! " He took his vorpal sword in hand: Long time the manxome foe he sought-- So rested he by the Tumtum tree, And stood awhile in thought. Welcome to the Polyglot Project. 2.cs.cmu. This book contains 209 tales collected by the brothers Grimm.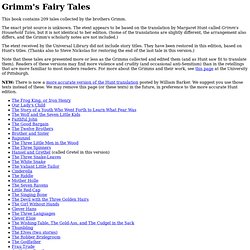 The exact print source is unknown. The etext appears to be based on the translation by Margaret Hunt called Grimm's Household Tales, but it is not identical to her edition. (Some of the translations are slightly different, the arrangement also differs, and the Grimm's scholarly notes are not included.) The etext received by the Universal Library did not include story titles. They have been restored in this edition, based on Hunt's titles. Square Stanza. The Top 10 Best Science Fiction Books.
Cat haiku. You never feed me.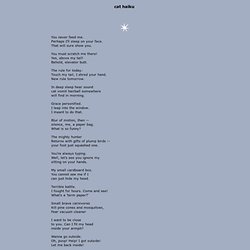 Perhaps I'll sleep on your face. That will sure show you. You must scratch me there!
---