Food tips
Kitchen Helpers. I found these helpful charts last week and just had to share!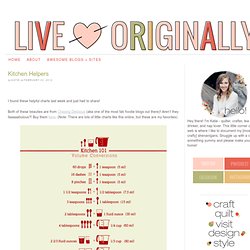 Both of these beauties are from Chasing Delicious (aka one of the most fab foodie blogs out there)! Aren't they faaaaabulous?! Buy them here. (Note: There are lots of little charts like this online, but these are my favorites). 99 Ways to Save Money on Food. From time to time I hear from Primal Blueprinters that the cost of the PB diet can be challenging.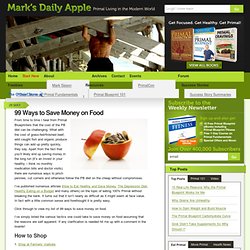 What with the cost of grass-fed/finished beef, wild caught fish and organic produce things can add up pretty quickly, they say. Apart from the fact that you'll likely end up saving money in the long run (it's an invest in your healthy – think no monthly medication bills and doctor visits) there are numerous ways to pinch pennies, cut corners and otherwise follow the PB diet on the cheap without compromises. 20 Habits That Make You Fat. 20. #1: Eating "low-fat": It sounds crazy, but stop buying foods marketed as low-fat or fat-free.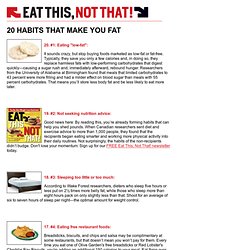 Typically, they save you only a few calories and, in doing so, they replace harmless fats with low-performing carbohydrates that digest quickly—causing a sugar rush and, immediately afterward, rebound hunger. Raw Food Nutrition - Raw Foods with More Nutrients. Raw nuts have healthy fats that are essential to the body.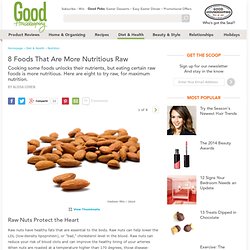 Raw nuts can help lower the LDL (low-density lipoprotein), or "bad," cholesterol level in the blood. Raw nuts can reduce your risk of blood clots and can improve the healthy lining of your arteries When nuts are roasted at a temperature higher than 170 degrees, those disease-fighting fats get broken down into free radicals that do just the opposite: contribute to plaque and cardiovascular disease. Did you know that nuts are also among the best sources of Vitamin E? Alissa Cohen is the internationally recognized author of Living on Live Food, a raw food chef and the owner of Boston's renowned Grezzo restaurant, and a certified fitness trainer, nutritional consultant and mind-body therapist. This month, Cohen is making her expertise available nationwide with the launch of an online shop in partnership with OpenSky at AlissaCohen.com.
Best Superfoods - List of Healthy Superfoods. Step into any supermarket and you'll see thousands of labels shouting good-health claims: Whole grains!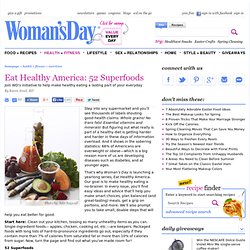 No trans fats! Essential vitamins and minerals! But figuring out what really is part of a healthy diet is getting harder and harder in these days of information overload. And it shows in the sobering statistics: 66% of Americans are overweight or obese—which is a big reason more of us are developing diseases such as diabetes, and at younger ages. Boost your body's immune system - Microsoft Home Magazine. Healthy snack ideas. Don't reach for that doughnut just yet.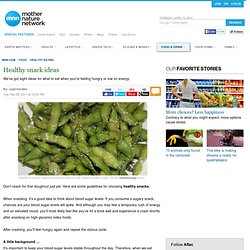 Here are some guidelines for choosing healthy snacks. When snacking, it's a good idea to think about blood sugar levels. What to Eat When: A Guide to Dodging Diet Disasters. 15 Food Swaps That Could Save Your Life. 18 foods that fight common ailments. Did you know that falling asleep easier, preventing PMS and easing the aches and pains of arthritis could be as easy as stocking your kitchen with the right foods?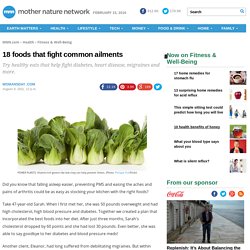 Take 47-year-old Sarah. When I first met her, she was 50 pounds overweight and had high cholesterol, high blood pressure and diabetes. Together we created a plan that incorporated the best foods into her diet. Top Ten Smart Foods. Crossword puzzles alone won't save your brain and protect it from aging , though they will help.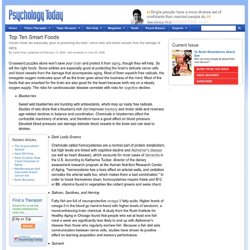 So will the right foods. Some edibles are especially good at protecting the brain's delicate nerve cells and blood vessels from the damage that accompanies aging. 25 Snacks & Foods That Will Give You Energy. *Alert* The Glowing Lean System Registration is OPEN… CLICK HERE to learn more Our energy is integrally connected to the foods we eat.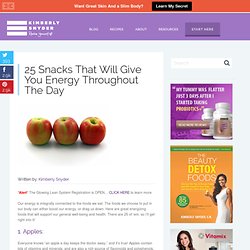 The foods we choose to put in our body can either boost our energy, or drag us down. Here are great energizing foods that will support our general well-being and health. There are 25 of 'em, so I'll get right into it! Foods to Improve Moods - Healthy Living Tips at WomansDay. While that tub of ice cream in the back of the freezer may be what you crave when you're feeling blue, there is a long list of other (healthier!)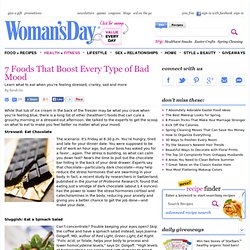 Foods that can cure a grouchy morning or a stressed-out afternoon. We talked to the experts to get the scoop on what to eat to make you feel better no matter what your mood. Stressed: Eat Chocolate. Top 10 Food That Will Make You More Energetic and Active | Gegeblog.Com.
---