Philosophy
To understand the meaning of design is… to understand the part form and content play… and to realize that design is also commentary, opinion, a point of view, and social responsibility. To design is much more than simply to assemble, to order, or even to edit; it is to add value and meaning, to illuminate, to simplify, to clarify, to modify, to dignify, to dramatize, to persuade, and perhaps even to amuse. Design is both a verb and a noun. It is the beginning as well as the end, the process and product of imagination.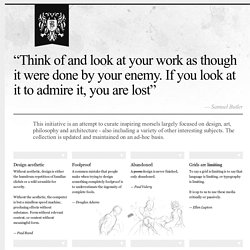 Famous Quotes Famous quotes from Hegel, Marx, Engels, Lenin, Trotsky, Mao and other communists with links to the context on the Marxists Internet Archive. The only source on the internet of genuine, sourced Marxist quotations. In addition, you get a randomly selected "Quote-of-the-Day" from one of the collections, for you to ponder. Selected Marxist Writers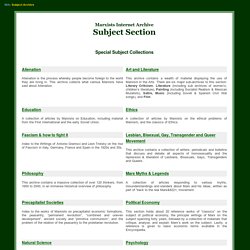 Socialism Has Never Been Tried When It Is Tried It Must Be Established Globally World Socialism Can Only Be Brought About Democratically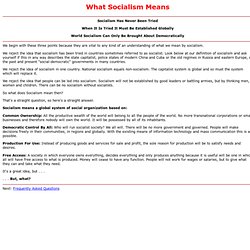 Socialist Party of Canada - What Socialism Means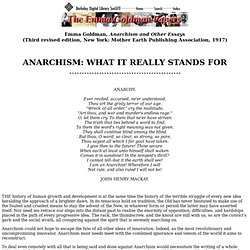 Emma Goldman, Anarchism and Other Essays (Third revised edition, New York: Mother Earth Publishing Association, 1917) Ever reviled, accursed, ne'er understood, Thou art the grisly terror of our age. "Wreck of all order," cry the multitude, "Art thou, and war and murder's endless rage." O, let them cry. To them that ne'er have striven The truth that lies behind a word to find, To them the word's right meaning was not given. They shall continue blind among the blind.
This is a list of some of the major unsolved problems in philosophy. Clearly, unsolved philosophical problems exist in the lay sense (e.g. "What is the meaning of life?", "Where did we come from?", "What is reality?"