Food!
20 Alcoholic Beverages Inspired By The Harry Potter Series: Pics, Videos,... Original Brazilian Black Beans & Rice. 1-1/2 lbs. dried black turtle beans 1 lg. bell pepper (or 2 med.), diced 4 lg. onions, diced 6 cloves of garlic, diced 3/4 c. celery, diced 1/4 c. parsley, minced 2 tbsp. oregano, minced 2 tbsp. basil, minced 2 or 3 bay leaves Pinch of ground clove 2 bouillon cubes, beef (or chicken) 2 tbsp. vinegar (reserve to add last) 1 lb. bulk sausage 1 lb. pork, such as boneless country style ribs or rolled roast 1 lb. beef, stew beef chunks, chuck steak or leftover roast 1/2 to 1 lb. ham, smoked or baked, cubed 1/2 to 1 lb. smoked link sausage or Kielbasa cut into bite size pieces 1 lb. of same cut into 2 to 3 inch links to serve on the side Salt and pepper to taste Wash and look for gravel then soak overnight in a bowl being sure beans are well covered with water.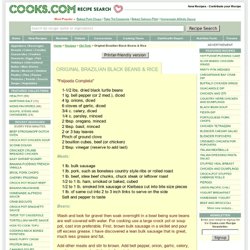 For cooking use a large crock pot or soup pot, cast iron preferable. First, brown bulk sausage in a skillet and pour off excess grease. Kicked Up Ramen Noodles – Kung Pao Style. Confession #1: My family really loves to eat ramen noodles.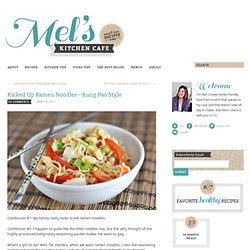 Confession #2: I happen to quite like the little noodles, too, but the very thought of the highly processed/salty/nasty seasoning packet makes me want to gag. What's a girl to do? Well, for starters, when we want ramen noodles, I toss the seasoning packet and cook the noodles in low-sodium all-natural chicken broth or my favorite vegetable broth. No one knows the difference. Ramen Shrimp Pouch. Everybody knows those Ramen noodle packages for a couple of cents that save every student from starving to death, right?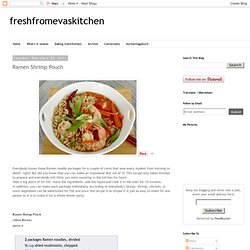 But did you know that you can make an impressive dish out of it? This recipe only takes minutes to prepare and everybody will think you were sweating in the kitchen for hours. Take a big piece of tin foil, stack the ingredients, add the liquid and cook it in the oven for 15 minutes. In addition, you can make each package individually according to everybody's likings. Shrimp, chicken, or more vegetables can be substituted for fish and since this recipe is so simple it is just as easy to make for one person as it is to make it for a whole dinner party. Fork Spoon Knife: Everyday Meals... a Ramen and a Salad. So many times in our blogs, we try to reach for the stars in flavors, in creativity .. showcase our talent by doing something different from the many, many blogs out there... that it really does feel like a competition sometimes.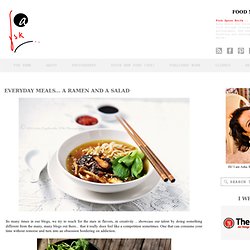 One that can consume your time without remorse and turn into an obsession bordering on addiction. Anyway, one of the days I was craving something warm and soothing and just wanted Ramen. But, I also wanted something vegetarian and I had picked up some great looking Shitake and Bunashimeji mushrooms and went with that. For another meal, I decided on the opposite end, a lovely light salad of arugula, HUGE Mayan shrimps, quail eggs, pear and Serrano ham.. simple ingredients that each bring a layer of flavor that work beautifully drawn together with a light drizzle of good olive oil and shaved Parmesan. Savebucks! How to make incredible iced coffee at home « One Particular Kitchen. One taste of this and I promise you'll think twice about dropping $6/cup for iced coffee.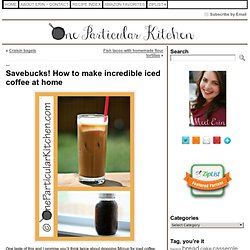 This all started when I stumbled upon this article about cold brewed coffee. "Cold brewed" just sounded… odd. How does that work exactly? Turns out: pretty well. It further turns out that it's likely what you've been drinking from the mermaid all this time. Simple syrup « One Particular Kitchen. Try not to be blown away by the beauty of that picture, okay?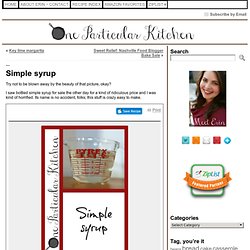 I saw bottled simple syrup for sale the other day for a kind of ridiculous price and I was kind of horrified. Its name is no accident, folks; this stuff is crazy easy to make. Ingredients. Easy Brazilian Cheese Bread (Pão de Queijo) Recipe. Our tour of Brazil continues.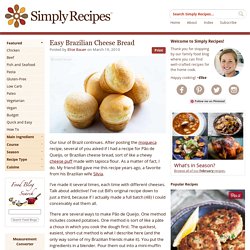 After posting the moqueca recipe, several of you asked if I had a recipe for Pão de Queijo, or Brazilian cheese bread, sort of like a chewy cheese puff made with tapioca flour. As a matter of fact, I do. The Hazel Bloom: The Best Macaroni and Cheese Recipe Ever. I can say this is the best macaroni and cheese recipe ever because it's not really my recipe.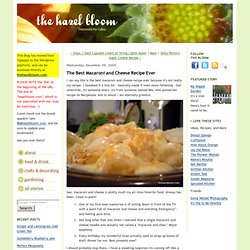 I tweaked it a tiny bit - basically made it even more fattening - but otherwise, it's someone else's. It's from someone named Bev, who posted her recipe on Recipezaar and to whom I am eternally grateful. See, macaroni and cheese is pretty much my all-time favorite food. TasteSpotting | a community driven visual potluck. Make Cake in a Mug. From Wired How-To Wiki Make this cake in 5 minutes!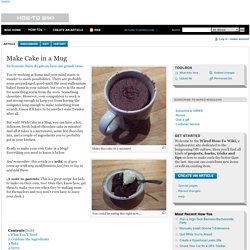 You could be eating this right now... En francais: Faire du gâteau dans une grande tasse You're working at home and your mind starts to wander to snack possibilities. There are probably some prepackaged, good-until-the-next-millennium baked items in your cabinet, but you're in the mood for something warm from the oven. 2 Stews: Cheesecake In A Mug. I was telling a friend about my 1-2-3 Chocolate Microwave Mug Cake and kept thinking there had to be equally easy and delicious alternatives.
I had some cream cheese and sour cream in the refrigerator and played around with a microwave cheesecake. The first time I overcooked it, but the second time was a charm. It was creamy and delicate from the first bite. This cake is great for people at work, in dorms or if you just want cheesecake...fast! Samoas Cupcakes. Preheat the oven to 350 F. Line muffin pan with paper liners. In a medium bowl, whisk together the flour and cocoa powder. In the bowl of a stand mixer fitted with the paddle attachment, cream together the butter, sugar, salt, baking soda, vanilla, and coconut extract until fluffy and light, at least 3-4 minutes. Add eggs, one at a time, beating until each is incorporated, scraping down sides of bowl as needed. With the mixer on low speed add in the dry ingredients in three batches, alternating with the milk beating just until combined.
Cinnamon Streusel Pancakes | Two Peas & Their Pod - StumbleUpon. Cinnamon Streusel Pancakes When we went to California in November, we spent a day eating our way through Los Angeles with our good friend, Amanda, from Kevin and Amanda. Amanda had a long list of food places for us to try. We started our food feast at The Griddle Cafe in Hollywood. Cruft: Lasagna Cupcakes. When Intelligentsia Coffee opened in Pasadena recently, I was intrigued the lasagna cupcakes they served. The cupcakes are made by Heirloom LA, a catering business. About the size of a muffin, a single lasagna cupcake was a delicious meal.
After seeing how much my daughter enjoyed them (she ate my entire cupcake and I had to order a second one), I decided I had to try making them at home. After a bit of research, here is my method. Chocolate and Caramel Apple Pie Galette. Now, don't let the word Galette scare you….it is a French word that simply means…various types of flat, round or freeform crusty cakes. This beautiful apple dessert couldn't be easier and boy is it pretty. We are FINALLY back to school here in CA. Can I get a woot woot please?! The boys are enjoying their classes and teachers, so mama is happy! I LOVE the fall flavors of apples and cinnamon then toss on some chocolate and caramel…..I think I've died and gone to heaven :) Hope you will all enjoy this simple yet completely impressive and scrumptious "freeform" little pie.
Recipe} The Most AMAZING Chocolate Cake&8230; EVER. Pepperoni Pizza Puffs Recipe. TGIF, friends. Hope that you all have had a lovely week, and that a relaxing weekend lies ahead. I'm looking forward to some friend's-birthday-celebrating, farmers-marketing, coffee-(friends)-dating, cake-baking, church-enjoying, and sleeping-inning here in my little corner of the world this weekend. OH, and the thing I'm perhaps most excited about — choir-directing. Basic Garlicky Spaghetti Recipe. S'mores Cupcakes & Annie's Eats. Foodgawker | feed your eyes. Prince Williams Grooms Cake.
---