Meaning of joy
Download Graphic Images from the Hillis/Bull Lab. Return to "Download Files" Page You are welcome to download the following graphic image of the Tree of Life for non-commercial, educational purposes: Tree of Life (~3,000 species, based on rRNA sequences) (pdf, 368 KB) (see Science, 2003, 300:1692-1697)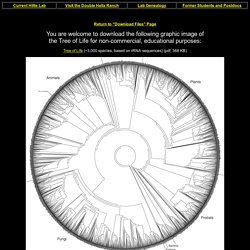 Fun fun fun fun - clikr. Neuron-galaxy.jpg (JPEG Image, 1068 × 733 pixels) - Scaled (78%) Improvised piano playing. Jinjo crew from Korea. You probably thought this was a real zebra by Rhett and Link. Short Film: Sound of Silence. Trippy-bubble-swirl.gif (GIF Image, 500x500 pixels) _lwqchvOKIf1r2yn7ao1_500.jpg (JPEG Image, 450x573 pixels) Bertrand-russell-quote-fools-wise-men.jpg (JPEG Image, 780x512 pixels) There is a pillow that connects distant lovers through heart beats.
Pillow Talk is a project aiming to connect long distance lovers.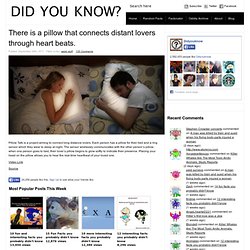 Each person has a pillow for their bed and a ring sensor which they wear to sleep at night. The sensor wirelessly communicates with the other person's pillow; when one person goes to bed, their lover's pillow begins to glow softly to indicate their presence. Placing your head on the pillow allows you to hear the real-time heartbeat of your loved one. Video Link Source. Michele Bachmann Meets Young LGBT Activist Elijah At Book Signing. After her husband Marcus' Christian counseling center came under scrutiny for allegedly promoting "reparative therapy," a form of counseling that seeks to make gay people renounce their sexuality, Bachmann's gay rights views have taken center stage.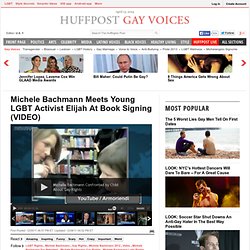 Described byThe San Francisco Chronicle as "arguably the most socially conservative Republican running for president," Bachmann is a strong opponent of same-sex marriage. "If you're involved in the gay and lesbian lifestyle, it's bondage," she is quoted by the Human Rights Campaign as saying. "It is personal bondage, personal despair and personal enslavement. " s05_09170159.jpg (JPEG Image, 991×662 pixels) - Scaled (82. HeartCurves_801.gif (GIF Image, 455×306 pixels) Pendulum Waves. Meet the sloths.
---