Eco
UNIPASTO - Associação para o formento à pesquisa de melhoramento de forrageiras. How to make Toilet Paper (Very Long P... - Permaculture. It was fun writing this.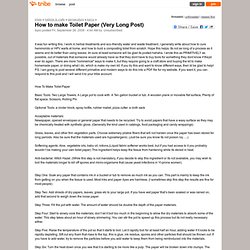 I work in herbal treatments and eco-friendly water and waste treatment. I generally write about how to cure hemmorids or HPV warts at home, and how to buld a composting toilet from scratch. Hope this helps. Bio swimming pools, the self-cleaning mini-ecosystems | WeWasteTime. Bio pool aka natural swimming pool or pond is the chemical-free alternative to evil chlorine and complicated mechanical filtering systems, designed to use living plants and micro-organisms as bio-filters.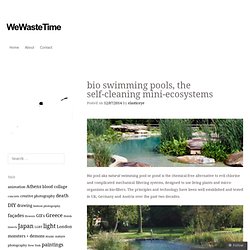 The principles and technology have been well established and tested in UK, Germany and Austria over the past two decades. The basic philosophy here is the constant circulation of the water from the swimming area, which is structurally distinct to the shallow wetland or regeneration zone with the friendly micro-organisms and selected aquatic plants. To achieve sufficient filtration, the area of the plant zone should equal at least 50% of the swimming area. A skimmer creates a gentle surface flow and collects large debris, and to assure biological safety a UV steriliser finishes off the cleaning process.
Designers Have Created a Device That Can Pull Drinking Water Out of Thin Air. The United Nations estimates that people in sub-Saharan Africa spend roughly 40 billion hours per year collecting water, and what they do find is often unsafe to drink.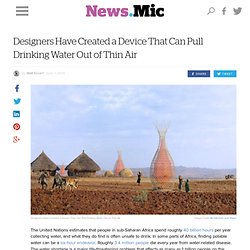 In some parts of Africa, finding potable water can be a six-hour endeavor. Roughly 3.4 million people die every year from water-related disease. The water shortage is a major life-threatening problem that affects as many as 1 billion people on the continent alone, but it's not as though you can just snap your fingers and make water magically appear out of thin air. Or can you? How to Live Off-the-grid in a Tiny House. LaMar Alexander grew up in a homesteading family.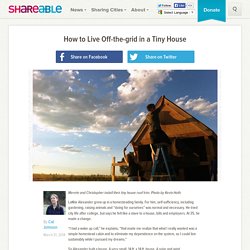 For him, self-sufficiency, including gardening, raising animals and "doing for ourselves" was normal and necessary. He tried city life after college, but says he felt like a slave to a house, bills and employers. At 35, he made a change. "I had a wake up call," he explains, "that made me realize that what I really wanted was a simple homestead cabin and to eliminate my dependence on the system, so I could live sustainably while I pursued my dreams." So Alexander built a house. Cities of the Dead : Kyrgyzstan. View sheds in the eco category - Shed of the year 2014 Readersheds.co.uk | Home of Shed of the year 2014 #shedoftheyear. Sementes de Plantas Exóticas e Plantas Raras - Loja ReinoPlantae. Moeda : R$ Acesse ou Crie sua Conta Carrinho.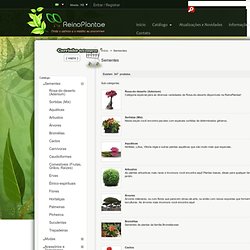 MANUAIS DE CULTIVO - PLANTAMUNDO: Ginkgo biloba. Ginkgo biloba, de origem chinesa, é uma árvore considerada um fóssil vivo.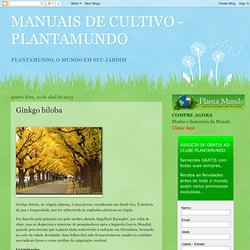 É símbolo de paz e longevidade, por ter sobrevivido às explosões atômicas no Japão. Foi descrita pela primeira vez pelo médico alemão Engelbert Kaempfer, por volta de 1690, mas só despertou o interesse de pesquisadores após a Segunda Guerra Mundial, quando perceberam que a planta tinha sobrevivido à radiação em Hiroshima, brotando no solo da cidade devastada. Suas folhas têm sido frequentemente usadas no combate aos radicais livres e como auxiliar da oxigenação cerebral. Germinação: How to reuse grey water in the home and yard. Using grey water for many of the water needs in a home or garden that don't require potable water can help reduce stresses on water supplies, lower home water usage and costs, and support a thriving landscape.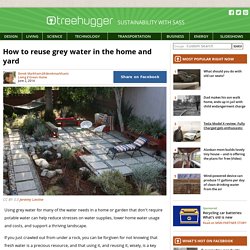 If you just crawled out from under a rock, you can be forgiven for not knowing that fresh water is a precious resource, and that using it, and reusing it, wisely, is a key component of trying to live more sustainably. And with the extended drought conditions in many parts of the US, as well as in many other parts of the world, water issues are one of our most pressing challenges. Build a $300 underground greenhouse for year-round gardening. Growers in colder climates often utilize various approaches to extend the growing season or to give their crops a boost, whether it's coldframes, hoop houses or greenhouses.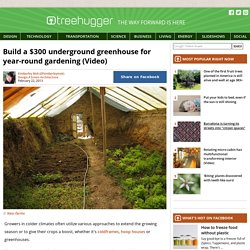 Greenhouses are usually glazed structures, but are typically expensive to construct and heat throughout the winter. A much more affordable and effective alternative to glass greenhouses is the walipini (an Aymara Indian word for a "place of warmth"), also known as an underground or pit greenhouse. How to build a self-watering raised garden bed from scavenged materials. One effective method of gardening in a spot with subpar soil is to build a raised bed, and as these videos show, they can also be built from scraps, and in a way that allows the garden beds to water themselves.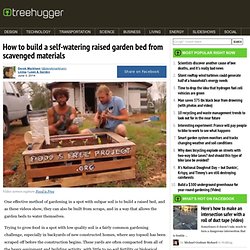 Trying to grow food in a spot with low quality soil is a fairly common gardening challenge, especially in backyards of new constructed homes, where any topsoil has been scraped off before the construction begins. These yards are often compacted from all of the heavy equipment and building activity, with little to no soil fertility or biological activity, which can be quite frustrating, even for seasoned gardeners. How to Build a Composting Toilet Barrel System. Barrel Composting Toilet System. The Barrel Composting Toilet system is similar to our Bucket-to-Barrel Composting Toilet system, except that it is designed to function without the bucket aspect.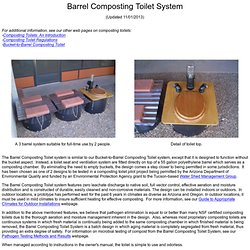 Instead, a toilet seat and ventilation system are fitted directly on top of a 55 gallon polyethylene barrel which serves as a composting chamber. By eliminating the need to empty buckets, the design comes a step closer to being permitted in some jurisdictions. Urban composting toilet: poo from loo to garden in 1 year. DIY Composting Toilet part 1. Low Cost Do-It-Yourself Dry Toilet System. Why Waste Water? Au petit coin du jardin. How to Live Off-the-grid in a Tiny House. Todd Walker. Solar Food Dryers? (food preservation forum at permies) Thomas wrote: 1. I want the added benefit of the box being black but the thought of paint is unappealing. Was thinking maybe a homemade concoction of black walnut stain? Dellartemis wrote: That sounds cool! Um.....what about soot rubbed into the wood? Lab Criativo | Um lugar para se inspirar através da criatividade. The hot poop on alternative toilets, Tiny house edition.
After covering the wonderful Tiny Tack House, Commenter Marrena noted: A bucket and sawdust! That's pretty hillbilly for most people. I see that the other similar tiny home you feature here, Alek Lisefski's Tiny Project, also did the bucket and sawdust routine. How to grow and harvest "cut and come again" lettuce, for perpetual salad greens. There's something beautiful about growing and harvesting a whole head of fresh lettuce from the garden, and it can be well worth the wait, but for both an earlier and an extended harvest of salad greens, the cut and come again method can yield an abundance of leafy green goodness all season long.
Lettuce is one of those fairly simple to grow garden crops, as it doesn't require pollination or waiting quite as long as other veggies in order to harvest and enjoy, but if you want to grow head lettuce, it does take a bit of patience. If you're an impatient gardener, or want to extend your salad harvesting season, you might consider planting a bed or two with leaf lettuce that can be cut over and over again. Compact Wind Turbine for houses. May 28, 2014 | by Agis F A compact and quiet wind turbine, a windmill, that you can place more than one on just about any house. Developed by Research & Development Company the Archimedes, the Liam F1 Urban Wind Turbine has an energy yield that is "80 percent of the greatest that theoretically can be done," compared to the conventional ones, that average around 25 – 50 percent. "This unique windmill, combining a tight and elegant design with impressive and unequalled performance, is based on the laws of nature and the theoretics of the Greek mathematician Archimedes.
Bio construccion 2° Parte. Sacred Stardust. Tutorial. Vertical Axis Wind Turbine v1.0 Contents of this tutorial: Description How to use this tutorial Tools Materials Step by step instructions Mounting and applications Description: This is a Vertical Axis Wind Turbine which uses wind energy to drive things like air and water pumps for cooling, irrigation and similar, or an alternator/generator for producing electricity.
The turbine uses the 35-40% mechanically efficient Lenz2 lift+drag design. Open Source Wind Turbine v1.0 - Construction Tutorial Animation. SolarFlower.org. Tutorial. A DIY Home Wind Turbine For Just $30? Here's The Blueprint. World Wide Opportunities on Organic Farms - WWOOF. A Permacultura no Brasil. Moom permaculture. Farm Hack. Vegetable Garden Planner | Vegetable Garden Layout | Planning a Garden. Zenman Energy - Open Source Solar Power. Open Source Beehives. WikiHouse. FarmBot | Humanity's Open-Source Automated Precision Farming Machine. Recycled Materials Nursery Home in Vietnam. Modular all-in-one chicken coop & garden composts too.
How to pack a whole lot of living into 221 square feet. Vermiponics roundup: The beauty of worms in hydroponic gardens (Video) ArchitectureAtlas. The Tiny Project: "Less house! More Life!" 5 ways to get the most out of backyard chickens. Vertical vermiponics: research project combines worms with hydroponics. Ken Rinaldo's Cascading Garden Uses Vermiponics for Growing Veggies Vertically.
Vermiponics? Adding worms to hydroponic gardens. Aquaponics Is Growing Farms in the Most Unlikely Places. RSS. Miniature Garden (For Beginners!) Special Mention | Primeval Symbiosis -Single Pole House on Behance. 7 Ways to Live Like an EcoVillager in the City. Conceptual Devices — Antonio Scarponi / News. Earthship Biotecture - Radically Sustainable Buildings. Ruta de las Huertas | redagriculturaurbana.cl.
A Brief Introduction to Aquaponic Gardening. TrillionthTonne.org. Simulador Solar - América do Sol, o site da energia solar no Brasil. HoYi! Vertical Axis Wind Turbine | Urban Green Energy. The Windstrument Turbine. Guardian Environment Network | Environment. Notícias sobre Meio Ambiente, Ecologia e Sustentabilidade - O Eco. Re:Vision / A framework for changing the way we look at cities. Do It Yourself: Make a Compost Bin #30DaysofGOOD - GOOD Projects. Helsinki Plant Tram. Not Exactly Rocket Science. Aprendizado do dia - "E sem que se perceba, a gente se encontra!"
Cornucopia Institute | Economic Justice for Family Scale Farming. Untitled. Super adobe « A casa da montanha. ECOLOGY WITHOUT NATURE. Advancing the Science of Climate Change. Climate Change: A Summary of the Science. Inhabitat - Green Design Will Save the World. BREAKER: Urban Agriculture Challenge by Juliette LaMontagne. Decisive Ecological Warfare | Deep Green Resistance. Sustentavel na Pratica. Windowfarms. Ecopolitica. Urban Homestead ® - Path to Freedom.
ARC - Faiths and ecology - Islamic quotations about creation and nature. Sustentável é pouco. GOOD Home Page. Ecodesenvolvimento. Nosso futuro comum. TreeHugger. SHFT.
---