Eco
There are a lot of variables that go into planning a garden. Smart Gardener does all the hard work for you. We collect, calculate and create a smart personal profile of your garden just for you. Learn more about your profile. We make it easy to find the right plants, so you can't go wrong.
Vegetable Garden Planner | Vegetable Garden Layout | Planning a Garden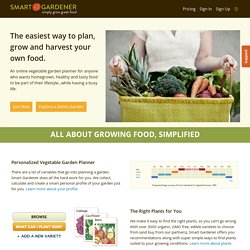 Zenman Energy is a non-profit organization that is attempting to solve this worldwide problem. We're not doing this for money, we're doing this to ensure a future for our children. We need more brains and more money.
Zenman Energy - Open Source Solar Power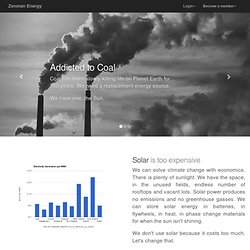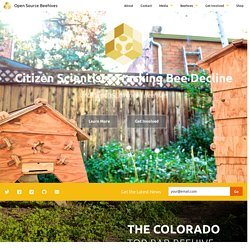 Open Source Beehives
The Open Source Beehives project is a collaborative response to the threat faced by bee populations in industrialised nations around the world. The project proposes to design hives that can support bee colonies in a sustainable way, to monitor and track the health and behaviour of a colony as it develops. Each hive contains an open source sensory kit, The Smart Citizen Kit (SCK), which can transmit to an open data platform: Smartcitizen.me These sensor enhanced hive designs are open and freely available online, the data collected from each hive is published together with geolocations allowing for a further comparison and analysis of the hives.
"I see my share of off-the-wall schemes... this is the first one I've seen that I could quite likely build and inhabit, personally." "...a compelling example of an open source platform emerging in a new area." "WikiHouse, An Online Building Kit, Shows How To Make A House In 24 Hours" "WikiHouse promises printable homes, work for the world's idle CNC routers." "Yes, a downloadable house! ... this is about transforming economies not about choosing between different styles of intervention."
WikiHouse
FarmBot | Humanity's Open-Source Automated Precision Farming Machine
Recycled Materials Nursery Home in Vietnam
Recycled Materials Nursery Home in Vietnam March 12, 2014 | by Nina Papaioannou A vegetable nursery home made of 2,000 Plastic Bottles and Bamboo in Vietnam is used as a greenhouse and as a place for farmers to rest away from the rice fields.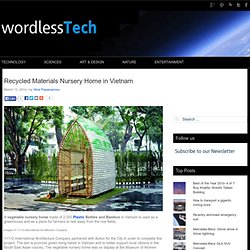 Thanks to rising food prices, food security concerns and a tide of skill-sharing and awareness, urban farming is gaining more of a foothold in cities today. Though we've seen small-scale windowfarms or backyard greenhouses, it's always interesting to see more alternative designs that incorporate the raising of micro-livestock like chickens. Belgian Studio Segers' flat-pack modular urban gardening unit integrates both raised beds for growing food and a chicken coop, in addition to a composting bin and tool storage. © Studio Segers © Studio Segers Made out of wood and formed chicken wire, "Daily Needs" is a one-stop gardening unit that allows gardeners to grow vegetables, raise chickens or other pets, and to close the cycle by composting any food scraps into more brown gold.
Modular all-in-one chicken coop & garden composts too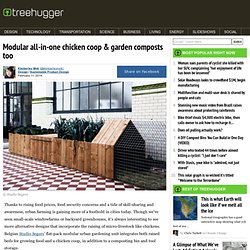 One of the key limitations in the design of many tiny houses is the fact that they have to be built on trailer chassis. Many zoning bylaws have minimum building sizes to keep the riffraff out and the property taxes up; many building codes have minimum room sizes and other rules that make it very hard to build small. By having wheels, it becomes a recreational vehicle and it can sneak under a lot of radars. But it's really tough to design a decent space in an 8'-6" wide (exterior dimensions!) space. © Tiny House Build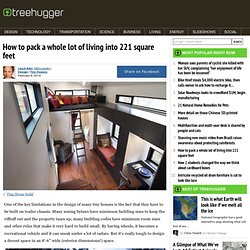 How to pack a whole lot of living into 221 square feet
Vermiponics roundup: The beauty of worms in hydroponic gardens (Video)
We know the benefits of hydroponic gardening, aquaponics and vermicomposting, and how practices like these can help the home gardener grow more food efficiently. Vermiponics combines the best of the three in a self-sustaining mini-ecosystem, using the castings of red wriggler worms as fertilizer. The idea is that the cultivated plants and worms mutually benefit each other, much like the fish would in an aquaponic system. Compared to an aquaponic system though, worms in a vermiponic set-up requires less water and maintenance than fish would, making it an advantageous operation. So if vermiponics is something you would like to try, then check out our mini-roundup of do-it-yourself vermiponics videos here, and feel free to suggest ideas or add your own vermiponics links in the comments below.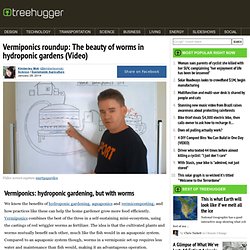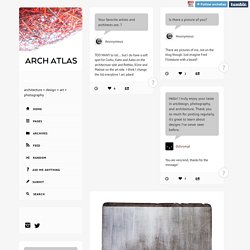 ArchitectureAtlas
ZoomInfo Glen Lake Tower Balance Associates Architects Directed to create "a sustainable retreat that reflects the timeless beauty and simple comforts of the area," the architects responded by raising the primary living space above the dense surrounding woods in order to gain light, air and views of Glen Lake and Lake Michigan beyond. Two fin-like, metal-clad walls rise from the crown of the hill to support a three-story plywood box suspended a full story above grade. 6architecture, design
You know that tiny houses have become a big thing when they are actually randomly passing each other on the highway. Here you see Alek Lisefski's Tiny Project passing a Tumbleweed Tiny House, as he moves to California. © The Tiny Project
The Tiny Project: "Less house! More Life!"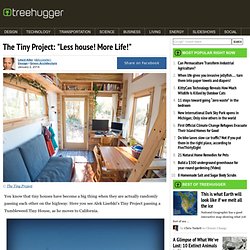 Chickens give us eggs, and those eggs are a great source of high-quality protein. But they can also give us so much more. Below are some innovative ideas from backyard and small-scale commercial chicken keepers that may help chooks to reach their full, productive potential. Chicken tunnels for low-work cultivationChickens love to peck, they love to scratch, they love to dig, and they love to eat all kinds of little weeds, bugs and beasties—not to mention food/crop waste. Oh, and they love to poop too.
5 ways to get the most out of backyard chickens
The practices of hydroponics, aquaponics and windowfarming (which allows urban folks to grow food vertically using their home windows) and vermicomposting (creating compost with worms) have become familiar ideas to many green-minded people for some time now. But what about adding worms to the windowfarming equation? Professor Ken Rinaldo, director of the art and technology department at Ohio State University's School of Architecture, has combined aspects of these practices in an experimental research project called Cascading Gardens. Seen over at Inhabitat, the project employs what is called vermiponics, where worm waste is used to fertilize veggies. We've seen a few examples of this previously, but it's intriguing to see an instance where the power of worm waste is directly integrated in such a way, resulting in a smaller growing footprint. © Ken Rinaldo
Vertical vermiponics: research project combines worms with hydroponics
Ken Rinaldo's Cascading Garden Uses Vermiponics for Growing Veggies Vertically
Ken Rinaldo, artist and professor at Ohio State University's Knowlton School of Architecture, recently brought his innovative "Cascading Garden" research project to Russia. The living installation uses vermiponics (live worms and their waste) to fertilize vegetables, and features custom vertical grow bags that Rinaldo developed for use both indoors and outdoors and in wet and dry environments. Each bag can be planted with a variety of plants, such as kale, lettuce, cabbage and other local vegetables for easy to harvest edibles just about anywhere. The article above was submitted to us by an Inhabitat reader. Want to see your story on Inhabitat? Send us a tip by following this link.
Vermiponics? Adding worms to hydroponic gardens
You've probably heard of hydroponic gardening and vermicomposting, but have you ever heard of the two combined in one ultra-efficient garden? It turns out, wriggly red worms don't flourish only in soil and food scraps — they can give a boost to plants growing in water, as well. Gardener Jim Joyner developed an "aqua-vermiculture" system in which plants and worms thrive together in a gravel bed that's routinely flooded with water and drained, creating a mini ecosystem and fertilizer factory.
Aquaponics Is Growing Farms in the Most Unlikely Places
Aquaponic farm at University of Hawaii, via Kanu Hawaii/Flickr The world is growing and growing ever more hungry, and there isn't a single, perfect way to get more food. The changing climate and a projected water crisis cloud the future of agriculture, but the sting of food shortages is already with us, catalyzing riots and political unrest in places like Turkey, Syria and Egypt. But countries from Bangladesh to Yemen, and cities from Berlin to Tucson, are employing an ancient farming technique to the 21st century—aquaponics is growing orchards in the desert and yielding harvests in the city. For the water-strapped, aquaponics can look like a miracle cure. It both farms fish and grows plants using the same closed-loop, freshwater system, using just a tenth of the water that traditional agriculture requires.
RSS
Miniature Garden (For Beginners!)
Special Mention | Primeval Symbiosis -Single Pole House on Behance
7 Ways to Live Like an EcoVillager in the City - Shareable
Conceptual Devices — Antonio Scarponi / News
Earthship Biotecture - Radically Sustainable Buildings
Ruta de las Huertas | redagriculturaurbana.cl
A Brief Introduction to Aquaponic Gardening
TrillionthTonne.org
Simulador Solar - América do Sol, o site da energia solar no Brasil
HoYi! Vertical Axis Wind Turbine | Urban Green Energy
The Windstrument Turbine
Guardian Environment Network | Environment
Notícias sobre Meio Ambiente, Ecologia e Sustentabilidade - O Eco
Re:Vision / A framework for changing the way we look at cities.
Do It Yourself: Make a Compost Bin #30DaysofGOOD - GOOD Projects
Helsinki Plant Tram
Not Exactly Rocket Science
Aprendizado do dia - "E sem que se perceba, a gente se encontra!"
Cornucopia Institute | Economic Justice for Family Scale Farming
unnamed pearl
Super adobe « A casa da montanha
ECOLOGY WITHOUT NATURE
Advancing the Science of Climate Change
Climate Change: A Summary of the Science
Inhabitat - Green Design Will Save the World
BREAKER: Urban Agriculture Challenge by Juliette LaMontagne
Decisive Ecological Warfare | Deep Green Resistance
Sustentavel na Pratica
Windowfarms
Ecopolitica
Urban Homestead ® - Path to Freedom
ARC - Faiths and ecology - Islamic quotations about creation and nature
Sustentável é pouco
GOOD Home Page
Ecodesenvolvimento
nosso futuro comum
TreeHugger
SHFT