Eco
Thanks to rising food prices, food security concerns and a tide of skill-sharing and awareness, urban farming is gaining more of a foothold in cities today. Though we've seen small-scale windowfarms or backyard greenhouses, it's always interesting to see more alternative designs that incorporate the raising of micro-livestock like chickens.
Modular all-in-one chicken coop & garden composts too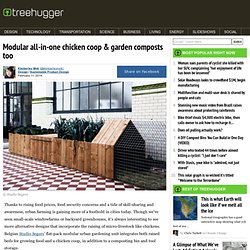 One of the key limitations in the design of many tiny houses is the fact that they have to be built on trailer chassis. Many zoning bylaws have minimum building sizes to keep the riffraff out and the property taxes up; many building codes have minimum room sizes and other rules that make it very hard to build small.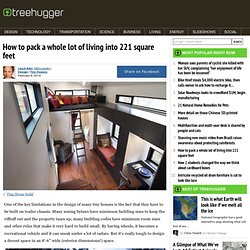 How to pack a whole lot of living into 221 square feet
Vermiponics roundup: The beauty of worms in hydroponic gardens (Video)
We know the benefits of hydroponic gardening, aquaponics and vermicomposting, and how practices like these can help the home gardener grow more food efficiently.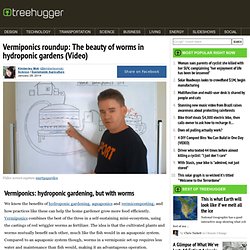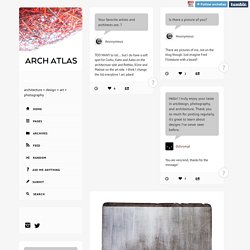 ArchitectureAtlas
ZoomInfo
You know that tiny houses have become a big thing when they are actually randomly passing each other on the highway. Here you see Alek Lisefski's Tiny Project passing a Tumbleweed Tiny House, as he moves to California. © The Tiny Project
The Tiny Project: "Less house! More Life!"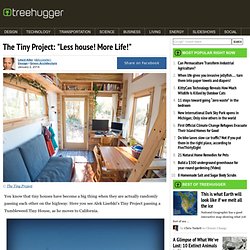 Chickens give us eggs, and those eggs are a great source of high-quality protein.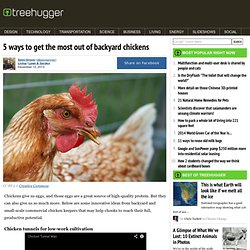 5 ways to get the most out of backyard chickens
The practices of hydroponics, aquaponics and windowfarming (which allows urban folks to grow food vertically using their home windows) and vermicomposting (creating compost with worms) have become familiar ideas to many green-minded people for some time now. But what about adding worms to the windowfarming equation?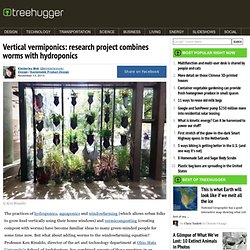 Vertical vermiponics: research project combines worms with hydroponics
Ken Rinaldo's Cascading Garden Uses Vermiponics for Growing Veggies Vertically
Ken Rinaldo, artist and professor at Ohio State University's Knowlton School of Architecture, recently brought his innovative "Cascading Garden" research project to Russia. The living installation uses vermiponics (live worms and their waste) to fertilize vegetables, and features custom vertical grow bags that Rinaldo developed for use both indoors and outdoors and in wet and dry environments.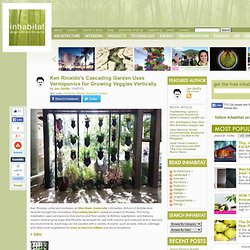 Vermiponics? Adding worms to hydroponic gardens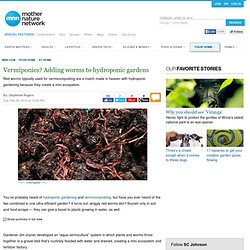 You've probably heard of hydroponic gardening and vermicomposting, but have you ever heard of the two combined in one ultra-efficient garden? It turns out, wriggly red worms don't flourish only in soil and food scraps — they can give a boost to plants growing in water, as well. Gardener Jim Joyner developed an "aqua-vermiculture" system in which plants and worms thrive together in a gravel bed that's routinely flooded with water and drained, creating a mini ecosystem and fertilizer factory.
Aquaponics Is Growing Farms in the Most Unlikely Places
Aquaponic farm at University of Hawaii, via Kanu Hawaii/Flickr The world is growing and growing ever more hungry, and there isn't a single, perfect way to get more food. The changing climate and a projected water crisis cloud the future of agriculture, but the sting of food shortages is already with us, catalyzing riots and political unrest in places like Turkey, Syria and Egypt. But countries from Bangladesh to Yemen, and cities from Berlin to Tucson, are employing an ancient farming technique to the 21st century—aquaponics is growing orchards in the desert and yielding harvests in the city. For the water-strapped, aquaponics can look like a miracle cure. It both farms fish and grows plants using the same closed-loop, freshwater system, using just a tenth of the water that traditional agriculture requires.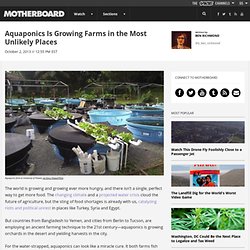 RSS
This mini garden can be made using easily available materials around us! To make this mini garden you'll need: 1) Flower pot of any size you want (It'll be the size of the mini garden), 2) Vining plant and a stick to support it, (Optional, but I thought it would look cute in the mini garden), 3) Small tree logs (to make the bench, table & fences), 4) Paper (to make tiny planters), 5) Thick paper (to make mini water can and bucket), 6) Scissor & ant-cutter, 7) Glue (white glue, hot glue or super glue), 8) Tiny plants (they grow around the larger ones, look around the garden), 9) Plants for the mini garden (money plants, succulent, preserved moss, dwarf trees etc.) 10) Anything you want to add.
Miniature Garden (For Beginners!)
Special Mention | Primeval Symbiosis -Single Pole House on Behance
Are you looking for more meaning in your daily life? Would you like more real connections with people, time to pursue your interests, and fresh food straight from the garden? If so, living like an ecovillager in your city might do the trick.
7 Ways to Live Like an EcoVillager in the City - Shareable
Conceptual Devices — Antonio Scarponi / News
Earthship Biotecture - Radically Sustainable Buildings
Ruta de las Huertas | redagriculturaurbana.cl
Jonathan Parker, Guest Waking Times Aquaponics is an amazing permaculture method that may have been practiced as far back in history as the Aztec civilization. There are records of the Aztec people raising fish alongside of crops that were alien to the growing environment, using the nitrite and ammonia rich water as a fertilizer base for the crops they were growing. This is the basic premise of aquaponics, combining aquatic and agricultural ecosystems in a mutually beneficial symbiotic relationship.
A Brief Introduction to Aquaponic Gardening
TrillionthTonne.org
Simulador Solar Você já pensou em gerar sua própria eletricidade? Que tal fazer isso utilizando uma fonte limpa e inesgotável - o Sol? Com o Simulador Solar você poderá calcular qual deve ser a potência de um sistema fotovoltaico (gerador de eletricidade solar) para atender à necessidade energética anual de sua casa, seu escritório ou sua indústria. Você saberá quanto um sistema fotovoltaico geraria anualmente, quantia essa que você deixaria de consumir da rede elétrica e, portanto, economizaria na sua conta de luz.
Simulador Solar - América do Sol, o site da energia solar no Brasil
HoYi! Vertical Axis Wind Turbine | Urban Green Energy
The Windstrument Turbine
Guardian Environment Network | Environment
Notícias sobre Meio Ambiente, Ecologia e Sustentabilidade - O Eco
Re:Vision / A framework for changing the way we look at cities.
Do It Yourself: Make a Compost Bin #30DaysofGOOD - GOOD Projects
Helsinki Plant Tram
Not Exactly Rocket Science
Aprendizado do dia - "E sem que se perceba, a gente se encontra!"
Cornucopia Institute | Economic Justice for Family Scale Farming
unnamed pearl
Super adobe « A casa da montanha
ECOLOGY WITHOUT NATURE
Advancing the Science of Climate Change
Climate Change: A Summary of the Science
Inhabitat - Green Design Will Save the World
BREAKER: Urban Agriculture Challenge by Juliette LaMontagne
Decisive Ecological Warfare | Deep Green Resistance
Sustentavel na Pratica
Windowfarms
Ecopolitica
Urban Homestead ® - Path to Freedom
ARC - Faiths and ecology - Islamic quotations about creation and nature
Sustentável é pouco
GOOD Home Page
Ecodesenvolvimento
nosso futuro comum
TreeHugger
SHFT