Comics
Marvel.com
DC Comics
Still toiling away at the graphic novel, so this blog will remain quiet a few months longer, but I do have a tight cluster of trips coming up, so here's a bit more info on each, starting with an important opportunity coming up next month. The Two Day Making Comics Workshop comes to Alberta! On March 21-23, I'll be bringing the lecture and full 2-Day Workshop to the Galt Museum in Lethbridge, Alberta. SIGN-UP for one of the limited workshop seats, and get your advance tickets for the lecture starting on Feb 22. This is the first time the 2-day workshop has come to Canada, and this and the Los Angeles workshop (see last post) are the only ones currently planned for 2013, so don't miss this chance to learn two full days worth of comics-making strategies and techniques. Out and About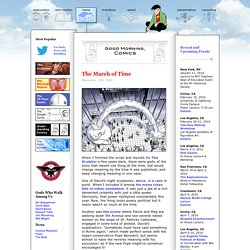 Scott McCloud
My first webcomic launched with this site in 1998. From 1998 to 2004, I regularly posted new comics in various experimental formats, occasionally getting into long online debates about whether this-or-that format was a step toward the future of comics or just a gimmicky dead-end. Most of the comics in this section play with the idea of treating the screen as a window rather than a page (the so-called "infinite canvas" style, most often associated with my book Reinventing Comics).
Webcomics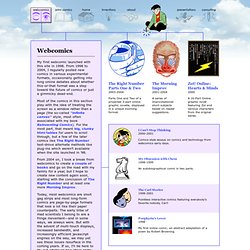 Can't make it to India Comic Con… by derek on 02.04.2014 We're bummed to announce that we won't be able to make it to India comic con. There were some last-minute visa issues we had that, even with the help from the AMAZING team at India Comic Con, we weren't able to fix in time. We're sorry to disappoint everyone looking to go. Look who's coming back for Xmas!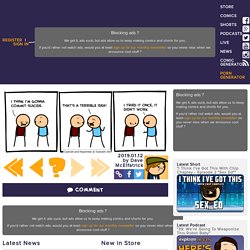 Explosm.net
Cyanide & Happiness
GoComics
The Noob Comic
Penny Arcade: Comic
Dark Legacy Comics
Nov 20th, 2013Dummies T-shirts! The second Dark Legacy Comics T-shirt campaign is now up! Since I was happy with the print/shirt quality from our first campaign, I will once again be using Teespring, which uses the crowdfunding model (like kickstarter) to create custom T-shirts. Like most crowdfunding models, we have a goal which must be met in order for our product to be produced. Our goal is higher this time. 400 t-shirts. If we sell them all, our goal is reached and the shirts will be printed.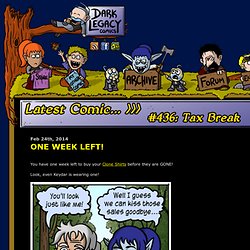 DL Archives
Cast your vote! Friday, April 18, 2014 | 12:37 AM | by Tim Choose what happens next: Try and steal a shipTry and get their ship back from Chaug Our first vote for this story is live.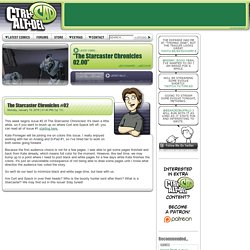 Ctrl+Alt+Del
Sillies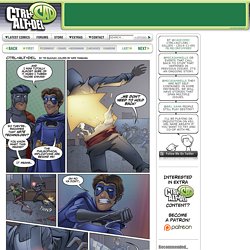 Monday, April 14, 2014 | 02:00 AM | by Tim "Oh boy, another zombie survival MMO!" said nobody ever. Look, I've held onto enjoyment of zombie-based titles a long longer than most people, but even I'm starting to get a little fatigued with so many of them continuing to pop up. You know what, though? Duck it.
CAD