Systems Architecture
What's it take to be a Software Architect « Bobby Dimmick – Pragmatic Architecture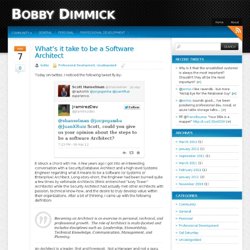 Today on twitter, I noticed the following tweet fly-by: It struck a chord with me. A few years ago I got into an interesting conversation with a Security/Database Architect and a high level Systems Engineer regarding what it means to be a Software (or Systems or Enterprise) Architect. Long-story-short, the Engineer had been burned quite a few times by self-made Architects (think entrenched "Ivory Tower" Architects) while the Security Architect had actually met other Architects with passion, technical know-how, and the desire to truly develop value within their organizations.
Service Design Patterns - Fundamental Design Solutions for SOAP/WSDL and RESTful Web Services
.netTiers Application Framework - .netTiers
Aspect-oriented programming
In computing , aspect-oriented programming ( AOP ) is a programming paradigm that aims to increase modularity by allowing the separation of cross-cutting concerns . AOP forms a basis for aspect-oriented software development .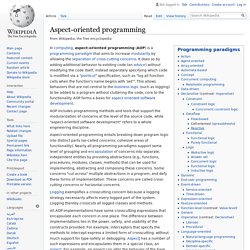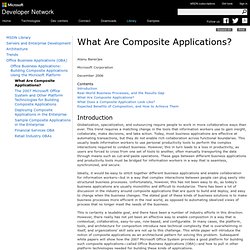 Atanu Banerjee Microsoft Corporation December 2006 Contents
What Are Composite Applications?
In computing , the term composite application expresses a perspective of software engineering that defines an application built by combining multiple existing functions into a new application. The technical concept can be compared to mashups . However, composite applications use business sources (e.g., existing modules or even Web services ) of information, while mashups usually rely on web-based, and often free, sources. It is wrong to assume that composite applications are by definition part of a service oriented architecture (SOA). Composite applications can be built using any technology or architecture. A composite application consists of functionality drawn from several different sources.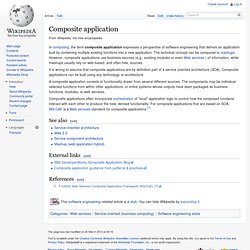 Composite application