Systems Architecture
What's it take to be a Software Architect « Bobby Dimmick – Pragmatic Architecture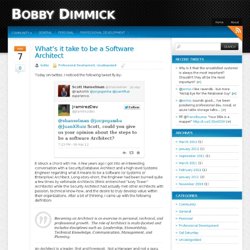 Today on twitter, I noticed the following tweet fly-by: It struck a chord with me. A few years ago I got into an interesting conversation with a Security/Database Architect and a high level Systems Engineer regarding what it means to be a Software (or Systems or Enterprise) Architect. Long-story-short, the Engineer had been burned quite a few times by self-made Architects (think entrenched "Ivory Tower" Architects) while the Security Architect had actually met other Architects with passion, technical know-how, and the desire to truly develop value within their organizations.
Web services have been put into practical use for many years. In this time developers and architects have encountered a number of recurring design challenges related to their usage. We have also learned that certain design approaches work better than others to solve certain problems. This site is for software developers and architects who are currently using web services or are thinking about using them. It was created as the companion site for a book on Service Design Patterns to be released by Addison Wesley on the Martin Fowler Signature Series in October 2011.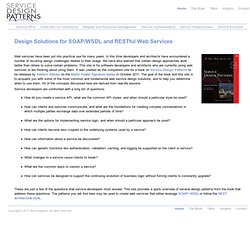 Service Design Patterns - Fundamental Design Solutions for SOAP/WSDL and RESTful Web Services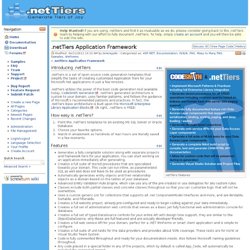 .netTiers Features Edit Introducing .netTiers .netTiers is a set of open source code generation templates that simplify the tasks of creating customized Application Tiers for your Microsoft.Net applications in just a few minutes.
.netTiers Application Framework - .netTiers
AOP includes programming methods and tools that support the modularization of concerns at the level of the source code, while "aspect-oriented software development" refers to a whole engineering discipline. Logging exemplifies a crosscutting concern because a logging strategy necessarily affects every logged part of the system. Logging thereby crosscuts all logged classes and methods. History[edit] AOP has several direct antecedents A1 and A2:[1] reflection and metaobject protocols, subject-oriented programming, Composition Filters and Adaptive Programming.[2] Gregor Kiczales and colleagues at Xerox PARC developed the explicit concept of AOP, and followed this with the AspectJ AOP extension to Java.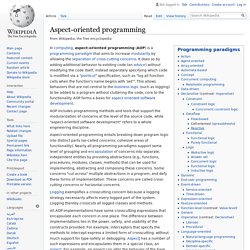 Continuous Integration and Delivery For a long time I've been a champion of Continuous Integration which reduces integration risk by integrating early and often, an application of the principle of Frequency Reduces Difficulty. We've found CI to be a core technique at ThoughtWorks and use it almost all the time.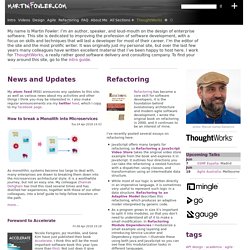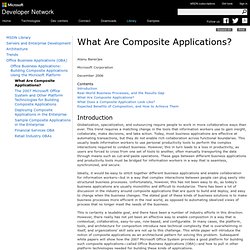 Atanu Banerjee Microsoft Corporation December 2006 Contents
What Are Composite Applications?
It is wrong to assume that composite applications are by definition part of a service oriented architecture (SOA). Composite applications can be built using any technology or architecture. A composite application consists of functionality drawn from several different sources. The components may be individual selected functions from within other applications, or entire systems whose outputs have been packaged as business functions, modules, or web services. See also[edit] External links[edit]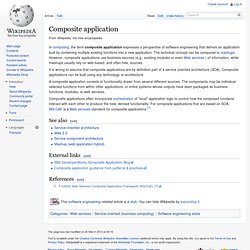 Composite application