Lifestyle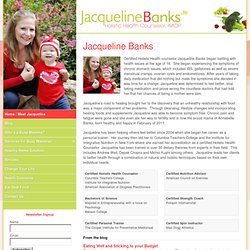 Certified Holistic Health counselor Jacqueline Banks began battling with health issues at the age of 16. She began experiencing the symptoms of chronic stomach issues, which included IBS, gallstones as well as severe menstrual cramps, ovarian cysts and endometriosis. After years of taking daily medication that did nothing but mask the symptoms she decided it was time for a change. Jacqueline was determined to feel better, stop taking medication and prove wrong the countless doctors that had told her that her chances of being a mother were slim. Jacqueline's road to healing brought her to the discovery that an unhealthy relationship with food was a major component of her problems.
unnamed pearl
50 uses for vinegar…who knew? | BabyCenter Blog
Did you know vinegar could possibly be the last household cleaner you'll ever need? Click through the slideshow to see all the uses for vinegar. Holy cow! Who knew?!
Wise Living Journal - Living wisely in the modern world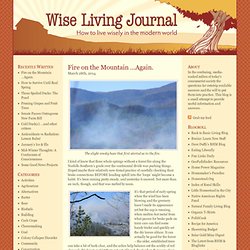 December 27th, 2013 Tiny Houses for the Homeless nbc15 WMTV Madison Volunteers graduated into social/political activism via Occupy Madison [Wisconsin] have been working to deal with homelessness in their community. What they've come up with are tiny houses of 98 square feet.
The Survival Doctor - What to do when help is NOT on the way
by James Hubbard, MD, MPH When I first started practicing, in the early 1980s, what we would do for a heart attack was simple. (Of course many more died back then also.) If you were suspected of having a heart attack you were placed in a cardiac-care unit, put on oxygen, and given pain medicine as needed. We tried to regulate your blood pressure and carefully monitored and treated you for the dangerous irregular heartbeats.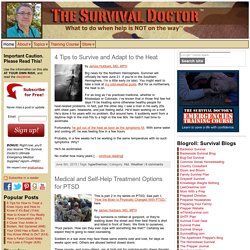 You've found us! This is the right place to receive your free weight loss success secrets. Former obese couch potato Jeremy Likness (who lost 65 pounds and was a Top 2000 Finisher in the 2000 Body-for-LIFE® competition) reveals everything about permanent weight loss and living a fun, healthy life. Jeremy says... Hello! Thank you for stopping by - we appreciate you!
Lose Fat Not Faith, A Guide To Fat Loss And Fitness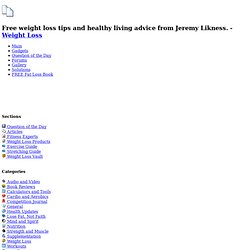 Fitjunky - Complete Physical Financial and Mental Fitness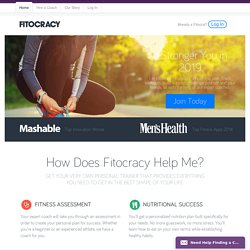 Connect to people with similar interests Stay connected. Pick up tips. Track thousands of exercises quickly. Keep an eye on your progress. Fitocracy connects you to the combined knowledge of over half a million of the world's best fitness coaches, nutrition experts, and other folks from a wide variety of fitness backgrounds. Like the hundreds of thousands before you, you can finally turn, "I can't do this," into "I RULE!"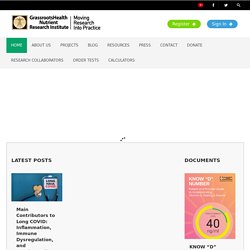 GrassrootsHealth | Vitamin D Action - GrassrootsHealth | Vitamin D Action
by Dr. Sarah Booth, Ph.D., Director and Senior Scientist, Vitamin K Laboratory, Tufts University Why is vitamin K important?How much vitamin K should I take and which form?
Become an ACE-certified personal trainer and maintain your personal training certification with the American Council on Exercise. Also offering, Group Fitness Instructor, Lifestyle and Weight Management Coach and Advanced Health and Fitness Specialist fit
Organic Spa Magazine
We all know that killing, stealing and lying aren't going to get you on the big guy's good side. And save for a few incomplete truths, you're probably running a pretty clean record. But what about sins against yourself? Surely there should be rules for keeping your own body and mind in tip-top condition.
Top 10 Anti-Aging Commandments - FoxNews.com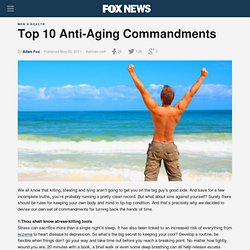 My Men's Health | Men's Health
Abilify to Arimidex - A - D - - Drugs A to Z - PDRHealth
Conditions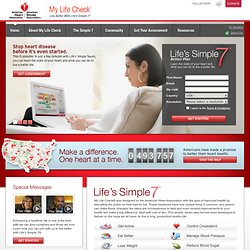 My Life Check® was designed by the American Heart Association with the goal of improved health by educating the public on how best to live. These measures have one unique thing in common: any person can make these changes, the steps are not expensive to take and even modest improvements to your health will make a big difference. Start with one or two.
My Life Check - Home