Turismo
Premi Travellers' Choice Hotel
Città – Google World Wonders Project
Wondersoftheworld.tv
Let's describe the whole world!
Album di @@@@@
Les 7 Merveilles du Monde Découvrez les 7 Merveilles du Monde ! Nous vous proposons le classement des Sept Merveilles du Monde selon plusieurs sources : - Le classement des lecteurs du site 1000 Merveilles - Les 7 Merveilles du Monde Antique - Les 7 Merveilles du Monde Moderne
Les 7 Merveilles du Monde | 1000 Merveilles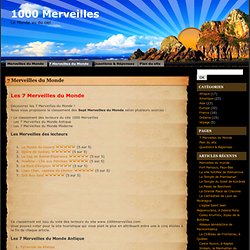 Gli Scritti
John Donohue's Homepage
View them all in 360 degree interactive panoramas from internationally known panorama photographers. The New 7 Wonders of the World were announced at a ceremony in Lisbon, Portugal on Saturday, July 7, 2007 - 07.07.07. Link: Visit the official New 7 Wonders site Panoramas.dk is updated with amazing panoramas every week. Visit the frontpage to see whats new. Since 2008 all new panoramas are in flash.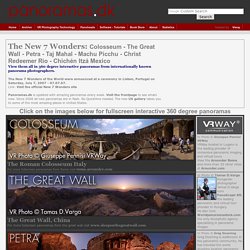 The 10 most unusual places on Earth
Showdown In Elk Town - Human Planet, Cities, Preview - BBC One
A big part of travel is that feeling you get when experiencing something completely new, something you haven't seen or done before. Many travel destinations offer an amenity or two that other places don't - but there are only a few locations in the world that offer a truly unique experience. Here are some places that could be a reference for your vacation. 1. Avenue of the Baobabs - Madagascar The Avenue of the Baobabs is a prominent group of baobab trees lining the dirt road between Morondava and Belon'i Tsiribihina in the Menabe region in western Madagascar .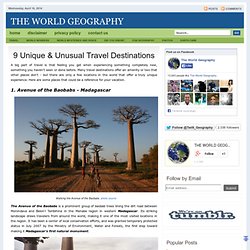 10 Earth's Most Spectacular Places - Great Reef Barrier - Australia
Luoghi Misteriosi
Randonnée sous-marine (HD)
Mete e idee per il tuo weekend - Consigli per il tuo weekend - MeteWeekend.it
Create a Map of your Travels on Travellerspoint. Embed the map and accompanying stats on your Blog.
Raccolte di MadGrin su Flickr
Originally, a landmark literally meant a geographic feature used by explorers and others to find their way back or through an area. Now, a landmark includes anything that is easily recognizable, such as a monument or a building, or any other spot to designate places that might be of interest to tourists. A few examples are the Statue of Liberty, Uluru, the Taj Mahal, Mount Everest, and the Eiffel Tower. When we see one of those, everyone knows in which part of the world they are located.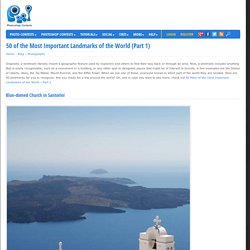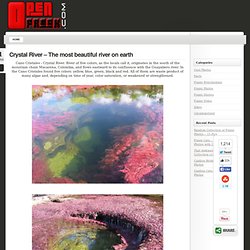 Cano Cristales - Crystal River. River of five colors, as the locals call it, originates in the south of the mountain chain Macarena, Colombia, and flows eastward to its confluence with the Guayabero river. In the Cano Cristales found five colors: yellow, blue, green, black and red. All of them are waste product of many algae and, depending on time of year, color saturation, or weakened or strengthened. Share on Tumblr