Umetnost
oct 06, 2010 dentsu: paint sound sculptures the creative studio dentsu, teamed up with photographer linden gledhill to create this series of paint sculptures using sound vibrations. the series was part of a campaign for canon's pixma ink printer brand. the photographs and videos begin by wrapping a membrane around a small speaker. ink drops were placed on this membrane and the speaker was turned on. once it began to vibrate the ink begins to jump up and down. high-speed video cameras and still cameras were used to capture this including circling around the sculptures to see them from all angles. experimenting with different sounds and frequencies created the various pieces. http://www.dentsu.com nate archer I designboom
dentsu: paint sound sculptures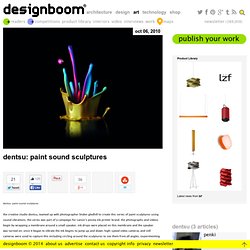 Totemical : Digital Artist on a Spiritual Path
Totemical is a free-lance digital illustrator from Vancouver, Canada who pushes the boundaries of digital art. His art is fascinating, stimulating and enlightening, incorporating aspects of nature, consciousness and the spiritual. Totemical (also know as Justin Guse) offers a door to those that look – a door that echoes a journey, a mystery and lends a hand.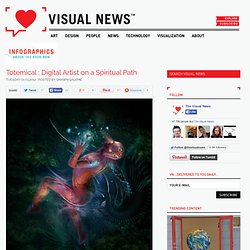 Artist James Hopkins
jellyvampire-1304892000.jpg (JPEG Image, 750x12291 pixels) - Scaled (5%)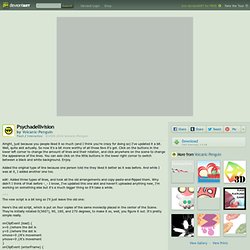 Alright, just because you people liked it so much (and I think you're crazy for doing so) I've updated it a bit. Well, quite alot actually. So now it's a bit more worthy of all those favs it's got. Click on the buttons in the lower left corner to change the amount of lines and their rotation, and click anywhere on the scene to change the appearance of the lines.
Psychadellivision by ~Volcanic-Penguin on deviantART
The Art of Paul Kuczynski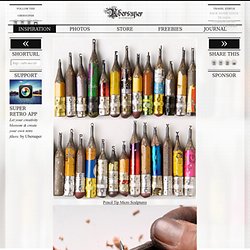 Pencil Tip Micro Sculptures
Pencil Tip Micro Sculptures Dalton Ghetti creates awesomely stunning miniature sculptures on pencil tips! Mind blown! (Unfortunately I couldn't find his official website.) 11th of August 2010 via kronikle
Amazingly Creative Drawing Vs Photography