Radness
Sygnok.tk. Iceland, Eyjafjallajökull - May 1st and 2nd, 2010. Crab! W-A-K-A FLOCKA FLAME ALL DAY. Minimal-Elektronik. Grady Corbitt. THEM THANGS. 10x10 / 100 Words and Pictures that Define the Time / by Jonatha. Olafur Eliasson. Overgaard. LOVELINES : From Love to Hate, in Words and Pictures. We Feel Fine / by Jonathan Harris and Sep Kamvar. Issuu - You Publish. BIG - Bjarke Ingels Group. We Choose the Moon: Celebrating the 40th Anniversary of the Apol. Fail-ure® The Big Picture.
Equal parts travelogue, party, and sport, the Tour de France enthralls us every year with spectacular scenery and fierce competition.
The 99th Tour this year covers 3,497 kilometers over 20 stages and a prologue, and can loosely be divided into three parts: the mostly-flat "sprinters'" stages in the first week, the high passes of the Alps in the second week, and the sharp ascents of the Pyrenees in the third week. Throughout, millions of fans with no need for tickets crowd the roads for the largest free sporting event and rolling party in the world, which unfolds in the world's largest stadium: the entire country of France, with bits of Belgium and Switzerland tossed in for good measure.
JJJJound. YIMMY'S YAYO™ Main : Thomas Skou. Rutger Pauw | photographer. Connected - short film. T.y.p.o.r.g.a.n.i.s.m : ASCII-O-Matic. Synaptic Stimuli. LIFE photo archive hosted by Google.
Create a Palette. Screwed in Houston - Part 1 of 5. Inside Afghanistan-Fighting Alongside Stoned Afghan Soldiers. True Norwegian Black Metal - Part 1. The World's Best Ever: design, fashion, art, music, photography, RIOTTT 3.0. Image Fulgurator. Foto by Richard Wilhelmer The Image Fulgurator is a device for physically manipulating photographs.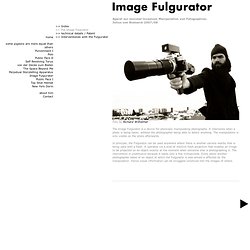 It intervenes when a photo is being taken, without the photographer being able to detect anything. We make money not art. Big Bang Big Boom.
---