International Relations
The First Tranche | AidData.org
This is the second post in a series on the lexicon of intervention's slippery slope. The series is intended to educate human rights advocates about the opportunities, costs, and opportunity costs of coercive responses to mass atrocities. Alex de Waal, Jens Meierhenrich, and Bridget Conley-Zilkic, three genocide scholars, have penned an exceptional essay on the analytical shortcomings of the present discourse on mass atrocities prevention.
the intervention ratchet's lexicon: confronting the teleology of mass atrocities prevention « Securing Rights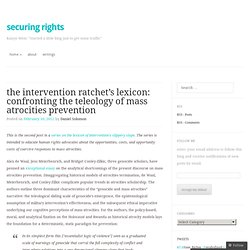 Recruiting Governance Advisor at International Rescue Committee « evan lieberman
The world has yet to reach the point where there is a dearth of articles on the United Nations whose assumptions are off-base. The latest in this series has the provocative title of "Has the U.N. lost its peacekeeping mandate?" Written by Brian P.
At Water's Edge | One eye across the sea, one eye on our own shores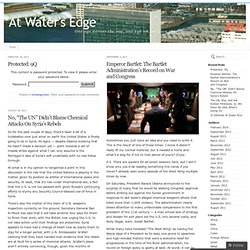 Zachary M. Jones | Political Scientist
This blog roundtable is part of a series about graduate school – why do it, what is it like, and what to do afterwards. I encourage you to give your own opinions in the comments section, and if you disagree with a point made by the panel, voice your opinion! This is something a lot of my readers can relate to, so I'm hoping to hear from all of you.
Blog Roundtable: Are there tips for fighting impostor syndrome? « Mr Epidemiology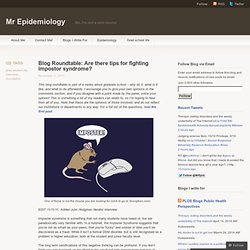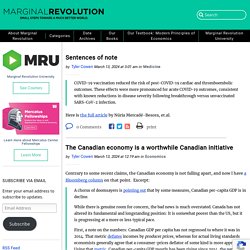 The Census Bureau, the authoritative source of health insurance data for more than three decades, is changing its annual survey so thoroughly that it will be difficult to measure the effects of President Obama's health care law in the next report, due this fall, census officials said.The changes are intended to improve the accuracy of the survey, being conducted this month in interviews with tens of thousands of households around the country. But the new questions are so different that the findings will not be comparable, the officials said.An internal Census Bureau document said that the new questionnaire included a "total revision to health insurance questions" and, in a test last year, produced lower estimates of the uninsured. Thus, officials said, it will be difficult to say how much of any change is attributable to the Affordable Care Act and how much to the use of a new survey instrument.
I dealt before with the persistence of Monetarist views, in particular regarding economic history (here and here). Interesting thing is that recently the Bank of England admitted that money is endogenous, and, hence, at least the simplistic notions that money causes prices are clearly in the defensive. Mind you, as I noted in my post, admitting money endogeneity does not mean they are heterodox by any means, since for them the system still has very much a tendency to full employment.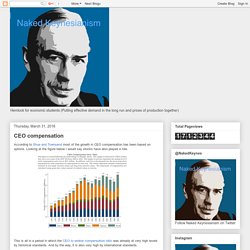 NAKED KEYNESIANISM
Unlearning Economics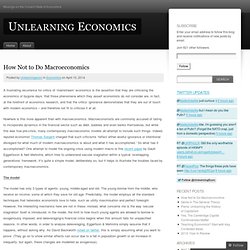 A frustrating recurrence for critics of 'mainstream' economics is the assertion that they are criticising the economics of bygone days: that those phenomena which they assert economists do not consider are, in fact, at the forefront of economics research, and that the critics' ignorance demonstrates that they are out of touch with modern economics – and therefore not fit to criticise it at all. Nowhere is this more apparent than with macroeconomics. Macroeconomists are commonly accused of failing to incorporate dynamics in the financial sector such as debt, bubbles and even banks themselves, but while this was true pre-crisis, many contemporary macroeconomic models do attempt to include such things. Indeed, reputed economist Thomas Sargent charged that such criticisms "reflect either woeful ignorance or intentional disregard for what much of modern macroeconomics is about and what it has accomplished." So what has it accomplished?
"The challenge for every organization is to build a feeling of oneness of dependence one another because the question is usually not how well each person works, but how well they work together." ~Vince Lombardi Cohesion is the message of Coach Lombardi in the quote above. Cohesion means sticking together. It is hard to underrate it.
Fear, Honor, and Interest | A group blog on strategy, power, and destiny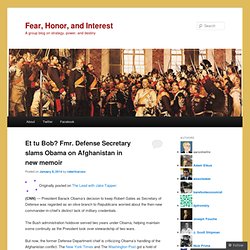 Trusteeship, weak states and civil war 10 January 2014 § The current conflict in South Sudan has generated some debate about whether the country should have been placed under a type of UN trusteeship at its inception, or still should be today. Hank Cohen and G. Pascal Zachary argue for this type of external intervention, noting that new states are likely to have trouble creating and maintaining good institutions on their own. (This is one reason why new states are so prone to lapse into civil war, because arguments over the distribution of power aren't constrained by political institutions which all actors view as legitimate.)
Rachel Strohm
"More Than Rubies…"
Almost every Shabbat weekend in Curacao, the pews in the Western Hemisphere's oldest synagogue in use remain largely empty. The sound of the spiritual leader singing parts of the service in Spanish, Portuguese and Hebrew recall a time when Curacao's Jewish community, made up of Spanish and Portuguese traders, was the largest and most influential community in the Caribbean. But now, the community is struggling for its very survival. The Dutch Caribbean island of Curacao, located just north of Venezuela, is home to the oldest Jewish community in the Caribbean.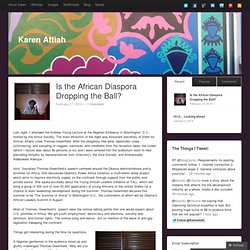 Reading Politics · Intervention and Prudence
Patrick Porter Finally after a busy teaching term I've got a chance to add some thoughts to the great post and articles by Jon Western and Joshua Goldstein on humanitarian intervention. Bottom line: I think Jon and Joshua make a robust case that not only can intervention work, but that the international community is learning effectively how to go about it. As they argue, it is a technique of statecraft that is being refined and better understood. It might not necessarily transform societies on every metric of human well being, but prompt military action combined with due attention to the rule of law, security and institutions can fend off predators and give oppressed peoples a chance – a breathing space - to rebuild.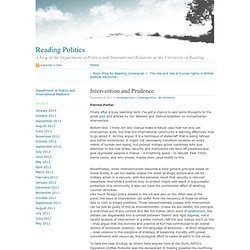 To divert attention from the disastrous rollout of his health reform, President Obama has decided to change the national conversation to discuss increasing inequality. This phenomenon is not new--the trend started about four decades ago--but it is real and important. In case you are a new reader of this blog, you can find my personal views on the matter in this paper. This national conversation has generated renewed attention to the highly influential Piketty-Saez data. It is worth pointing out, therefore, some limitations of these data, which have been stressed by Cornell economist Richard Burkhauser: The data are on tax units rather than households, they do not include many government transfer payments, they are pre-tax rather than post-tax, they do not adjust for changes in household size, and they do not include nontaxable compensation such as employer-provided health insurance. Does this matter?
By Jennifer Browning, MPA 2013 (This is a follow-up to my earlier post I wrote before the elections, on February 26. You can read it here.) Senegal has had plenty to celebrate in the past two weeks. The Senegalese elected a new President, Macky Sall; the former President Abdoulaye Wade peacefully stepped down and Sall was inaugurated on April 2; and Senegal celebrated its 52nd Independence Day two days later on April 4.
14 Points
Brett Keller - global health & development, fascinatinger
When I read this New York Times piece back in August, I was in the midst of preparation and training for data collection at rural health facilities in Zambia. The Times piece profiles a group called Global Pulse that is doing good work on the 'big data' side of global health: The efforts by Global Pulse and a growing collection of scientists at universities, companies and nonprofit groups have been given the label "Big Data for development."
The search for requisite variety goes on. At the moment, the big guessing game in British macroeconomics is "when does the Bank put up interest rates?" The following story suggests that this is beside the point. The statement noted that mortgage demand was up 40% in the year to January, while surveys by the main mortgage lenders suggested prices were around 10% higher in February than a year earlier.It said: "In a continuation of a longer-term trend, mortgages at loan-to-income ratios above four times accounted for a higher share of new mortgages in the third quarter of 2013 than at any time since the data series began in 2005. New mortgage lending at high loan-to-value ratios remained low by historical standards, though the number of mortgage products offering higher loan-to-value ratios had doubled over the previous six months.
521 - Cartography's Favourite Map Monster: the Land Octopus | Strange Maps
Censoring on one end, "outliers" on the other, what can we do with the middle? - Statistical Modeling, Causal Inference, and Social Science
The Quantitative Peace
Two Weeks Notice: A Latin American Politics Blog
IntelliBriefs
Kids Prefer Cheese
Introduction to International Relations
djpressman | Arab-Israeli and Middle East Stuff
Dart-Throwing Chimp
Phil Arena
The Moor Next Door
Texas in Africa
Saideman's Semi-Spew
Congo Siasa
Ink Spots
howl at pluto
Hegemonic Obsessions
Slouching Towards Columbia
Current Intelligence
The Duck of Minerva