EdChats
How Digitial Portfolios Document and Motivate Learning « Just Start for Kids and Schools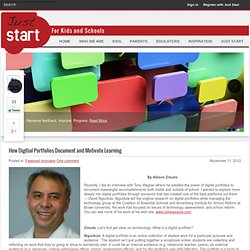 By Allison Zmuda Recently, I did an interview with Tony Wagner where he extolled the power of digital portfolios to document meaningful accomplishments both inside and outside of school. I wanted to explore more deeply into digital portfolios through someone that has created one of the best platforms out there — David Niguidula. Niguidula led the original research on digital portfolios while managing the technology group at the Coalition of Essential Schools and Annenberg Institute for School Reform at Brown University. His work has focused on issues of technology, assessment, and school reform.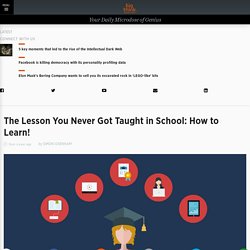 A paper published in Psychological Science in the Public Interest has evaluated ten techniques for improving learning, ranging from mnemonics to highlighting and came to some surprising conclusions. The report is quite a heavy document so I've summarised the techniques below based on the conclusions of the report regarding effectiveness of each technique. Be aware that everyone has their own style of learning, the evidence suggests that just because a technique works or does not work for other people does not necessarily mean it will or won't work well for you.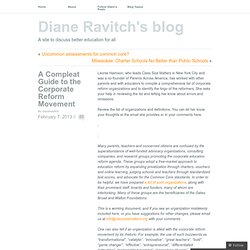 A Compleat Guide to the Corporate Reform Movement
Leonie Haimson, who leads Class Size Matters in New York City and was a co-founder of Parents Across America, has worked with other parents and with educators to compile a comprehensive list of corporate reform organizations and to identify the lingo of the reformers. She asks your help in reviewing the list and letting her know about errors and omissions. Review the list of organizations and definitions.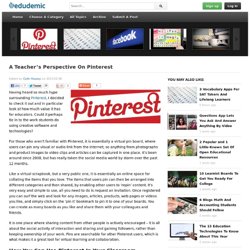 Having heard so much hype surrounding Pinterest , I decided to check it out and in particular look at how much value it has for educators. Could it perhaps tie in to the work students do using creative software and technologies? For those who aren't familiar with Pinterest, it is essentially a virtual pin board, where users can pin any visual or audio link from the internet; so anything from photographs and product images to video clips and articles can be captured in one place.
A Teacher's Perspective On Pinterest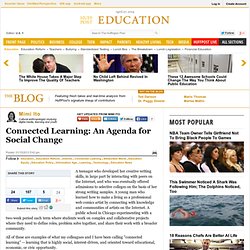 A teenager who developed her creative writing skills, in large part by interacting with peers on the Internet, and who was eventually offered admissions to selective colleges on the basis of her strong writing samples. A young man who learned how to make a living as a professional web comics artist by connecting with knowledge and communities of artists on the Internet. A public school in Chicago experimenting with a two-week period each term where students work on complex and collaborative projects where they need to define roles, problem solve together, and share their work with a broader community. All of these are examples of what my colleagues and I have been calling "connected learning" -- learning that is highly social, interest-driven, and oriented toward educational, economic, or civic opportunity.
Mimi Ito: Connected Learning: An Agenda for Social Change
So over the course of several lunch periods, I went from table-to-table, asking, "What qualities do you look for in the best teachers? The best teachers (blank)…" While my methodology will cause my college statistics professor to cringe, the students were remarkably honest. I interviewed about 200 students and fewer than 5 answered "no work" or "allows us to sleep in class." The answers reaffirmed that students really do want to learn and be challenged. Not surprisingly, the answers didn't differ much from Angela's list either.
What Students Want From Their Teachers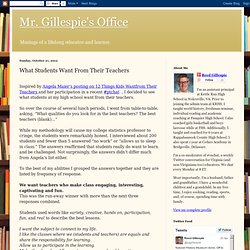 An Education Week analysis of data collected by the U.S. Department of Education illustrates the wide variation in how schools use out-of-school suspension and expulsion to discipline students. It also calls into question the validity of the data for some schools. For the 2009-10 school year, the Education Department's office for civil rights collected data for more than 72,000 schools and nearly 7,000 school districts about school discipline practices, along with information on a variety of other data points, including students' access to advanced courses, student retention, and teacher salaries and attendance rates. Education Week found that at some schools, the proportion of students suspended out of school or expelled was 100 percent or very close to that.
Suspension, Expulsion Data Cast Harsh Light on Some Schools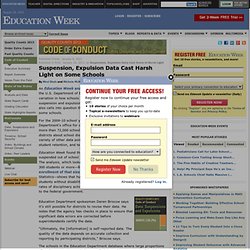 Details Written by Mark Clements If I touch a hot stove and burn my hand, I immediately learn that touching a hot stove results in a burned hand. My brain makes the connection almost simultaneously. There's little need for reflection because the "hot stove=burn" connection is one that my mind makes almost immediately. Similarly, suppose I'm driving in bad weather and going WAY TOO FAST for the conditions.
Edunators - Helping Teachers Overcome Obstacles and Focus on Learning - The Importance of Reflection in Education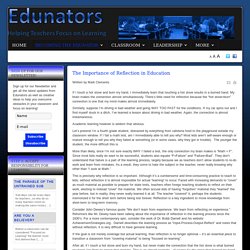 To put it bluntly, the pressure is now on us to collaborate on new designs for learning that will engage both students and teachers! I walk the hallways at breaks and lunchtime and I overhear many students' conversations. '… is so boring', 'I don't see the point in …', 'I don't want to go to …'. I observe students desperately asking their friends for answers to worksheets and textbook questions.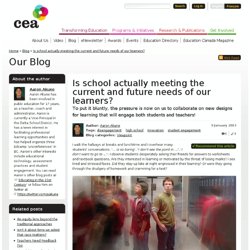 Is school actually meeting the current and future needs of our learners? | Canadian Education Association (CEA)
As districts begin the long process of implementing the Common Core State Standards, many teachers are faced with the same challenge: an expectation that we will be teaching these standards, and doing it well, with minimal training, no textbooks, few resources, nonexistent funding, inadequate technology, and students lacking vital prerequisite knowledge. Good times, huh? But as teachers, we are accustomed to rising to meet many seemingly impossible challenges, and this one will be no different.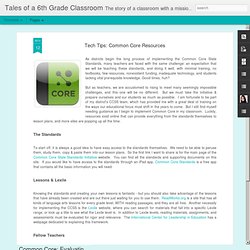 Tech Tips: Common Core Resources
A 6th grader weighs the pluses and minuses of a longer school day - Opinion
I recently heard that a conference speaker told his audience, "We need fewer teachers and more facilitators." My first reaction was, "1986 called and would like its keynote back." My second thought was that the speaker is dead wrong!
We Need Teachers, Not Facilitators!
5 Components to a Quality Education
Will Richardson asks the question Why School? in his new book and Seth Godin also asks in this video what is school for? School fills a myriad of roles in our society.
Many schools have a vision for providing a whole child education—one that nurtures a student's academic, emotional, and physical needs and prepares them for the real world. Given the narrow focus on academic achievement and test scores in today's education climate, few campuses are actually able to make that vision a reality. For the past three years, ASCD, the international education leadership association, has identified schools that are proving to be models of whole child education and recognized their accomplishments through their annual Whole Child Award. This year's winner, Byrne Creek Secondary School, a 7-year-old, 1,250-student high school located in the Vancouver area, enables students and families to learn and connect in a culturally rich environment.
What Does a Whole Child-Centered School Look Like? | K 12 Education on GOOD
Professional blog | 21st Century Educator
People learn through a process much like scientists do, discovering the world through observation. They either consciously or unconsciously hypothesize about how the world should work, collect data, compare the data they have collected to see if it fits in their theory, and then revise their theory if they feel enough evidence has been found. In this way, people construct an understanding of the world around them using what they know as a framework for understanding. Like a scientist, each piece of knowledge a learner is connected through a personally developed taxonomy, and it is through these connections that knowledge is stored, retrieved, and built upon.
I truly believe that in order to grow as professionals we need to be continually reflecting on and evaluating our teaching. By reflecting and evaluating we can think about any possible changes we could make to the lesson or unit to improve the learning for our students and ultimately be the best teachers that we can be. Think about your programs. Do you have space dedicated to evaluation?
Reflection and Evaluation | A Primary School Teacher
What If the Highest-Paid People at School Were... the Teachers?
Deborah Bishop, Mississippi Teacher, Uses Thousands In Game Show Winnings To Treat Students, Create Scholarships
Indiana's new Superintendent is a teacher
Account Suspended
Jeff Johnson and Teacher Workload in Alberta
Algebra 1 - Common Core Resources
Internet Catalogue
McGraw-Hill exec: tech will make us rethink age-grouping in schools
High school girl spanked by male vice principal for cheating
Recognize The Big Rocks
Professionals Don't Use Marks to Motivate
A world where grades don't exist and learning is free
clairepontefract
21 Century Classroom: The Amaryllis: Setting a Collaborative Foundation
The Flipped Faculty Meeting - Finding Common Ground
Finding the Genius in Every Child
Five Reasons I don't Assign Homework - South Euclid, OH
Ten Reasons to Be a Connected Educator
Activity 6: Helping parents and students connect with your class blog
Who Makes the Rules in a Classroom? Seven Ideas About Rule-making - Teacher in a Strange Land
Innovations in Education - Six Big Ideas for Educational Technology Leaders
Web 2.0 for the Under 13s crowd
25+ Favorite Quotes for Educators
What's the big deal about Blogging
What's So Unique About Teaching Middle Schoolers?
Standardization Will Destroy Our Education System, If It Hasn't Already
Teachers union to urge focus on teaching, learning -- not standardized testing | Metro Detroit
Learning with Images: 20+ Tips & Resources
Inspirational Kids
Laura Candler (lauracandler) on Pinterest
5 Thoughts on Maximizing Student Voice
Life of an Educator by Justin Tarte: My top 20 tweets from ASCD's summer conference
Entertainment - Emily Temple - 10 Important Life Lessons From Children's Books
Building Partnerships with Schools in Developing Countries – June #globalclassroom Chats
Classroom Solutions & Top Teaching Ideas - Scholastic Teacher Blogs
Everybody loves meetings!
A Designer Speaks
MY FLIPPED CLASSROOM By Crystal Kirch On Prezi
What Makes A Good Teacher?
David Truss :: Pair-a-dimes for Your Thoughts
100 Best YouTube Videos for Science Teachers
Drop the Worry Ball author urges helicopter parents to get out of the way and let their children grow up
The(Un)Connected Classroom: When Will Education Catch-up with Technology?
Matching Teaching with How Students Learn
We teach life… < Blogush
Integrating Technology: My Journey  - My Blog
5 under-watched TEDxEDU videos
Supporting Students in a #Flipclass « Educator
Class Blog Map
Start With Your Superstars > Eye On Education
Edu-pinning: Pinterest in Education « ErHead
Reflecting on my goals with staff
What do you want to talk about during this week's (2/7) #edchat?