Self Improvement/Inspirational
30 Things to Stop Doing to Yourself. Post written by: Marc Chernoff Email When you stop chasing the wrong things you give the right things a chance to catch you.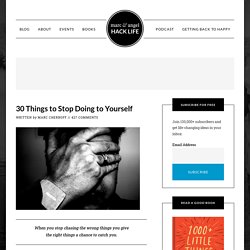 Man Knowledge #3,093. "When hiking in the woods, always carry within quick reach a roll of athletic or duct tape & a sharp, sturdy knife with a 4-6 inch blade.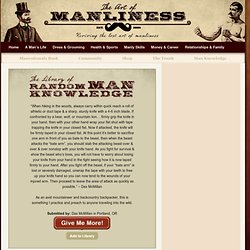 If confronted by a bear, wolf, or mountain lion… firmly grip the knife in your hand, then with your other hand wrap your fist shut with tape trapping the knife in your closed fist. Now if attacked, the knife will be firmly taped in your closed fist. At this point it's better to sacrifice one arm in front of you as bate to the beast, then when the beast attacks the "bate arm", you should stab the attacking beast over & over & over nonstop with your knife hand. As you fight for survival & show the beast who's boss, you will not have to worry about losing your knife from your hand in the fight seeing how it is now taped firmly to your hand.
The Best Life Quotes, Sayings, and Phrases. Sometimes All You Need Is A Little Inspiration to Keep Rolling - StumbleUpon. 10 Things To Stop Caring About Today - StumbleUpon. Email Every day is a new beginning.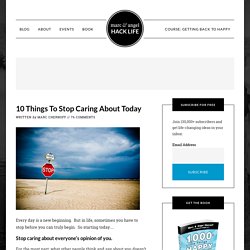 But in life, sometimes you have to stop before you can truly begin. So starting today… Collected Quotes from Albert Einstein - StumbleUpon. [Note: This list of Einstein quotes was being forwarded around the Internet in e-mail, so I decided to put it on my web page.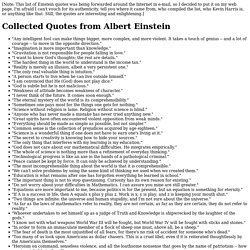 I'm afraid I can't vouch for its authenticity, tell you where it came from, who compiled the list, who Kevin Harris is, or anything like that. Still, the quotes are interesting and enlightening.] "Any intelligent fool can make things bigger, more complex, and more violent. It takes a touch of genius -- and a lot of courage -- to move in the opposite direction. " 100 Tips About Life, People, and Happiness - StumbleUpon. 1.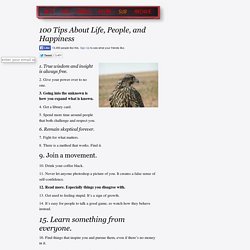 True wisdom and insight is always free. 2. Give your power over to no one. 3. Going into the unknown is how you expand what is known. Words that speak to the soul. - Polyvore - StumbleUpon. 15 styles of Distorted Thinking. 15 styles of Distorted Thinking Filtering: You take the negative details and magnify them while filtering out all positive aspects of a situation.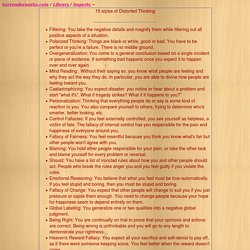 Polarized Thinking: Things are black or white, good or bad. You have to be perfect or you're a failure. There is no middle ground. Ten Principles To Live By In Fiercely Complex Times. If you're like most people I work with in companies, the demands come at you from every angle, all day long, and you have to make difficult decisions without much time to think about them.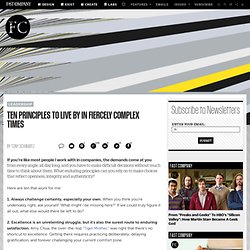 What enduring principles can you rely on to make choices that reflect openness, integrity and authenticity? Here are ten that work for me: 1. Always challenge certainty, especially your own. When you think you're undeniably right, ask yourself "What might I be missing here? " How To Treat Others: 5 Lessons From an Unknown Author. Five Lessons About How To Treat People -- Author Unknown 1.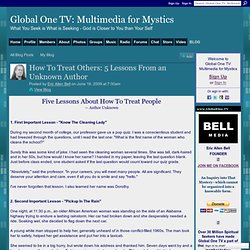 First Important Lesson - "Know The Cleaning Lady" During my second month of college, our professor gave us a pop quiz. I was a conscientious student and had breezed through the questions, until I read the last one: "What is the first name of the woman who cleans the school? " A Terrific 2012: Top 15 Inspirational Pictures to Start New Year on a Positive Note - StumbleUpon. The One Resolution You Need To Make In 2012. Fast Company wants you to have your best year yet in 2012; click for more advice and tips on how to work smarter, manage your career, and lead a more meaningful life.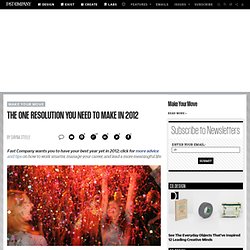 As the New Year approaches, many of us are thinking about our resolutions. What will we vow to do this coming year to be better--both at what we do for a living, and as members of the human race? There's only one resolution you need to make and keep. Do this one thing and you'll be good to go for the year: Do what you say you are going to do, otherwise known as accountability.
---