Science resources
Spider & the Web
Beyond space and time: Fractals, hyperspace and more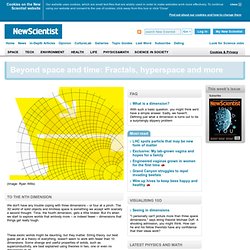 We don't have any trouble coping with three dimensions – or four at a pinch.
There are many competing theories about the ultimate fate of the universe.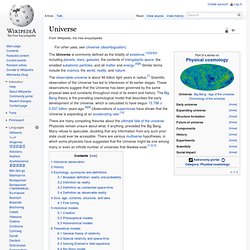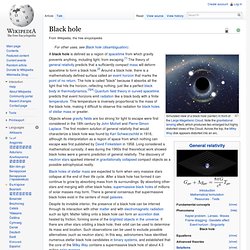 A black hole is a region of spacetime from which gravity prevents anything, including light, from escaping.[1] The theory of general relativity predicts that a sufficiently compact mass will deform spacetime to form a black hole. Around a black hole, there is a mathematically defined surface called an event horizon that marks the point of no return.
Observable Universe
The observable universe consists of the galaxies and other matter that can, in principle, be observed from Earth in the present day because light (or other signals) from those objects has had time to reach the Earth since the beginning of the cosmological expansion.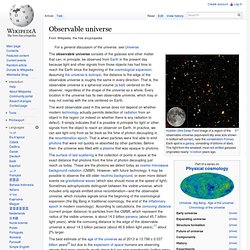 Galaxy
Galaxies contain varying numbers of planets, star systems, star clusters and types of interstellar clouds.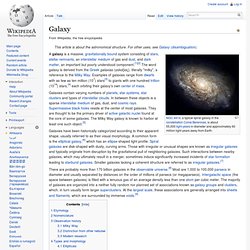 Nebula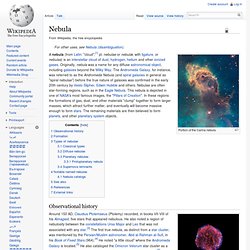 Portion of the Carina nebula A nebula (from Latin: "cloud";[1] pl. nebulae or nebulæ, with ligature, or nebulas) is an interstellar cloud of dust, hydrogen, helium and other ionized gases. Originally, nebula was a name for any diffuse astronomical object, including galaxies beyond the Milky Way.
An example of a spiral galaxy, the Pinwheel Galaxy (also known as Messier 101 or NGC 5457) A is a certain kind of galaxy originally described by Edwin Hubble in his 1936 work [ 1 ] and, as such, forms part of the Hubble sequence .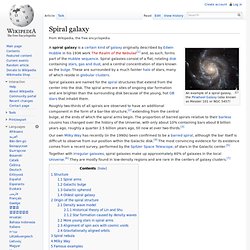 Spiral Galaxy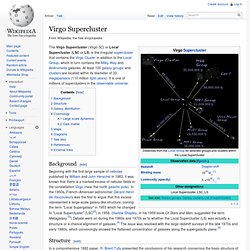 Virgo
The Virgo Supercluster (Virgo SC) or Local Supercluster (LSC or LS) is the irregular supercluster that contains the Virgo Cluster in addition to the Local Group, which in turn contains the Milky Way and Andromeda galaxies.
Galaxies Gone Wild
For at least a portion of its life, a star shines due to thermonuclear fusion of hydrogen into helium in its core, releasing energy that traverses the star's interior and then radiates into outer space.
Star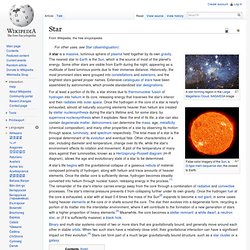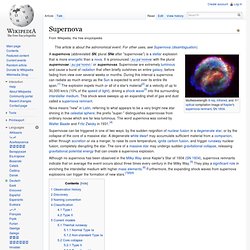 A supernova (abbreviated SN, plural SNe after "supernovae") is a stellar explosion that is more energetic than a nova.
First Organic Molecule on Extrasolar
{*style:<b> Get a quick start by scrolling down to the introduction below this menu table. Basic Electronics - Course Table