Science resources
<a href="//ad.doubleclick.net/jump/teg.tdqk/skwo/a;subs=n;wsub=n;sdn=n;!c=14335996;dcopt=ist;pos=ldr_top;sz=728x90,970x90,970x250;tile=1;ord=906154368?" target="_blank"><img src="//ad.doubleclick.net/ad/teg.tdqk/skwo/a;subs=n;wsub=n;sdn=n;!
Spider & the Web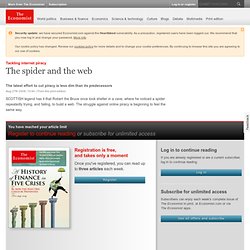 Beyond space and time: Fractals, hyperspace and more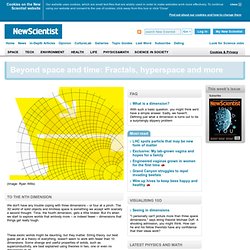 We don't have any trouble coping with three dimensions – or four at a pinch.
The Universe is commonly defined as the totality of existence, [ 1 ] [ 2 ] [ 3 ] [ 4 ] including planets , stars , galaxies , the contents of intergalactic space , and all matter and energy . [ 5 ] [ 6 ] The broadest definition of universe is that it is simply everything, while a narrower definition is that the universe is limited to what can be observed. [ dubious ] Similar terms include the cosmos , the world and nature .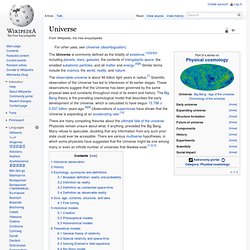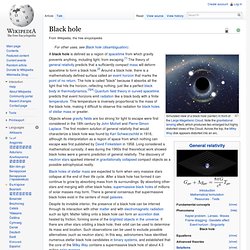 A black hole is a region of spacetime from which gravity prevents anything, including light , from escaping. [ 1 ] The theory of general relativity predicts that a sufficiently compact mass will deform spacetime to form a black hole. Around a black hole there is a mathematically defined surface called an event horizon that marks the point of no return.
Observable Universe
Visualization of the 93 billion light year – or 28 billion parsec – three-dimensional observable universe.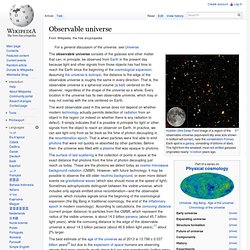 Galaxy
A galaxy is a massive, gravitationally bound system consisting of stars , stellar remnants , and interstellar medium of gas and dust , and, it is hypothesized, an important but poorly understood component called dark matter . [ 1 ] [ 2 ] The word galaxy is derived from the Greek galaxias ( γαλαξίας ), literally "milky", a reference to the Milky Way .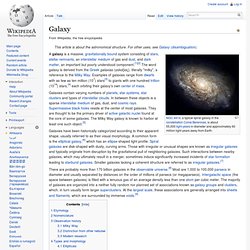 Nebula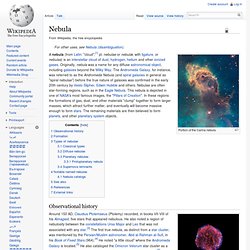 Portion of the Carina nebula A nebula (from Latin : "cloud"; [ 1 ] pl. nebulae or nebulæ , with ligature or nebulas ) is an interstellar cloud of dust , hydrogen , helium and other ionized gases . Originally, nebula was a name for any diffuse astronomical object , including galaxies beyond the Milky Way .
An example of a spiral galaxy, the Pinwheel Galaxy (also known as Messier 101 or NGC 5457) A is a certain kind of galaxy originally described by Edwin Hubble in his 1936 work [ 1 ] and, as such, forms part of the Hubble sequence .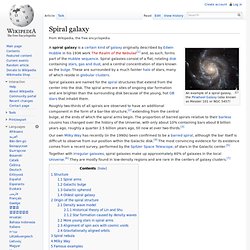 Spiral Galaxy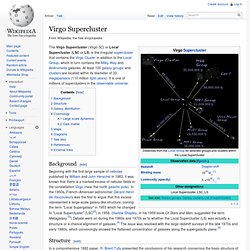 Virgo
The Virgo Supercluster ( Virgo SC ) or Local Supercluster ( LSC or LS ) is the irregular supercluster that contains the Virgo Cluster in addition to the Local Group , which in turn contains the Milky Way and Andromeda galaxies.
Galaxies Gone Wild
A star is a massive, luminous sphere of plasma held together by gravity .
Star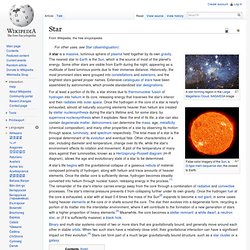 Educational video on supernovae explosions from NASA
First Organic Molecule on Extrasolar
{*style:<b> Get a quick start by scrolling down to the introduction below this menu table. Basic Electronics - Course Table