Italian / Parmesean / Pasta Related
Garlic-Seared Broccoli
Pepper and Sausage Pasta
Easy Chicken and Balsamic Peppers Recipe
Entrée Recipe: Smoky Stuffed Peppers
Mac And Cheese: Twists On The Classic (PHOTOS)
Crockpot Parmesan Garlic Chicken with Whole Wheat Orzo
My only resolution is to eat more delicious things in 2012 than I ate in 2011.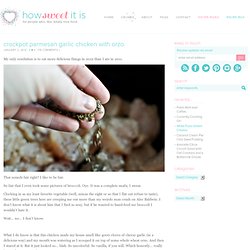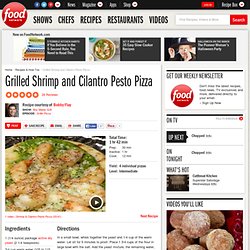 Grilled Shrimp and Cilantro Pesto Pizza Recipe : Bobby Flay
Ingredients 1 (1/4 ounce) package active dry yeast (2 1/4 teaspoons) 3/4 cup warm water (105 to 115 degrees F) 1 3/4 to 2 cups unbleached all-purpose flour plus additional for kneading and dredging 1 1/2 teaspoons salt 3 teaspoons olive oil, divided, plus more for brushing dough 2 cups grated Monterey Jack cheese Cilantro Pesto, recipe follows Grilled Shrimp, recipe follows Cilantro leaves, for garnish Directions In a small bowl, whisk together the yeast and 1/4 cup of the warm water. Let sit for 5 minutes to proof. Place 1 3/4 cups of the flour in large bowl with the salt.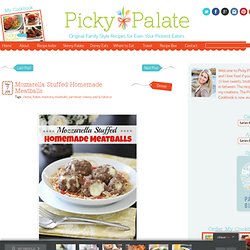 Mozzarella Stuffed Homemade Meatballs
2 tablespoons extra virgin olive oil 1 pound lean ground beef 1 large egg
Bring this hot spinach and artichoke dip to your next football party, no one will know it's light! Football season is here!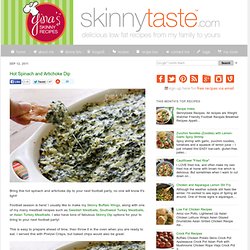 Hot Spinach and Artichoke Dip
Pasta with Zucchini, Tomatoes and Creamy Lemon-Yogurt Sauce
Someday, science will catch up with my summertime needs and create a popsicle that sustains life.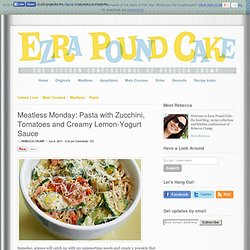 Chicken, Wild Mushroom and Roasted-Garlic Sauté
Dana Gallagher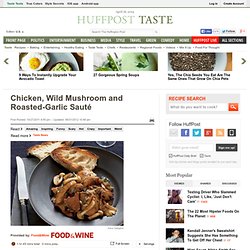 Chicken Scarpariello
Quentin Bacon total prep To make her Sunday-supper scarpariello -chicken sautéed in a tangy lemon glaze with bell pepper-Fran Parisi always uses a whole chicken cut into pieces, then cooks it on the stove for hours.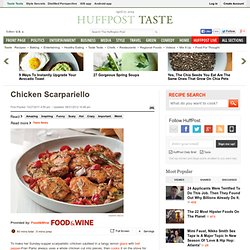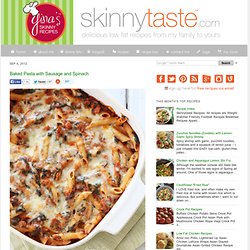 Baked Pasta with Sausage and Spinach
Cheesy baked pasta made with Italian chicken sausage, mozzarella, ricotta, Pecorino Romano and spinach (but don't worry, no one will care about the green stuff). Perfect to feed a hungry family! This is also easy to make ahead, then pop it in the oven when you are ready to eat. If you like to freeze meals ahead for the month, this freezes well after baking. To freeze, I like to cut it in portions when it's cold, then wrap them in plastic and freeze individually. When frozen you can put them in large freezer bags and label them so you can take out as many or few pieces as you want at a time.
Creative Leftovers Toss remaining 1/2 cup pesto with 1/2 lb. hot cooked pasta. Note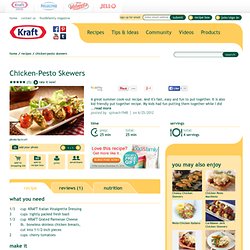 Chicken-Pesto Skewers recipe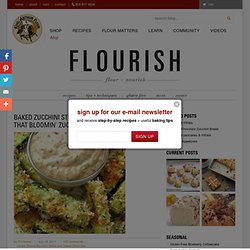 Today, class, it being late July and all, we're going to examine our zucchini facts: •Zucchini is always at the end of any A-to-Z food list; •Zucchini and fruitcake are the undeserving targets of many a joke; •The zucchini plant literally grows like a weed, making it absolutely ubiquitous in vegetable gardens across America; •And for that reason, enterprising cooks have discovered ways to turn it into muffins, and cake, and pancakes, and…
Baked Zucchini Sticks and Sweet Onion Dip: that bloomin' zucchini!
If you have any wonton wrappers leftover from the Crispy Southwestern Wontons, here's a great way to use them up! I was browsing Pinterest the other day when I came across these adorable mini lasagna cups made with wonton wrappers in a muffin tin! How fun are these little lasagnas?
Mini Lasagna Cups
This recipe was a total accident. Kelsey was over for dinner the other week and we both contributed whatever vegetables we had in our fridge. Our plan was to make a big pot of quinoa, grill a boat-load of veggies, top them with goat cheese + avocado, eat from a massive bowl, and feast. I started the pot of quinoa with a few Italian seasonings thrown in before thinking about how we were going to spice the veggies. Then I asked Kelsey what flavor she was in the mood for, for the veggies.
edible perspective - Home - Curry Grilled Zucchini Roll&Ups
After taking the photo for our sausage stuffed shells recipe, I scrambled into the kitchen to grab plates, knifes, forks and napkins — you know, like any normal person would do before sitting down to have a nice meal with their husband.
Stuffed Shells with Sausage and Spinach Recipe
Creamy Caprese Pasta
Sigh.
7 New Takes on Macaroni and Cheese Article
Chicken, Cashew, and Red Pepper Stir-Fry Recipe
How To MAKE THE BEST GAME-DAY WINGS | How To Do Everything Better | Men's Health
Rotini & Spicy Chicken in Creamy Tomato Sauce recipe
Garlic Chicken Pizza Recipe
Three-Cheese Chicken Penne Florentine Recipe
Pork Chops Marsala Recipe
Recipe-Tools/Print/Recipe.aspx?RecipeID=44868&origin=detail&&Servings=4
Fettuccine with Mushroom Marsala
Pierogi Recipe | Cooking Momofuku at home - Momofuku for two - StumbleUpon
Greek Pasta and Beef Recipe
Undone Stuffed Pepper Casserole recipe
Creamy Chicken with Broccoli & Red Pepper Pasta recipe
- StumbleUpon
Mac & Cheese With Peas & Bacon
Chicken Scaloppine over Broccoli Rabe Recipe
Chicken Marsala II Recipe
Lentil Vegetable Soup
Bryan's Spicy Red Lentil Soup Recipe
Spinach Artichoke Mac and Cheese
Creamy Mac and Cheese Recipe
french onion soup
Chicken and Mushrooms in Garlic White Wine Sauce Recipe Print Page
Weeknight Lasagna Toss recipe
Recipe-Tools/Print/Recipe.aspx?RecipeID=8887&origin=detail&&Servings=4
Grilled Greek Chicken Kabobs recipe
Three-Cheese Chicken & Pasta Skillet recipe
Creamy Chicken Penne recipe
Recipe-Tools/Print/Recipe.aspx?RecipeID=218344&origin=detail&&Servings=12
Barbeque Chicken Pizza « Slice & Dice
Creamy Fettuccine with Shrimp and Bacon Recipe
lasagna-timpano.html from thefoodinmybeard.com - StumbleUpon
3- Minute Green Olive & Sun-Dried Tomato Pesto
Chicken Cacciatore with Creamy Mashed Potatoes recipe
Grilled Greek Chicken Kabobs recipe
Parmesan Roasted Potatoes
Skillet Lasagna | Creatively Domestic
Parmesan-Roasted Broccoli
How to Make Pizza Without Dough | « LXRCUISINE
Toasted Ravioli | Tasty Kitchen: A Happy Recipe Community!
Chicken Milano Recipe
Lasagna Soup
Garden Zucchini Parmesan Biscuits
The Pastry Affair - Home - Garlic Parmesan Pull-Apart&Bread
Italian Grilled Cheese | chocolate & carrots
meatball subs with caramelized onions
Rosemary Ranch Chicken Kabobs Recipe