Religion, Mythology and Ethos
Practism
Islam. Judaism. Buddhism. Tibetan Buddhism Archives. Sacred-Texts Buddhism Tibetan Buddhism Archives Here, in no particular order, are miscellaneous articles about Tibetan Buddhism from various sources on the Internet, mostly predating the World Wide Web.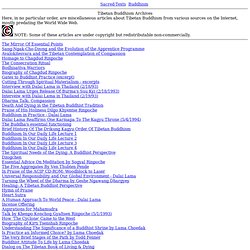 NOTE: Some of these articles are under copyright but redistributable non-commercially. Buddhism Religion: Beliefs, History, Rituals | Patheos. BuddhaNet - Worldwide Buddhist Information and Education Network. Free buddhist audio : free mp3s and texts on buddhism, meditation and the arts. Essentials of Buddhism - core concepts. Zen Koans - AshidaKim.com.
Paganism and Neopaganism. Atheism. Religion and Sexual Ethics. Internet Sacred Text Archive Home. Taoism. Zensufi Park. Religion, World Religions, Comparative Religion - Just the facts on the world's religions.
---