Religion, Mythology and Ethos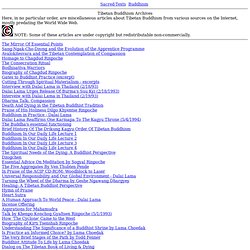 Sacred-Texts Buddhism Tibetan Buddhism Archives Here, in no particular order, are miscellaneous articles about Tibetan Buddhism from various sources on the Internet, mostly predating the World Wide Web. NOTE: Some of these articles are under copyright but redistributable non-commercially.
Buddhism Religion: Beliefs, History, Rituals | Patheos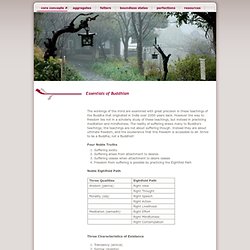 The workings of the mind are examined with great precision in these teachings of the Buddha that originated in India over 2000 years back. However the way to freedom lies not in a scholarly study of these teachings, but instead in practicing meditation and mindfulness. The reality of suffering draws many to Buddha's teachings; the teachings are not about suffering though. Instead they are about ultimate freedom, and the exuberance that this freedom is accessible to all. Strive to be a Buddha, not a Buddhist!
Zensufi Park Welcome! Religion, or at least religious inquiry, is something that virtually all humans have in common. In all corners of the world and in all eras of history, people have wondered about the meaning of life, how to make the best of it, what happens afterwards, and if there is anyone or anything "out there." The goal of ReligionFacts is to provide free, reliable information — "just the facts" — on the various answers that have been given to these questions, as well as the rituals and customs that go along with them. This very broad definition means that we have articles on a wide variety of world religions and belief systems, both ancient and modern.