Software Tools & Services
7-Zip. Audacity. Bit.ly. CDex. Cygwin. Delicious. FileZilla. Foobar2000. FoxClocks. KatMouse. Mouse wheel enhancement for Windows (screen shot) written by Eduard Hiti.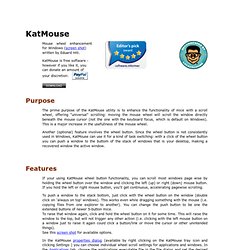 Purpose The prime purpose of the KatMouse utility is to enhance the functionality of mice with a scroll wheel, offering "universal" scrolling: moving the mouse wheel will scroll the window directly beneath the mouse cursor (not the one with the keyboard focus, which is default on Windows). This is a major increase in the usefullness of the mouse wheel. Another (optional) feature involves the wheel button. Since the wheel button is not consistently used in Windows, KatMouse can use it for a kind of task switching: with a click of the wheel button you can push a window to the buttom of the stack of windows that is your desktop, making a recovered window the active window.
MP3Tag. Notepad++ OpenOffice.org. Picard. Products > MusicBrainz Picard MusicBrainz Picard is a cross-platform (Linux/Mac OS X/Windows) application written in Python and is the official MusicBrainz tagger.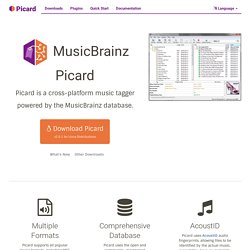 Picard supports the majority of audio file formats, is capable of using audio fingerprints (AcoustIDs), performing CD lookups and disc ID submissions, and it has excellent Unicode support. Pidgin. PuTTY. Home | Licence | FAQ | Docs | Download | Keys | LinksMirrors | Updates | Feedback | Changes | Wishlist | Team PuTTY is a free implementation of Telnet and SSH for Windows and Unix platforms, along with an xterm terminal emulator.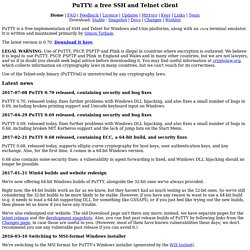 It is written and maintained primarily by Simon Tatham. The latest version is beta 0.63. LEGAL WARNING: Use of PuTTY, PSCP, PSFTP and Plink is illegal in countries where encryption is outlawed. Skype. Songbird. SyncToy 2.1. SyncToy 2.1 is a free application that synchronizes files and folders between locations.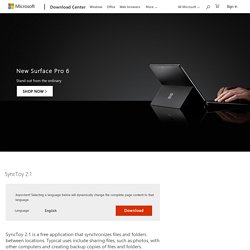 Typical uses include sharing files, such as photos, with other computers and creating backup copies of files and folders. Note: There are multiple files available for this download. Once you click on the "Download" button, you will be prompted to select the files you need. VirtualBox. VLC media player.
WinSCP. Wireshark.