Software Tools & Services
7-Zip is a file archiver with a high compression ratio. Download 7-Zip 9.20 (2010-11-18) for Windows: The download links above redirect you to download pages on SourceForge.net License 7-Zip is open source software. Most of the source code is under the GNU LGPL license.
7-Zip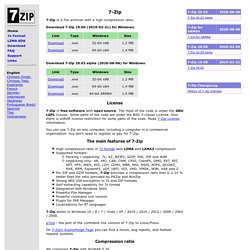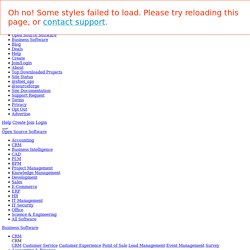 Audacity is available for Windows®, Mac®, GNU/Linux® and other operating systems. Check our feature list, wiki, and forum for more information. October 21, 2013: Audacity 2.0.5 Released Audacity 2.0.5 replaces all previous versions. It fixes crashes or hangs that were reported in Audacity 2.0.4 on some machines, and contains many other bug fixes and stability improvements.
Audacity
bit.ly
CDex
Cygwin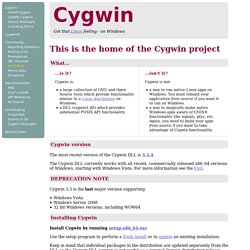 Get that Linux feeling - on Windows What... ...is it? Cygwin is: a large collection of GNU and Open Source tools which provide functionality similar to a Linux distribution on Windows. a DLL (cygwin1.dll) which provides substantial POSIX API functionality. ...isn't it?
Delicious
Welcome to the homepage of FileZilla, the free FTP solution. Both a client and a server are available. FileZilla is open source software distributed free of charge under the terms of the GNU General Public License Support is available through our forums, the wiki and the bug and feature request trackers. In addition, you will find documentation on how to compile FileZilla and nightly builds for multiple platforms in the development section.
FileZilla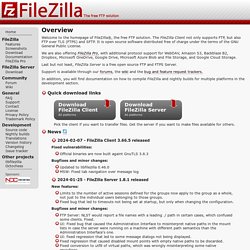 foobar2000 is an advanced freeware audio player for the Windows platform. Latest news New releases: foobar2000 v1.3 final and foobar2000 v1.3.1 beta 1. The new beta version introduces support for adjusting loudness of MP4/AAC files. Download... As you can see, the foobar2000 website is moving away from using Google as the advertisement provider, due to unacceptable quality of their service (fake download link ads).
foobar2000
FoxClocks lets you keep an eye on the time around the world - or just your local time - by putting small clocks in your statusbar. Choose from a set of useful time formats or create your own - custom formats are easy to create and very flexible. You can set each clock's colour, or even have a clock change colour during certain hours (perhaps green when it's a good time to Skype your friends in Japan).
FoxClocks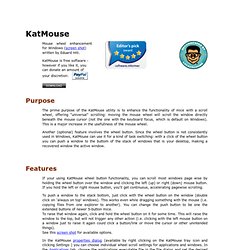 Mouse wheel enhancement for Windows (screen shot) written by Eduard Hiti. Purpose The prime purpose of the KatMouse utility is to enhance the functionality of mice with a scroll wheel, offering "universal" scrolling: moving the mouse wheel will scroll the window directly beneath the mouse cursor (not the one with the keyboard focus, which is default on Windows). This is a major increase in the usefullness of the mouse wheel. Another (optional) feature involves the wheel button. Since the wheel button is not consistently used in Windows, KatMouse can use it for a kind of task switching: with a click of the wheel button you can push a window to the buttom of the stack of windows that is your desktop, making a recovered window the active window.
KatMouse
MP3Tag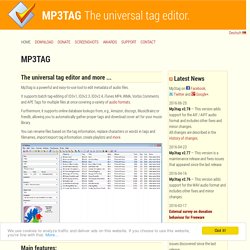 Mp3tag v2.58 — This version comes with performance improvements when reading MP4 files and includes fixes and minor changes. All changes are described in the History of changes. Mp3tag v2.57 — This version is a maintenace release and includes fixes and minor changes. Mp3tag v2.56 — This version is a maintenace release and includes fixes and minor changes.
Skip to main content About Notepad++ is a free (as in "free speech" and also as in "free beer") source code editor and Notepad replacement that supports several languages. Running in the MS Windows environment, its use is governed by GPL License. Based on the powerful editing component Scintilla, Notepad++ is written in C++ and uses pure Win32 API and STL which ensures a higher execution speed and smaller program size.
Notepad++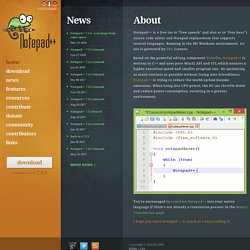 OpenOffice.org
Products > MusicBrainz Picard MusicBrainz Picard is a cross-platform (Linux/Mac OS X/Windows) application written in Python and is the official MusicBrainz tagger. Picard supports the majority of audio file formats, is capable of using audio fingerprints (AcoustIDs), performing CD lookups and disc ID submissions, and it has excellent Unicode support.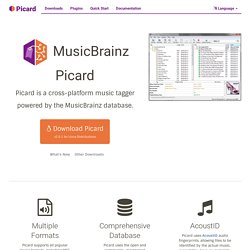 Picard
Pidgin
PuTTY
Home | Licence | FAQ | Docs | Download | Keys | LinksMirrors | Updates | Feedback | Changes | Wishlist | Team PuTTY is a free implementation of Telnet and SSH for Windows and Unix platforms, along with an xterm terminal emulator. It is written and maintained primarily by Simon Tatham. The latest version is beta 0.63. LEGAL WARNING: Use of PuTTY, PSCP, PSFTP and Plink is illegal in countries where encryption is outlawed.
skype
Songbird
SyncToy 2.1 is a free application that synchronizes files and folders between locations. Typical uses include sharing files, such as photos, with other computers and creating backup copies of files and folders. Note: There are multiple files available for this download. Once you click on the "Download" button, you will be prompted to select the files you need.
SyncToy 2.1
VirtualBox
News Flash New March 25th, 2014VirtualBox 4.3.10 released! Oracle today released VirtualBox 4.3.10, a maintenance release of VirtualBox 4.3 which improves stability and fixes regressions.
VLC media player
WinSCP
Wireshark