Genealogy
Genealogy Link Collections. Family History Books. Skip to main content Family History Books Advanced Search. WorldCat.org: The World's Largest Library Catalog. Resources for Genealogists and Family Historians. Skip Navigation.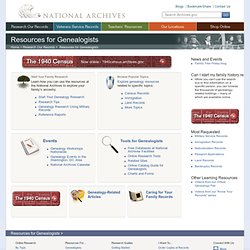 Resources for Genealogists Home > Research Our Records > Resources for Genealogists Now online - 1940census.archives.gov Start Your Family Research. National Archives and Records Administration. The National Archives. Encyclopedia of Genealogy - a service of Eastman's Online Genealogy Newsletter.
GenealogyBlog. Al History and Genealogy Reading Room (Humanities and Social Sciences Division, Library of Congress) Location: 101 Independence Ave.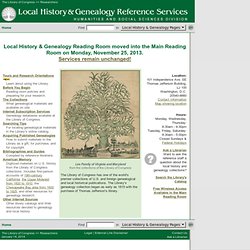 SE Thomas Jefferson Building, LJ 100 Washington, D.C. 20540-4660 Contact Information Map showing location Hours: Monday, Wednesday, Thursday: 8:30am - 9:30pm Tuesday, Friday, Saturday: 8:30am - 5:00pm Closed Sundays & Federal Holidays Ask a Librarian Want to ask the reference staff a question about the local history and genealogy collections? Learning Center. RootsWeb.com Home Page. Genealogy | Native American | DN. AccessGenealogy has been online since 1999.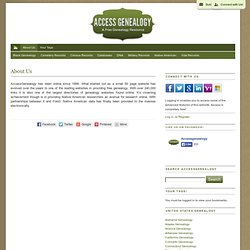 What started out as a small 50 page website has evolved over the years to one of the leading websites in providing free genealogy. With over 240,000 links it is also one of the largest directories of genealogy websites found online. It's crowning achievement though is in providing Native American researchers an avenue for research online. With partnerships between it and Fold3, Native American data has finally been provided to the masses electronically. Genmaps. Find a Grave. Cyndi's List. Free Genealogy Search Advice. Free Public Records From The Most Updated Public Sources. Free Genealogy and Family History Online - The USGenWeb Project. FamilySearch.org — Free Family History and Genealogy Records.
Family Genealogy | Genealogy on the Internet. Getting Started on Your Family Tree Family mementoes Introduction The first task that faces every family historian when they begin research into an individual is to collect basic biographical details about the person under investigation.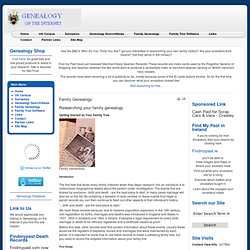 The events that are shared by everyone - birth and death - are the best place to start. Family Tree Maker Family History Software and Historical Records. Find Your Ancestors In Our Data Collections U.S.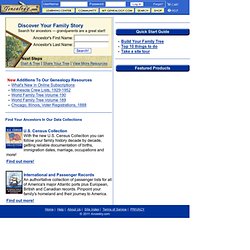 Census Collection With the new U.S. Census Collection you can follow your family history decade by decade, getting reliable documentation of births, immigration dates, marriage, occupations and more! Family Search. Genealogy - Texas State Library - Texas State Library and Archives Commission.
Our collections include microfilm of the federal census schedules for all states through 1910; selected states from the 1920 and 1930 censuses; printed family and county histories; and a variety of Texas government records.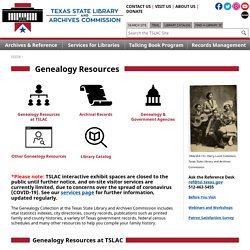 In addition, many of our frequently requested resources are highlighted below. Please use our Online Public Access Catalog to determine the cataloged titles in our collections. Internal Links Vital Statistics Indexes | Index to Confederate Pension Applications | Adjutant General Service Records | Republic Claims | Confederate Indigent Families Lists | County Tax Rolls | County Records on Microfilm | City Directories | Telephone Directories | Newspapers on Microfilm | 1867 Voters' Registration | Texas Convict Record Ledgers and Indexes | Republic of Texas Passports | Government Links | Other Online Resources. Ellis Island, New York Passenger Records Search. Castle Garden Immigration Center.
TheShipsList: Passengers, Ships, Shipwrecks. National Genealogical Society | Home. Daughters of the American Revolution Library. DAR Library Washington, DC The DAR Genealogical Research System (GRS) is a free resource provided by the National Society Daughters of the American Revolution (DAR) to aid general genealogical research and to assist with the DAR membership process.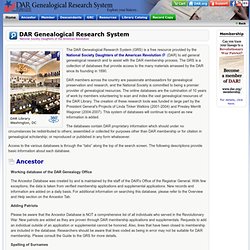 Genealogy. Although censuses are a source of genealogical information, the Census Bureau does not provide these data.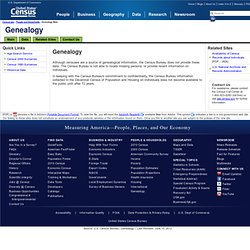 The Census Bureau is not able to locate missing persons, or provide recent information on individuals. In keeping with the Census Bureau's commitment to confidentiality, the Census Bureau information collected in the Decennial Census of Population and Housing on individuals does not become available to the public until after 72 years. United States Census.
15th census, population, 1930.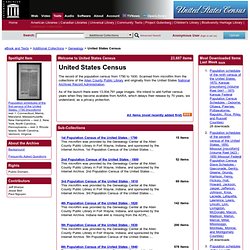 [microform] (Volume Reel 2068. Luzerne EDs 40-66 to 40-93)Average rating: The 1940 Census. USGENWEB Project.
---