PRONUNCIATION
Phonics International-Phonics International - Online Synthetic Phonics ...
PHONETIC-RECOGNITION
Welcome to EnglishClub Pronunciation for ESL learners. If your questions about pronunciation are not answered here, feel free to ask a question at the Help Each Other With English forum.
Pronunciation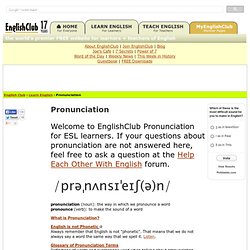 Pronunciation
English Pronunciation, Speaking and Conversation Help for ESL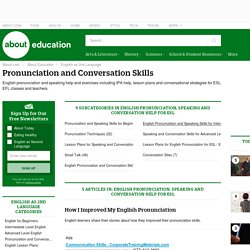 English pronunciation and speaking help including exercises, IPA help, lesson plans, conversation tips and strategies for ESL EFL classes and teachers. How I Improved My English PronunciationEnglish learners share their stories about how they improved their pronunciation skills. Speaking Strategies for English LearnersThese speaking strategies will help English learners improve their conversational skills. How to Improve Your PronunciationThis "how to" focuses on improving your pronunciation through the recognition of the "time-stressed" character of English. Making Small Talk for English LearnersMany English students are more interested in making effective small talk than knowing correct grammar strucutres - and rightly so!
English Online France - EFL / ESL Pronunciation exercises