Desserts!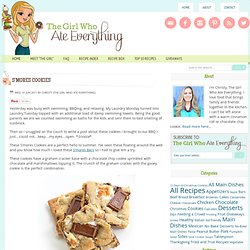 Yesterday was busy with swimming, BBQing, and relaxing. My Laundry Monday turned into Laundry Tuesday topped with an additional load of damp swimming towels. Being the good parents we are we counted swimming as baths for the kids and sent them to bed smelling of sunblock. Then as I snuggled on the couch to write a post about these cookies I brought to our BBQ I just…could not…keep…my eyes…open. * Snooze * These S'mores Cookies are a perfect hello to summer. I've seen these floating around the web and you know how much I loved these S'mores Bars so I had to give 'em a try.
I'm siiiiick. If you follow Willow Bird Baking on Facebook or Twitter (you do, right?), you've probably heard me whining about it lately (okay, maybe this isn't the best way to encourage you to follow). It started with a sore throat and has turned into a beastly, phlegmatic ogre of a cold that has taken up residence in my chest and commenced hanging draperies and such. I have protested this development with various hot teas, soups, and my favorite home remedy suggested by readers: complaining. I know my students are to blame for this plague!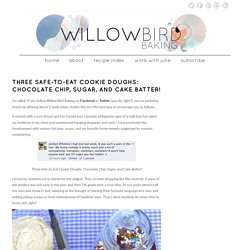 Brownie 'n Berries Dessert Pizza (Gluten Free) Recipe from Betty Crocker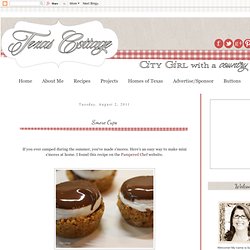 S'more Cups
If you ever camped during the summer, you've made s'mores. Here's an easy way to make mini s'mores at home. I found this recipe on the Pampered Chef website. S'more Cups
Carrots%2B13_1
Spiral sugar cookies
These colorful cookies from Sprinkle Bakes caught my eye last week as I perused for something festive to bring to Christmas Eve dinner. Aren't they pretty? The green swirl was fun for Christmas, but any color would be just as fun.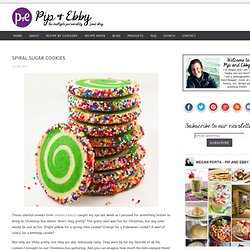 Chocolate Chip Mini Cheesecakes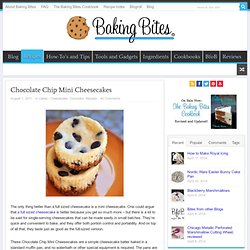 The only thing better than a full sized cheesecake is a mini cheesecake. One could argue that a full sized cheesecake is better because you get so much more – but there is a lot to be said for single-serving cheesecakes that can be made easily in small batches. They're quick and convenient to bake, and they offer both portion control and portability.
The Baking 911 Infographic Gets You Out of Bad Baking Situations
Along with holiday meals comes holiday baking, and whether it's slightly singed bottoms or crunchy cookies that are supposed to be chewy, this guide from America's Test Kitchen can help you get out of serving up bad baked goods. Most of the tips are best considered before your baked goods go into the oven, so take a peek before you get started, or right before you put your cookies or cakes in the oven. For example, if you find your cookies keep running together and baking connected to each other, it's possible your oven's not completely preheated, or you should just stagger the rows. Also, even though we mentioned using a grater to take off the singed bits of your cookies after they come out of the oven, toss down some parchment paper before putting them in to prevent it from ever happening.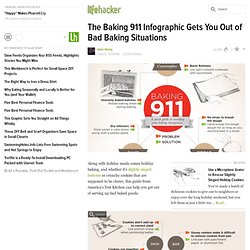 Cute & Easy Mini Santa Hat Brownies Noreen December 17, 2011 *Post Edit:- I had forgotten to mention the step where the sugar goes in the recipe image below….as pointed out by several people in the comments. So, Add the sugar when you melt the chocolate in the butter. =) I have now edited the image to include that and I hope this clears things up. Sorry again for the accidental omission.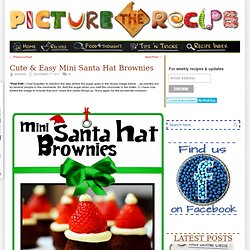 Cheesecake-marbled Brownies recipe from Smitten Kitchen | punchfork.com
Step 1 Preheat oven to 350°F. Spray the outside of each bowl cavity of Ice Cream Cookie Bowl Pan with vegetable pan spray. Step 2 In medium bowl, combine flour and salt. In large bowl, beat butter and sugar with electric mixer until light and fluffy.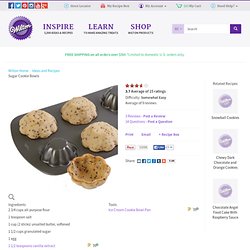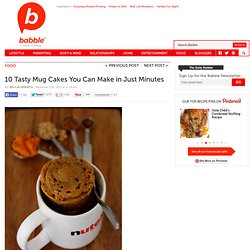 I'm sure you've heard of cakes that you make in a microwave in MINUTES. I have to admit the first time I saw a recipe for one I was skeptical. I mean how can you make a cake in just a few minutes in the microwave? So I set out to test the theory. Guess what?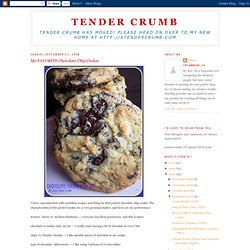 I have experimented with countless recipes searching for that perfect chocolate chip cookie.
Leave it up to me to mess up every recipe in the world... but on the flipside, by experiencing everything that goes wrong, I end up learning the most.
Cheesecake Stuffed Strawberries Can I just say that I have died and gone to heaven. Cheesecake stuffed strawberries….how have I not made these before?!